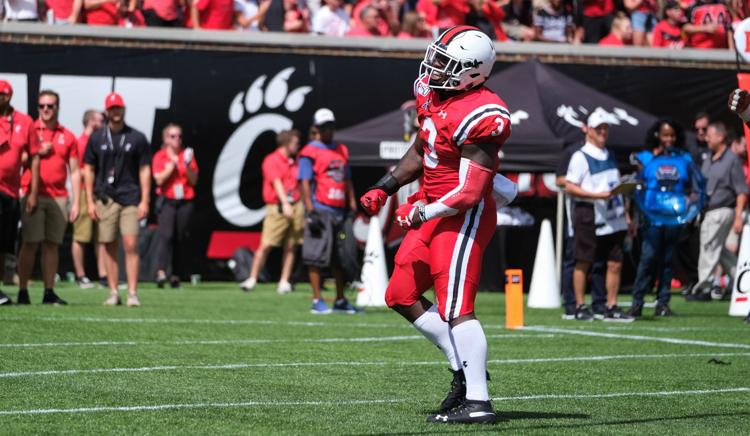 University of Cincinnati football will be back in action Saturday after having its first bye week of the season, traveling to Huntington, West Virginia, to face the Marshall University Thundering Herd.
The Bearcats are coming off a 14th straight Victory Bell game win against Miami (OH) University. Junior running back Michael Warren II had his first 100-plus rushing yards game this season, with 73 of them coming on a rushing touchdown. He finished with 113 rushing yards and three touchdowns.
As well as the 35-13 victory went against the RedHawks, the time off during the bye week was crucial. UC head coach Luke Fickell took the opportunity to evaluate his team ranking almost last in the country with 31 total penalties for 256 yards.
"It's not as big of a self-scout … but you can obviously take a peek at yourself," Fickell said in his Tuesday news conference. "We knew that penalties have been a problem for us and Sunday (Sept. 15) when we got back together, we addressed and watched every penalty that we had as a team … I've said it a million times: aggressive penalties are going to happen if you're an aggressive team or an attacking team. The discipline ones, the ones that happen pre-snap, post snap … we got to make sure we do a better job, and ultimately you got to see it happen."
The time off helped UC heal, as juniors Malik Mboji, Gerrid Doaks and freshman Arquon Bush were able to make progress on their injuries and are probable to play against Marshall.
The Thundering Herd enter in a similar situation as the Bearcats, also coming off a bye week. They've beat the Virginia Military Institute and Ohio University and lost to Boise State.
PHOTOS: UC Bearcats football wins 14th straight Victory Bell
Marshall began the season with a potential 1-2 punch at running back with Brenden Knox and Tyler King. However, King was dismissed from the program Sept. 9 due to a violation of team rules.
Knox seized the role of top running back, rushing for 133 and a touchdown for the win over Ohio. The sophomore raised Marshall's average rushing yards per game to 233.7— the 25th best in all of Division-I.
"They are a very good football team," Fickell said. "It starts with their ability to run the football and their ability to stop the run … Their offensive line is a veteran group, big and physical. They've got a couple [running backs], so they are going to find a way to run the football and keep you honest with a lot of the athletes they have on the outside."
Marshall's defense gave up just 14 points to Boise State, but let opposing teams rush for an average of 144.7 yards a game.
Kick-off is 5 p.m.