While the University of Cincinnati football team begins spring practice Saturday morning, the outgoing senior class had the chance to showcase its skills one final time for professional scouts Wednesday afternoon at the annual Pro Day.
Thirty-three scouts from the NFL and CFL (Canadian Football League) showed up to evaluate 11 Bearcats at the Richard E. Lindner Center weight room and Sheakley Athletics Center bubble.
Participants:
Offensive linemen: Garrett Campbell, Kyle Trout, Dino Boyd, Keith Minor
Defensive linemen: Cortez Broughton, Marquise Copeland, Kimoni Fitz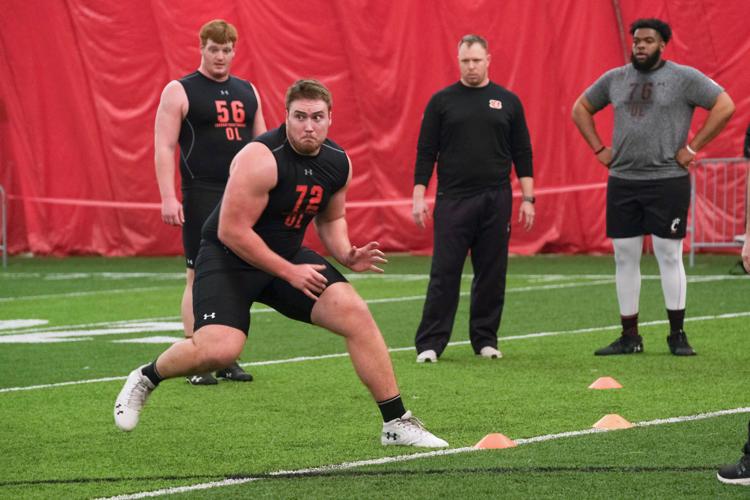 Defensive backs: Malik Clements (defensive back/linebacker), Tyrell Gilbert
Quarterback: Hayden Moore
Wide receiver: Kahlil Lewis
Campbell, a Cincinnati native (St. Xavier High School) and sixth-year senior who graduated in December 2017, bench pressed 225 pounds 29 times. He missed five games this past season after suffering a broken ankle in the Sept. 29 win over the University of Connecticut, but he returned for the last two regular-season games and the Military Bowl.
Garrett Campbell (@Garebear_79) moving well after suffering a broken ankle in the middle of last season. pic.twitter.com/fA3Ioe5Ubq

— Matt Huffmon (@MattHuffmon1) March 6, 2019
Clements, who graduated with a psychology degree in December and led UC with 68 tackles last season, showcased a 40-inch vertical jump and a 4.53-second 40-yard dash. He also posted a time of 7.2 seconds in the three-cone drill, which can be seen in the video below.
Malik Clements (@MalikClements4) going through defensive back drills. pic.twitter.com/D9MdPUk3iD

— Matt Huffmon (@MattHuffmon1) March 6, 2019
The starting quarterback in 2016 and 2017, Moore served as backup to redshirt-freshman Desmond Ridder during his senior season. After Ridder suffered an ankle injury in the first half of the Military Bowl, Moore filled in and guided UC to a 35-31 win in his final collegiate game.
He finished his career with 6,518 passing yards and 42 touchdowns.
"It felt really good to get back out here," Moore said. "I've been throwing in a smaller environment than this with some receivers that I don't know. It was nice to come out and throw to Kahlil and get that connection that we had back."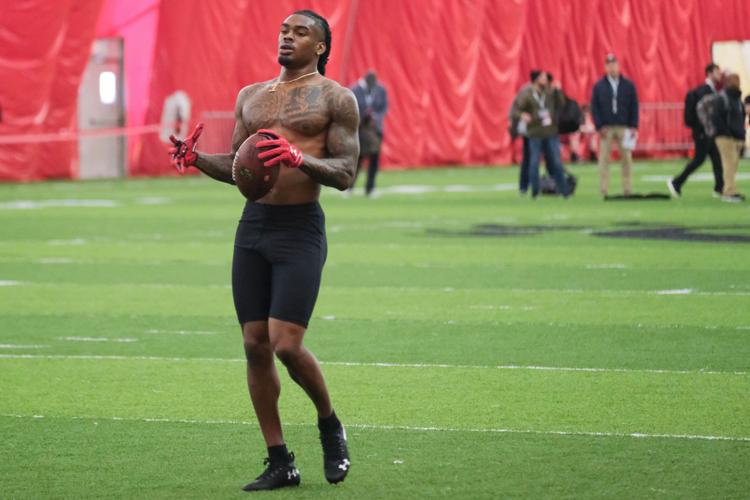 Moore threw to Lewis and two receivers from Thomas More University (Crestview Hills, Kentucky). Lewis, who led UC with 56 catches for 782 yards and nine touchdowns last season, graduated in December with a degree in criminal justice. He recorded a 4.63-second 40-yard dash and a 36-inch vertical jump.
"It was amazing," Lewis said about getting another chance to catch passes from Moore. "It felt like the old times. It was really good. [Moore has] improved a lot, and I feel like I got a lot better. We came out here and showcased a lot of our talents."
Hayden Moore (@HMoore2014) throwing to Kahlil Lewis (@K1_lewis). pic.twitter.com/xaAAmeKZbj

— Matt Huffmon (@MattHuffmon1) March 6, 2019
Lewis returned home to train after the Military Bowl.
"I've just been running hard every day in the sun," Lewis said. "I've been in Florida, my hometown of Miami. Just getting it in every day."
Kahlil Lewis (@K1_lewis) talks Pro Day, NFL hopes. pic.twitter.com/I4nLGWEqYy

— Matt Huffmon (@MattHuffmon1) March 6, 2019
Moore graduated in April 2018 with a degree in organizational leadership. Like Lewis, he has spent the past few months sharpening his skills away from campus.
"I had a quarterback coach down in Nashville," Moore said. "We threw two or three times a week. We did a lot of drills and worked on my footwork a lot, because you don't really go under center in college. Switching to under center and doing 5- to 7-foot drops is a lot different. Overall, I thought I did pretty well today."
None of the players who participated received an invitation to the NFL Combine that took place in Indianapolis Feb. 26 through March 4. The 2019 NFL Draft takes place April 25-27 in Nashville, Tennessee.