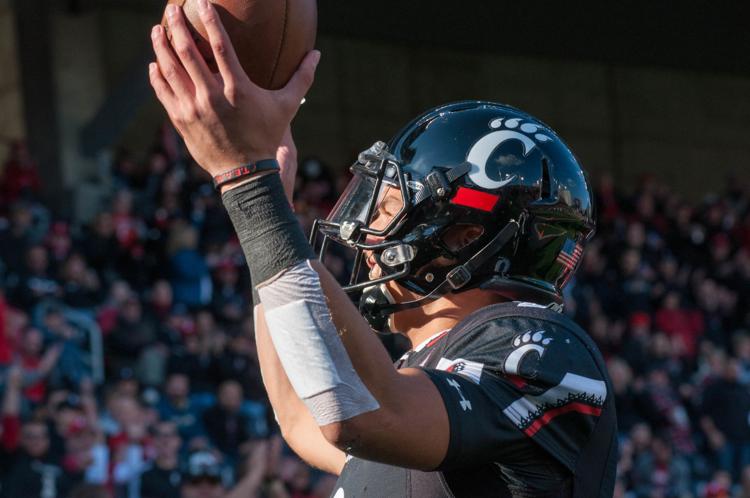 University of Cincinnati football gets its 2019 season underway Thursday night against the UCLA Bruins at Nippert Stadium.
The Bearcats are coming off a historical 2018 season in which the program had its first 10-plus win season since 2011, when the team went 10-3. From multiple players on preseason award watch lists to injury comeback stories, UC has 83 players returning for the 2019 season.
Below is the projected depth chart for week one and the upcoming season, according to head coach Luke Fickell and his staff:
Quarterback
Sophomore Desmond Ridder will be behind center after leading the team to an 11-2 record last season.Ridder had his dual-threat ability on full display, passing for 2,445 yards and rushing for another 572 to go along with 25 total touchdowns. Despite having success on the ground and in the air, Ridder made a point of tryingto stay in the pocket and deliver balls downfield this season to become a deep-threat and not just a dual-threat. Ben Bryant will serve as the backup.
Running Back
Arguably the deepest position on the roster, the Bearcats will have a trio of running backs headlined by junior Michael Warren II. Coming off an outstanding sophomore campaign, Warren was named to the 2019 Doak Walker Award Watch List. Fellow junior Gerrid Doaks will be returning after missing all last season with a groin injury and will take some of the workload off Warren. Sophomore Tavion Thomas is not expected to play Thursday night. Freshman Ryan Montgomery will fill in during his absence. Sophomore Charles McClellend tore his left ACL and will miss this season, according to Fickell. 
Wide Receiver
Seniors Rashad Medaris and Thomas Geddis will step in as the go-to receivers for UC. Freshman Tre Tucker, sophomores Alec Pierce, Trent Cloud and Jayshon Jackson and junior Javan Hawes will receive the remaining targets. Redshirt freshman Blue Smith, a transfer from Ohio State University, should see action after having his transfer waiver approved by the NCAA.
Tight End
Statistically one of the best tight ends in the American Athletic Conference last season, senior Josiah Deguara will remain the top tight end. Junior Bruno Labelle will most likely serve as Deguara's backup or the second tight end if Fickell elects to use a two tight end formation. 
Offense Line
A much different unit than in 2018, the offensive line is set with freshman Lorenz Metz at left tackle, freshman Jeremy Cooper at left guard, sophomore Jakari Robinson at center, senior Morgan James at right guard and senior Chris Ferguson at right tackle. The offensive line served Ridder well last season, allowing only 25 sacks, but the three new faces will arguably be the biggest question for UC heading into the season. 
Defense:
Linebackers
Senior Perry Young is back with no restrictions after missing seven games with a torn ACL last season. The 5-foot-11 senior will play alongside senior Bryan Wright and juniors Darrian Beavers or Jarrell White.
Secondary
Senior James Wiggins, who was named to the 2019 Bronko Nagurski Trophy watch list, suffered a knee injury earlier this week and will not play against the Bruins. Senior Cam Jefferies and juniors Coby Bryant and Darrick Forest will round out the defensive backs. Sophomores Ja'von Hicks and Kyriq McDonald will be a part of the second team.
Defensive Line
A senior-less but deep group, the defensive line has big shoes to fill since losing defensive tackles Marquise Copeland and Cortez Broughton to graduation and the NFL. Juniors Elijah Ponder and Curtis Brooks will replace tackle with fellow junior defensive end and linebackers Michael Pitts and Ethan Tucky on the outside. Sophomores Myjai Saunders and Malik Vann will intertwine with Pitts and Tucky throughout the season at defensive end. With a potential eight-man rotation, Fickell acknowledged his defensive line's depth and their ability to take on a heavy workload throughout the season.
"I think that might be where we're more solid than any place else," Fickell said following practice Aug. 10. "It's just not saying they're Cortez [Broughton] and [Marquise Copeland]. I'm not trying to put them in those categories yet, but their ability to be one in 1-B, meaning if guys need to play 40 plays a game they're going to be a lot different, especially towards the end of that game. I think where we're coming with those guys."
Specialist
Tucker will return kicks for the Bearcats with Montgomery returning punts. Senior Zach Wood will be the team's long snapper and is up for the Patrick Mannelly Award this season. 2018 Ray Guy award runner-up James Smith will handle punting.