Before and during FC Cincinnati (FCC)'s current 22-match unbeaten streak in the United Soccer League (USL), ownership has turned to Meis Architects and Cincinnati-based Elevar Design Group to advance the concepts of the West End stadium project.
"We believe our West End stadium will be a catalyst for the neighborhood, but also help position Cincinnati as a 'City on the Rise' on both a national and international scale," said Jeff Berding, FCC president and general manager, in a news release.
The ongoing blueprint process reached a checkpoint last week when Berding and the rest of the club's ownership approved the images on Oct. 5.
"We're thrilled with the concept design for our West End stadium and all of the work done by Meis and Elevar," Berding said. "We've received tremendous support from the West End and the Design Committee and we believe we're bringing a transformational stadium to Cincinnati. We know that the design process will continue and our final product will likely continue to evolve, but we are proud to share our updated plans."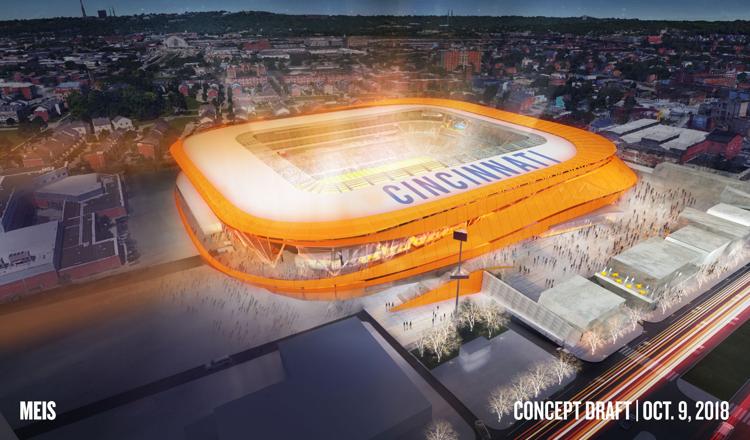 One key element is the stadium's capacity, which is now estimated to hold between 25,500 and 26,500 attendees. The maximum stadium height is less than 120 feet on the west side of the stadium.
"We originally looked at 21,000, but with our average attendance at 25,000, there's no way we could build a stadium that small," Berding told WLW radio Oct. 10.
The Bailey, the club's designated section for supporters, is expected to double in size once construction on the new stadium finishes. The section currently holds 1,700 people at the University of Cincinnati's Nippert Stadium.
The stadium roof is projected to wrap around the entire stadium bowl and cover all seating rows, which should boost fan experience and aid noise suppression. In conceptual design images, the roof is pictured with Ethylene Tetrafluoro-ethylene (ETFE) technology, which allows for colors and patterns to project onto the translucent surface.
The design development stage will continue into early 2019 before final blueprint documents are submitted. Construction is expected to begin in the spring, and the stadium is tentatively set to open in March 2021.
Meis and Elevar will go back to the studio over the next month, as the full concept plan will be presented to the City of Cincinnati Nov. 19 for technical review.
FCC's formal submission of the second stage of design, which will include further adjustments following a technical review, will be made to the city Dec. 3.
The Orange and Blue will begin the 2018 USL Cup Playoffs as the tournament's No.1 overall seed and regular-season champion. FCC will face the Eastern Conference's No. 8 seed at Nippert Stadium at 4 p.m. Oct. 20.