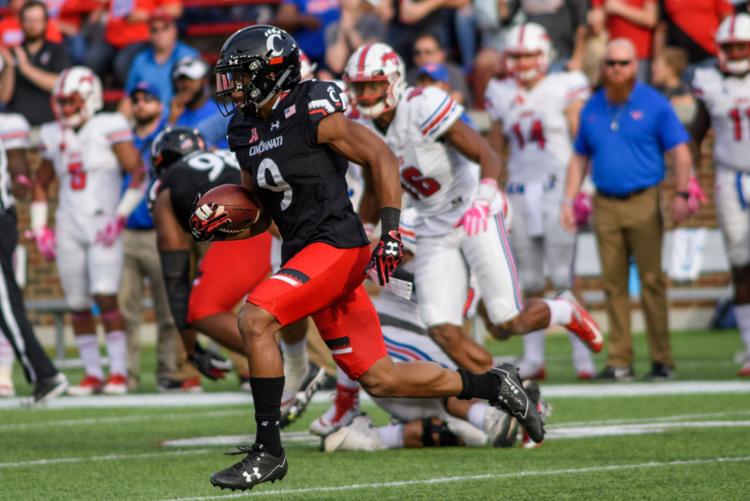 University of Cincinnati football has improved to 4-0 after defeating Southern Methodist University (SMU) 42-13 in Dallas, Texas. The Bearcats have also now won both of their American Athletic Conference (AAC) so far this season, and as a result, move to the top of the AAC.
"Obviously a big win on the road against a really good football team," head coach Luke Fickell said post game. "I'm most proud of how these guys have handled the last two and half weeks, as well as how they handled a lot of different adverse things on the field tonight."
Quarterback Desmond Ridder displayed a more than impressive come-back game following his disappointing performances in weeks two and three for the Bearcats. Ridder hit four different receiving targets in Cincinnati's opening possession, ending with a touchdown for tight end Josh Whyle.
Ridder also began to utilize his legs more on Saturday night, and in big fashion, something analysts and pundits alike have been criticizing him for not using enough. He tacked on to his first drive passing touchdown with a 15-yard scramble for a score in the Bearcats second possession.
His 25-yard rush into SMU territory on an important third down in the third quarter gave way for the drive to continue, eventually capitalized by a Gerrid Doaks at the goal line. Doaks added another one later in the game with a 35-yarder, making it 8 total touchdowns for the senior through four games.
Both of Ridder's main highlights of the night came in the second half as he broke loose for a 32-yard and 91-yard touchdowns in the third and fourth quarter, respectively to put the game out of reach for the Mustangs.
Ridder finished his day with 13-21 with 126 yards and one passing touchdown along with 179 rushing yards and three touchdowns on the ground.
"There's always a competition, I think that's what Des loves best," said Fickell. "We know it. We see it every single day… I was just waiting for some more people to be able to see it. Obviously, he's had his ups and downs… he's led us to a lot of victories in the last three years.
His success rate is incredibly high," Fickell continued. "Which puts his performance and expectation really high. I think all that came together tonight. He really kind of showed what he is."
The top-ten ranked Cincinnati defense came out strong to start the game, holding the top-ten Mustang offense to little more than nothing, allowing only 26 yards in the first quarter, headlined by an 11-yard sack, courtesy of Jarell White. He finished his day with 11 solo tackles, two of which for a loss.
However, SMU started to make headway in the second quarter, putting up 10 points and garnering 125 yards along the way. The half ended 14-10 with SMU ending up ahead in yardage.
The UC defense began to reestablish control in the second half, allowing only a field goal. The half also featured an Ahmad Gardner interception, his third less than halfway through the season and matching the amount in his freshman campaign in 2019. 
Despite penalty issues with twelve worth 126 yards, the defense held the high-powered Mustangs to two turnover-on-downs in the fourth quarter, sealing the victory.
UC next takes on the University of Memphis at Nippert Stadium on Oct. 31 at 12 p.m. The game will be aired on ESPN.