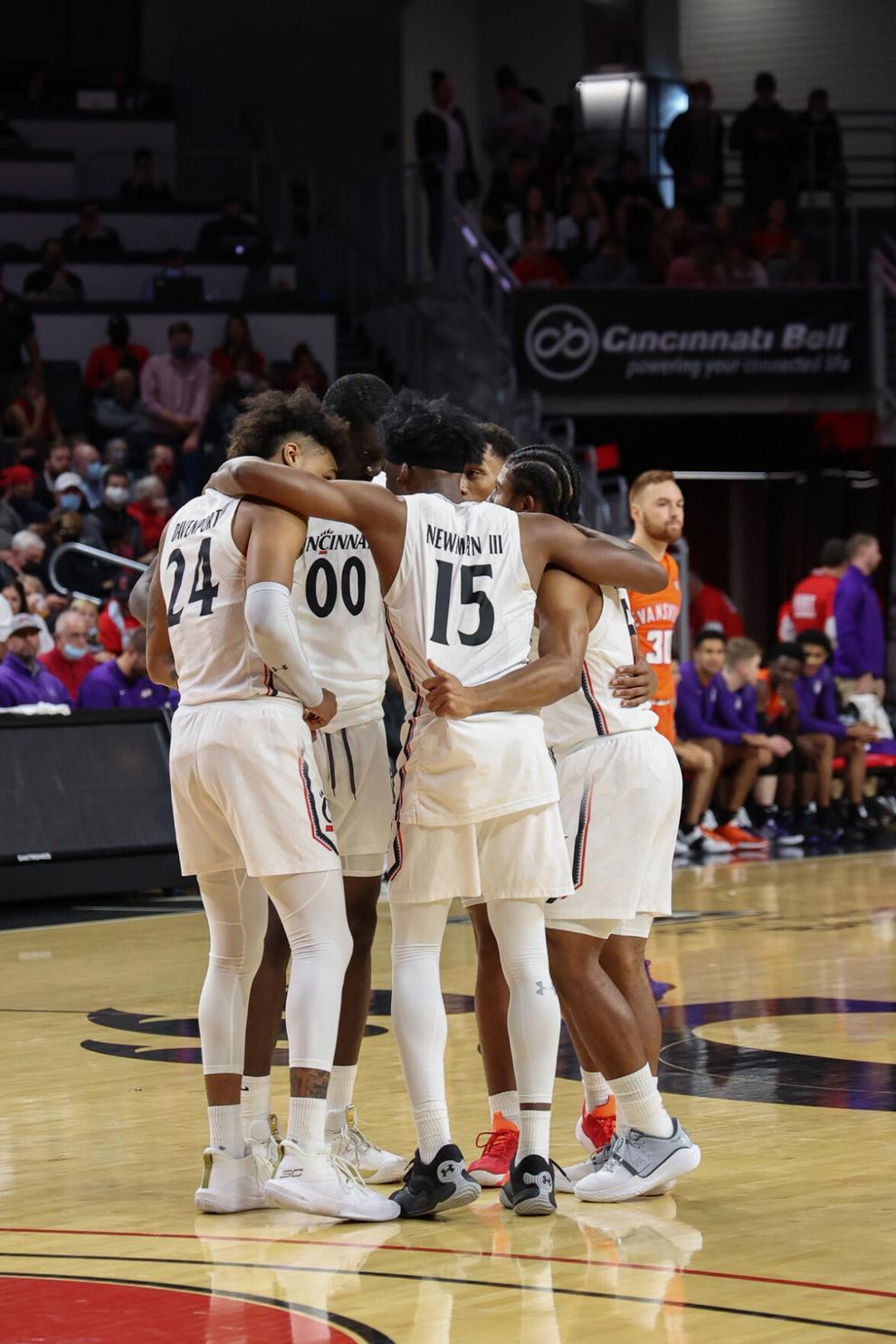 Defense wins championships. That's what the University of Cincinnati Bearcats must have heard coming into Tuesday because they took it to heart in their season opener.
Cincinnati took to Fifth Third Arena and its fans for the first time this season, defeating the Evansville Purple Aces and holding them to just 43 points in the process. The Bearcats under new head Coach Wes Miller looked energized, switching on ball screens, scrambling for every loose ball and sending the Purple Aces' shots into the stands.
Cincinnati Bigs, Viktor Lakhin and Hayden Koval, stole the show defensively off the bench. Koval led the game with a pair of blocks, and Lakhin showed how dangerous he could be on the defensive end with his rim presence and ball awareness.
Lakhin has been recovering from knee surgery for over a year, and fans haven't been able to see him play until now. Miller and multiple of Lakhin's teammates have been talking about how impactful he can be for the team, and they saw those comments come to fruition Tuesday night.
"If he continues to work and stay healthy, I think he's going to be a terrific player in Cincinnati, and you could see tonight, he has real ability," Coach Miller said following the victory.
Mason Madsen, Lakhin's teammate and roommate, also added on how he sees Viktor and how his journey back to the court has been special to watch.
"Coming off of knee surgery, just the fact that he has put in all the work to get his body back to where it was before his injury. There was a time where I didn't know if Vik was ever going to play," Madsen said. "The way he impacts the game is pretty special, and he does things that not a lot of people his size can do. You saw a little bit today, but obviously, there's more that he has. As he continues to get more comfortable, you'll see more from him."
That defense doesn't come from just the talent Cincinnati has on their roster. Their chemistry has already started to show. Wes Miller has the Bearcats bought into his system, which Mike Saunders emphasized before Tuesday's game.
"Mike Saunders and I had lunch together, and I said, 'Mike, you've earned it, you deserve to start, but I think it'd be best for our team if you came off the bench and before I could even finish my statement, he laughed and said, 'Coach I trust you, and I'll do whatever you think is best for the team,'" said Miller. "It was real and genuine, and it bought tears to my eyes."
Cincinnati's depth will also play a massive role in the team. The Bearcats played 12 different players in the opener, and Miller talked about how having a team this deep will make for some serious discussion of the rotation for weeks to come.
"You look down, AJ McGinnis checks into the game in the last 4 minutes, he looked pretty good, didn't he? Defensively he looked good, then he runs the floor, shoots one, and it looked as good as any jump shot I saw tonight, and he wasn't in the rotation tonight," said Miller. "It wouldn't surprise me if we don't have a set in stone rotation until January."
The Bearcats look to grow on their early-season momentum as they'll be back in Fifth Third Arena to host the Georgia Bulldogs on Nov. 13, at 7 p.m.