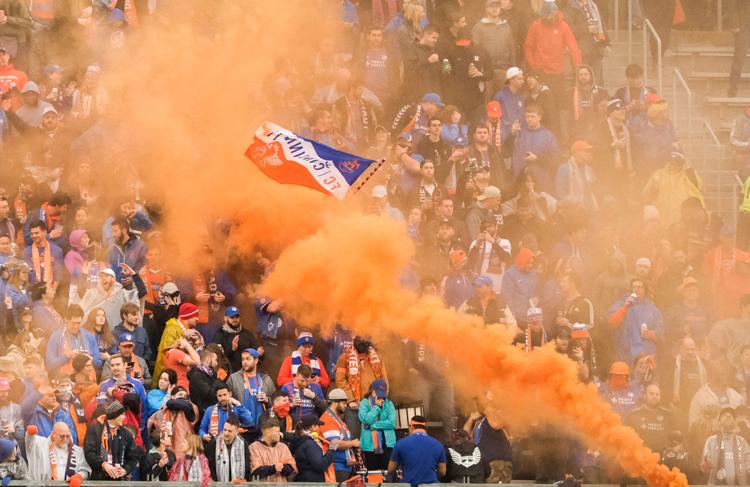 After four years of competing between the USL Championship and the Major League Soccer, 2020 will be the last season FC Cincinnati will be playing at Nippert Stadium on the University of Cincinnati's campus. 
The team's new $250 million field, West End Stadium, is on schedule to complete construction by the spring of 2021, just in time for the beginning of next season. 
In August, the Turner and Jostin construction crews transformed both the interior and exteriors of the stadium. The southeast scoreboard has been set up and is working functionally. Work has started on the northeast scoreboard, which will be the largest scoreboard in a soccer-specific stadium in the country.
On the exterior, crews began installing the "curtain wall," covering the west side's entirety in glass.
Surrounding the stadium, crews are installing curb extensions and widening the sidewalks of Ezzard Charles Drive and replacing the sidewalks and ADA ramps on Liberty Street.
A familiar part of FCC culture from Nippert Stadium will transition to West End in the form of the infamous "The Bailey" section, where hardcore fans sing and roar to the beat of the large drums.
While "The Bailey" section at Nippert is nothing more than a row of aluminum benches behind one of the goals, West End's version promises to be twice as big. West End's "Bailey" will cover the entirety of the north end of the stadium sloped at a 34-degree angle. The section will hold 3,170 fans and the safe-standing benches will feature cupholders. A completely new addition will be the built-in tifo feature, allowing fans to roll out 100+ foot tifos that will hang over the section.
Also new to the fold will be the stadiums "Experience Center," which has been completed. The center will serve as a place for ticket purchases and in-depth scoping's of seat to seat advantages. To see all of what the Experience Center will offer, check out this video tour.
Current season ticket holders can secure deposits for the 2021 season immediately and will have priority over non-season ticket holders. 
Those who don't currently have season tickets can place a deposit of $50, which is non-refundable, beginning Sept. 14. For more information, click here.
FCC, who have been struggling lately, will look to pick up their form on Sept. 12 against New York City FC at Red Bull Arena.