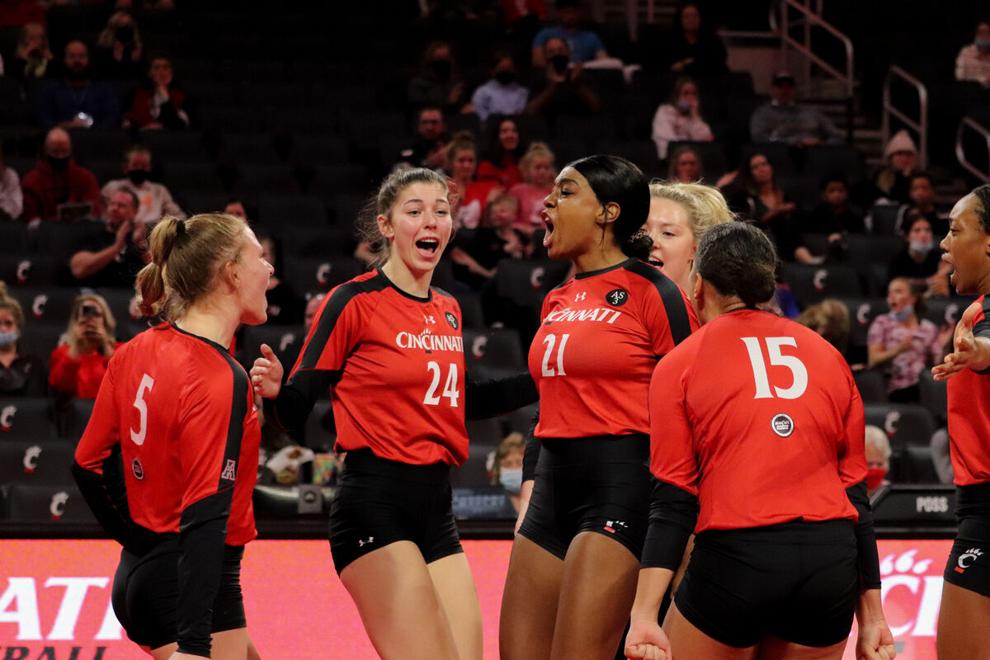 In five sets, the University of Cincinnati (UC) women's volleyball successfully sought revenge against the Wichita State Shockers after losing their first meeting of the season on Oct. 17. As the Bearcat's had the support of their home Fifth Third Arena this time around, they won the meeting 3-2.
The first set was a battle throughout with three lead changes, but Cincinnati ultimately took the set 25-20. Cincinnati senior, Maria Mallon played a huge role in the victory as she had a double-double with 18 kills and 15 digs along with a match-high of three aces. 
The second set was similar to the first, as both teams battled back and forth. After trailing 14-9, the Shockers scored nine of the next 14 points to take a 19-18 lead, before taking the set 25-21. The Bearcats had a total of 58 assists in the match, with a huge portion coming from freshman Emme Madden who had 48. 
The third set was tight the whole way, but the Shockers took it 25-23. The Bearcats nearly came back as they scored three consecutive points, but Wichita State held them off to take the set. 
In the fourth set, which featured five lead changes, the Bearcats prevailed 25-21 to force a fifth set. After trailing 11-10, the Bearcats scored three consecutive points and never looked back. Cincinnati junior, Payton Frederick helped tie the match with her six assists and match-high of 16 digs. 
Unlike the previous sets, the fifth set was not close as UC took it 15-6. The Bearcats fell to an early 2-1 deficit, but then dominated the rest of the way. Freshman Bearcat, Abby Walker helped contribute to the victory with 13 kills, six blocks and two aces. 
Cincinnati juniors, Adria Oliver and Kailea Carrier, each had 10 assists in the match. 
With the victory, the Bearcats improved to 16-9 (11-6 in conference play). The loss drops Wichita State to 17-9 on the season (11-6 in conference play). This was the Bearcat's first victory over Wichita State at home since 2018.
Along with Frederick and Mallon, two other Cincinnati players had double digits in digs, Kerstin Ficker, junior, and Molly Harrison, freshman. 
The Bearcats had higher stats in nearly every category, vibrantly securing more aces. As Cincinnati had eight compared to Wichita State's four. 
Wichita State will play their final regular-season road game of the season on Sunday at East Carolina at 11 a.m. The Bearcats will continue their three-game homestand on Sunday against Tulsa at 1 p.m. Cincinnati has won the last six over Tulsa, including a 3-1 victory on Oct. 15.