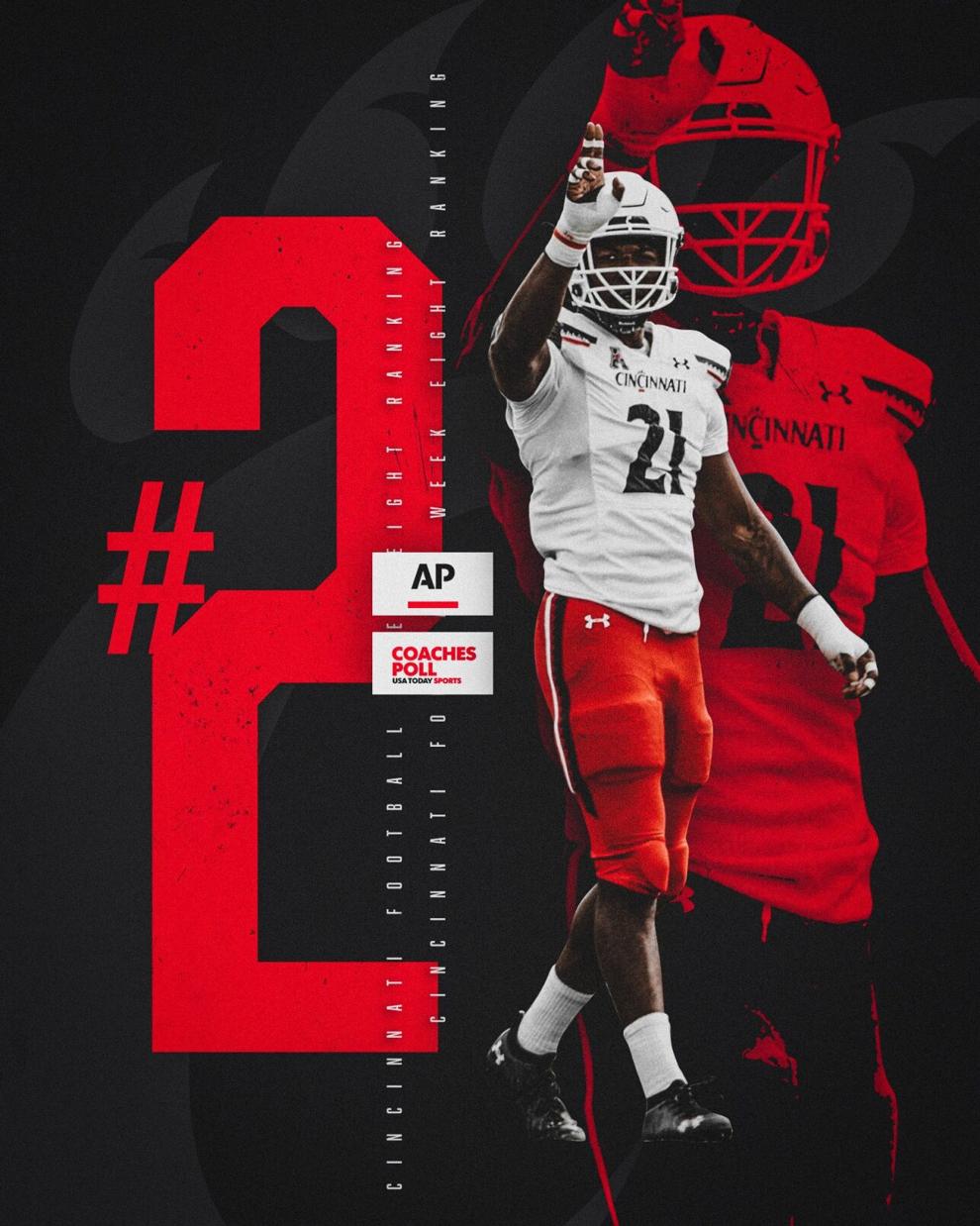 The University of Cincinnati Bearcats remained the No. 2 team in the country in the latest AP Poll following a 27-20 win over the Navy Midshipmen. With five games remaining, Cincinnati is accompanied by only Power 5 programs in the Top 10. 
Holding down the No. 1 spot for another week is the Georgia Bulldogs, who is likely to reach the SEC Championship undefeated. Cincinnati's remaining schedule gained strength as their Nov. 20 opponent, Southern Methodist University, rose to No. 19 following a 55-26 win over Tulane. 
Falling two spots behind the Bearcat's at No. 4 is the Oklahoma Sooners, who pose a significant threat to Cincinnati's CFP (College Football Playoffs) chances. The Sooners are favorited to win the Big 12 conference, making them a prime candidate for the CFP committee to select as one of the final Top 4.
Despite having a loss to now No. 14 Texas A&M, the Alabama Crimson Tide rose higher in the top-four to No. 3. Alabama's rise makes the top-four home to two SEC schools, which poses a significant worry for Cincinnati fans. 
If the likely SEC championship between Georgia and Alabama yields a close final score, Cincinnati could be looked over in higher regards for two SEC schools to remain in the top-four. The Bearcat's also have the unknown Big 10 champion to worry about, which is going to be a battle, considering they have four programs within the Top-10. With Ohio State and Michigan taking the No. 5 and No. 6 spots, respectively, Cincinnati is feeling the Big 10's pressure. 
Although Michigan must face Ohio State on Nov. 27, the Big 10 champion will likely be of high consideration for one of the final top-four spots. After being handed their second loss of the season Penn State entered the rearview mirror of Cincinnati's playoffs run. 
Cincinnati gained strength of schedule "points" with Notre Dame's rise to No. 11, considering the Bearcat's handed the Fighting Irish their only loss of the year.
Future Big 12 conference partner of Cincinnati, Bringham Young University (BYU), entered the Top 25 in the latest AP Poll at No. 25.  
Cincinnati is set to face Tulane University on the road on Oct. 30. The first playoff predictions will be released on Nov. 2.