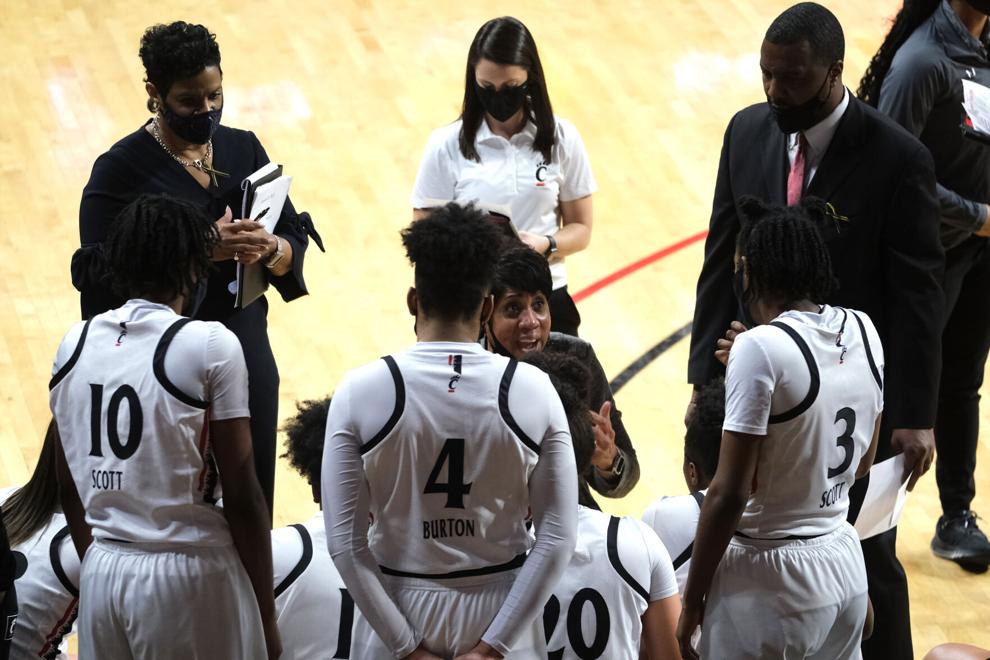 University of Cincinnati women's basketball has officially concluded their 2020-2021 season after a 53-43 loss to the University of Central Florida (UCF) in the American Athletic Conference Tournament quarterfinals. 
The Bearcats finish their season with a final record of 8-16 (5-11 AAC), winning four straight games before falling to the Knights on Tuesday night. 
Meanwhile, the Knights continue their impressive season and improve to a 15-3 (13-2) record and advance to the tournament's semifinals, where they will take on the University of Houston Cougars to get a chance to bring a conference championship to Orlando.
After putting up their highest scoring output of the season yesterday against the University of Memphis (78 points), the Bearcats were held to just 43 points against the Knights – their second-lowest total points on the season.
Throughout the season, UCF has garnered a reputed defensive style of play. Most notably, UCF was able to impressively limit the impact of Cincinnati's go-to scoring option Ilmar'I Thomas.
Thomas, who averaged 34.8 points over her prior four games, was held to just 13 points on Tuesday – her lowest point contribution since early February. Still, it tied teammate Caitlyn Wilson for the Bearcat's highest total on the night. 
"We knew [what] we had to do," said UCF guard Diamond Battles on ESPN+ postgame. "She is the player of the year. She's going to score, she's a great player. Keying in our defense, pressuring the ball and playing UCF defense. That was the game plan."
Thomas, a three-time First Team All-AAC honoree, was disappointed after the game, walking into the tunnel with head coach Michelle Clark-Heard by her side.
After putting together the finest season of her career, averaging over 23 points a game, seven rebounds and three assists, Thomas may very well have been stepping off the court for her final time in Bearcat colors.
The senior, 20-years old after coming to the university at the age of 16, has yet to decide to declare for professional basketball or come back for another season of play via the extended year of eligibility offered to seniors by the NCAA.
Cincinnati only held the lead over UCF once in the entirety of the game, keeping the lead for sixteen seconds before handing it back over for the remainder of the night.
A major weakness for the program throughout the season, surprisingly, was their play at home. The Bearcats went just 1-10 in 2020-2021 inside Fifth Third Arena, while posting an even record of 6-6 away from the Queen City.
The team was unable to take advantage of the attendance variance request approved by the state of Ohio back in February – as their final stretch of three games were all away from home after a game against Southern Methodist University was canceled.