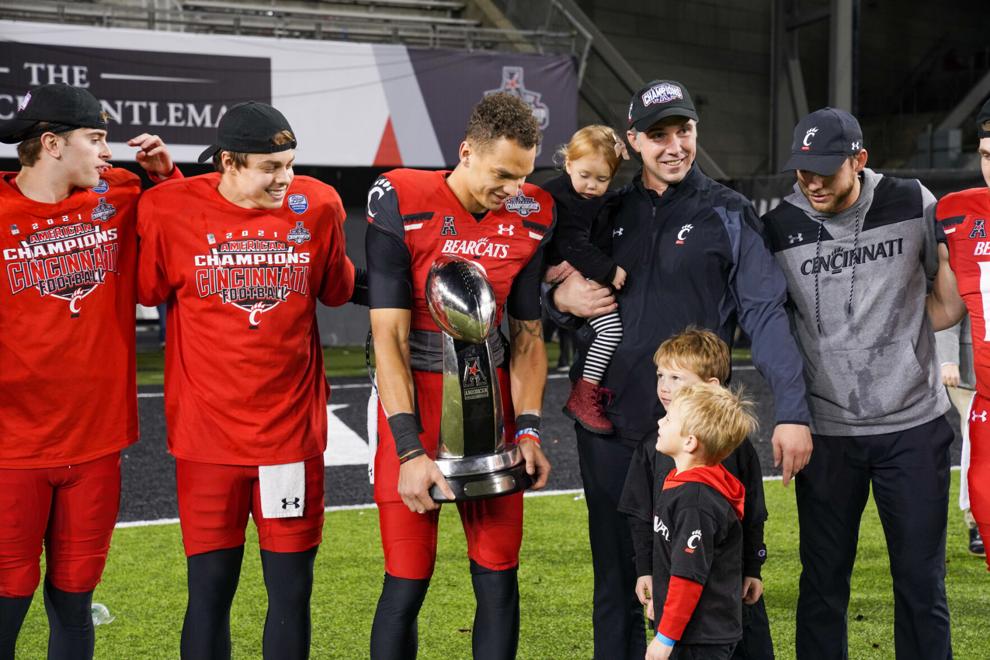 As the sold-out crowd at Nippert Stadium stormed onto the field to celebrate the University of Cincinnati (UC) Bearcat's 35-20 victory in the American Athletic Conference (AAC) Championship game, fans united as "We are the Champions" by Queen echoed throughout. This victory marked the second consecutive season the UC football team has been crowned AAC champions, but the first with a sold-out Nippert crowd to celebrate with. 
"I definitely will remember this one," quarterback Desmond Ridder said. "As much as we credit the fans for what we do, it's just a blessing that they're able to celebrate it with us."
Cincinnati reached 13-0 for the first time in school history with much of the attention going to a third-quarter Bearcat explosion. The 21-point third propelled the squad to its title-game victory over the Houston Cougars and kept Nippert Stadium electric until the final whistle. 
One of Cincinnati's three touchdowns in the third came from junior running back Jerome Ford, who earned Most Outstanding Player in the AAC Championship game thanks to his two touchdowns and 204 total yards. Ford's third-quarter touchdown was the final of three from the Bearcats, the first two coming in short succession of each other. 
"Just give him the ball," head coach Luke Fickell said about Ford. "He's done an unbelievable job."
Cincinnati tight end Leonard Taylor opened the second half scoring for the Bearcats with an 8-yard reception. On the first play of the succeeding Houston drive, Cincinnati linebacker Joel Dublanko picked off Houston quarterback Clayton Tune to give Cincinnati the ball back. On only the second play of the Bearcat's drive, the Desmond Ridder and Alec Pierce met for a 21-yard touchdown. 
"I was like 'crap, I have the football right now,'" Dublanko said about his third-quarter interception. "The rest is history."
The momentum-building plays of the third quarter had the crowd of Nippert Stadium as noisy as ever, but what was most notable was the crowd's energy for both sides of the ball.
Cincinnati's defense posted seven sacks on the night with six different Bearcats getting in on the action. The defense held Houston to just one touchdown in the second half, leading to its lowest scoring game of the season. The Houston offense was held to negative six yards of total offense in the third quarter by the NCAA's No. 8 ranked defense, which has time and time again proven to be the strong suit of the Cincinnati Bearcats. 
Ridder threw for 190 yards and three touchdowns, capping off his final game at Nippert with a dominant display. Ridder finishes his career undefeated in Clifton, posting a record of 26-0 over the course of his four years. 
"We take great pride in coming here and playing at Nippert in front of a wonderful crowd and wonderful student section," Ridder said. "I'm going to miss it for sure."