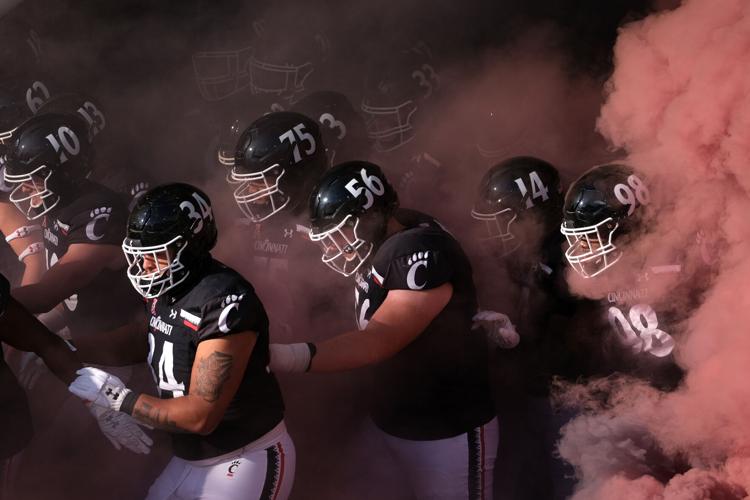 No. 7 University of Cincinnati (UC) football has remained undefeated through week 12 of the 2020 college football season, improving to 8-0 following a significant victory over American Athletic Conference rivals, the University of Central Florida (UCF).
It was far from the Bearcat's best display this season, especially to open the game. UCF quickly marched down the field with their signature fast-paced offense to start with a touchdown, helped by three offside penalties against the usually disciplined UC defense.
A muffed punt by UC's Ryan Montgomery gave the Knights field position for another score not long after as the game was showing early signs of a potential blowout.
The first quarter ended with a score of 14-3. Although there was undoubtedly a lot of game time left to play, the 11-point deficit was the Bearcat's largest of the season, and momentum was on the Knight's side.
"Everything can't go well," said head coach Luke Fickell postgame. "I knew [UCF] was going to come out on [their] senior night and be slinging it, have some energy and momentum. I just was curious how we we're going to handle it."
The second quarter, however, marked a change in the tides. Defensive coordinator Marcus Freeman's "Blackcats" began playing more like top ten players, and Ridder led the way for an offensive resurgence – stealing the limelight while doing so.
"The guy never ceases to amaze us," said Fickell, referring to Ridder. "I love it when people start to doubt him. All that does for him is just make him better; it locks him in, focuses him. To handle some of the things that happened in the first, just shows you what he's made of."
Ridder tossed a 29-yard touchdown to tight-end Josh Whlye and took the ball in for another score himself. As a result, the Bearcats took the lead, and the first half ended 19-17. Ridder then opened up the second half with a 20-yard rush on a crucial third down to set up kicker Cole Smith for his third field goal of the game.
After a crucial fourth-quarter interception by UC's Darrick Forrest, Ridder negated a prior UCF touchdown by rushing into the endzone for the second time on the night. Ridder converted several critical third downs throughout the game.
Ridder tossed the game-sealing touchdown to cap off his night to tight-end Leonard Taylor, who had a great game – along with Whyle – in their own rights. Ridder finished his night 21-32 with 338 passing yards (his second consecutive 300+ yard game) and two passing touchdowns, accompanied by 57 rushing yards and another two scores on the ground.
Ridder has been responsible for 21 touchdowns over the past five games, nine through the air and eleven on the ground. He's scored 4+ touchdowns in each of those games, tying the AAC record.
Next week, the Bearcats will head to Philadelphia to take on another conference opponent in Temple University (1-6) on Nov. 28, with the time and broadcast to be announced.