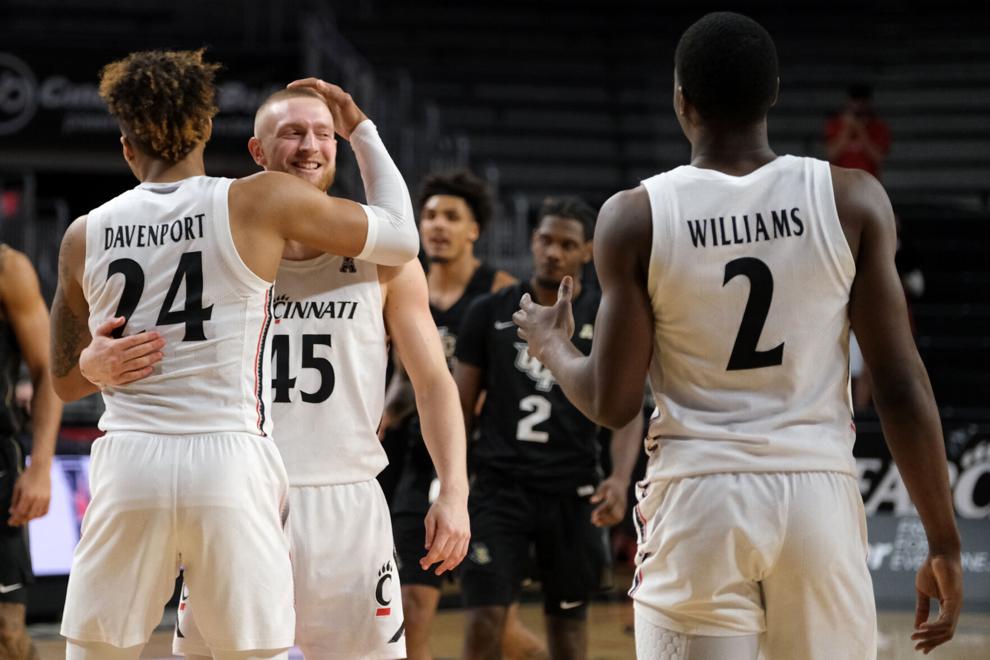 After losing two straight games, the University of Cincinnati's men's basketball program has finished their regular season with a record of 10-10 (8-6 AAC) following an 82-69 victory over Eastern Carolina University on Sunday afternoon.
The Bearcats, who won only three out of their first ten games, have done the exact opposite following a 25-day hiatus due to COVID-19 complications – winning seven out of their final ten.
Splitting their wins and losses evenly, it marks the 13th consecutive year the Bearcats have finished at or above .500 on a season. However, this season's final record is the program's worst since 2007-2008.
The game was a close contest throughout, with ten lead changes, six of them coming the first half alone. However, the Bearcats held their leads for much longer than the Pirates, never allowing them to get on a roll before regaining control.
"Really proud of the guys for the way they played today," head coach John Brannen said postgame. "We talked about ascending. It's not about the best team; it's about playing the best going into the conference tournament."
Separation finally came for Cincinnati near midway through the second half when they went on a 9-0 run. The run was kickstarted by a prolific play between freshman players Mason Madsen and Tari Eason.
After forcing a turnover, the ball was passed down the court to a charging Madsen, who then let the ball into the air for Eason to convert an and-one alley-oop. After Eason converted his free throw, Madsen came back up the court on the next play to hit a three-pointer – swinging momentum fully into the Bearcats way.
The series of plays gave the Bearcats the game's first double-digit lead, which they never let up. Madsen wound up finishing with several career highs, including a joint team-high 19 points, five made three-pointers, six rebounds and three assists.
"Looking back to last game, Mason and Tari didn't play up to their standards," said Brannen. "When you're younger, a lot of the times, you feel like you have some success, the game comes easy. Then the game humbles you, really quickly. When it does that, you find out what you're made of."
Other big contributors included Jeremiah Davenport, Keith Williams and Mika Adams-Woods, who cracked into the double digits in scoring.
Davenport, who's seen a dramatically increased role in his sophomore season, has become the Bearcat's second go-to scoring option this season. He contributed 19 points against the Pirates and finishes with a season average of 11.6 points per game – second on the team and nearly ten points higher than his freshman season average.
Williams threw in 16 points, seven rebounds and five assists on Sunday – giving the senior regular-season averages of 15 points, 4.1 rebounds and 2.7 assists before potentially heading into his final stretch of games as a Bearcat.
View all of the Bearcats' final regular-season statistics here. 
Cincinnati next heads into the annual American Athletic Conference Tournament as the No. 5 seed, where they will face Southern Methodist University. Gameday is set for Mar. 12 at 3 p.m. in Forth Worth, Texas. The game will be aired on ESPN2.