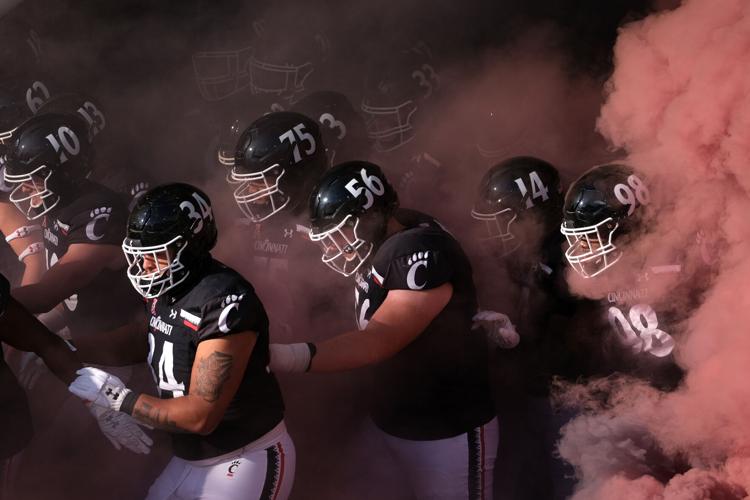 The University of Cincinnati (UC) football program remains undefeated in 2020, improving to 7-0 after defeating Eastern Carolina University (ECU) 55-17 on Friday night – marking the Bearcats highest scoring output yet this season.
UC has managed to keep their dominant home game winning streak alive for the entirety of the regular season and remain well in first place in the American Athletic Conference (AAC) standings. If the Bearcats retain the #1 seed in the conference, they will find themselves back in Nippert Stadium come Dec. 19th for the conference championship game. 
As is annual custom on the final regular season game of every season, Friday was also senior night for Cincinnati – and the seniors sure showed out, especially on the defense. 
It was another dominant defensive performance for coordinator Marcus Freemans "Blackcats" squad. Seniors Jarell White and James Wiggins led the charge for Cincinnati, especially in the first half. 
White came up with his second sack of the season on a crucial third down early in the game, giving the Bearcats some momentum out the gates. Not long after, White scored his first career defensive touchdown with a pick-six in order to extend the early lead by another possession. 
"Well, he just lost the reigns since he forgot how to act once you do score," head coach Luke Fickell said postgame referring to White, sarcastically. "He's done a great job, he's a smart football player, not to mention he's got incredible ability. He continues to impress"
White totaled seven tackles and the takeaway, just behind fellow senior Darrius Beaver's nine tackles. 
Meanwhile, Wiggins came up with his first interception of the season, following a 45-yard touchdown reception by sophomore Tre Tucker after a botched ECU onside-recovery attempt. Quarterback Desmond Ridder proceeded to lead the team down the field for another Bearcat score following Wiggins' takeaway to make the score 35-10 entering halftime. 
Those 35 points by Cincinnati are the most the offense has put up in a first half so far this season – and the offensive riot, spearheaded by Ridder, continued into the latter half as well. 
It was during this period that another senior celebrated their night of commemoration in takeaway fashion, as cornerback Coby Bryant nabbed his third interception on the season and twelfth total for the defensive unit. 
Ridder made some big plays throughout the game, including several scrambles to convert third downs and keep eventual scoring drives alive – as his legs continue to be his greatest ally this season. As a result, Ridder is truly emerging as a dual threat quarterback; he's one of only two gunslingers in the FBS to both throw and rush for a score in four consecutive games this season. 
"Good vibes, just good vibes all around," said Ridder postgame. "The whole team was having a great night [on] senior night. Wanted to send these boys off with a bang. It was big plays after big plays by our seniors being made. It was making the sidelines electric."
Ridder concluded the day 24-31 passing for a season high 327 yards and three touchdowns – tagged along with 75 yards rushing and a score on the ground. 
UC embarks on the beginning of their three consecutive away games next week, travelling to take on the University of Central Florida on Nov. 21 at 3:30 p.m. The game will be aired on one of either ABC or ESPN.