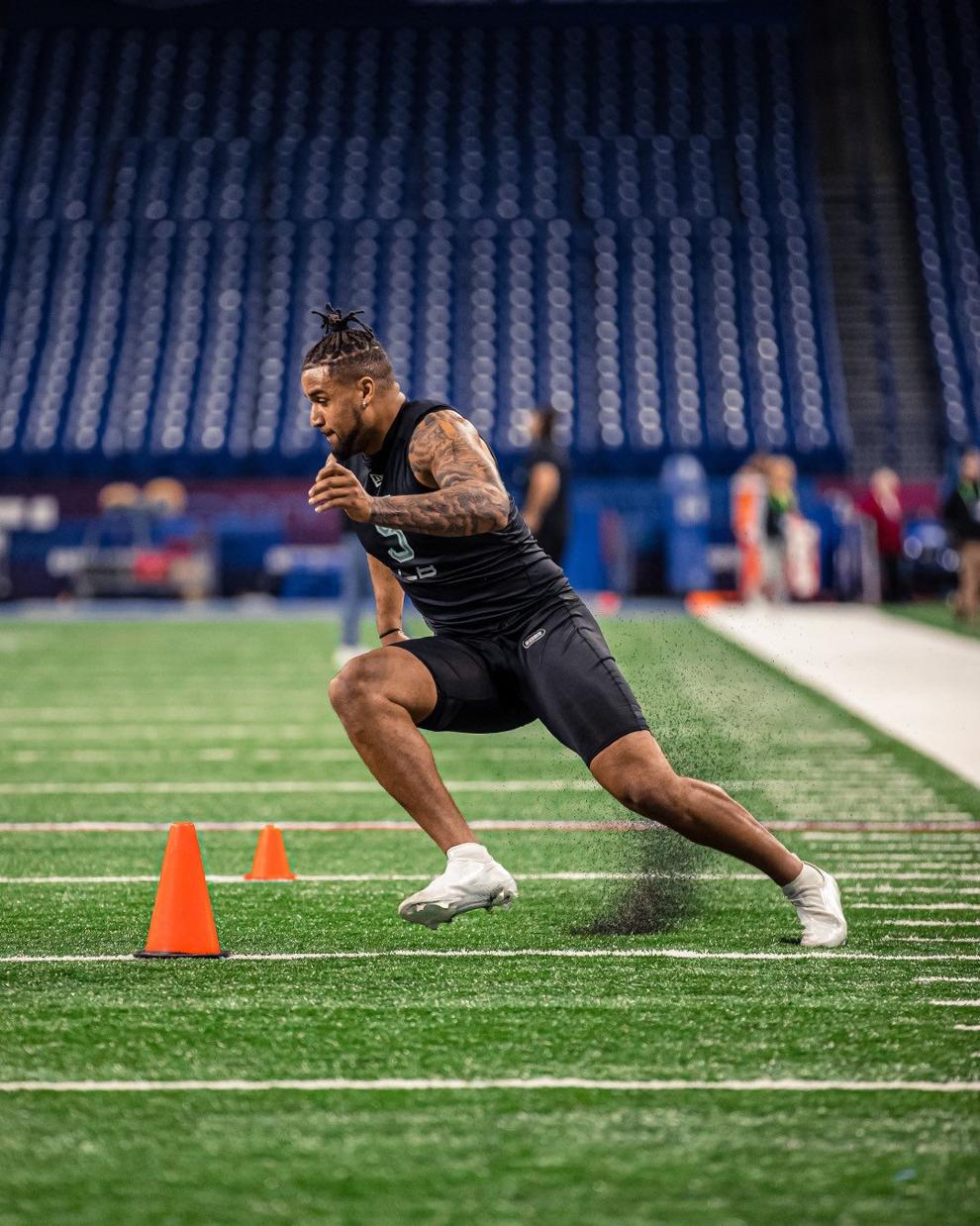 After University of Cincinnati (UC) quarterback Desmond Ridder and receiver Alec Pierce stole the show at day one of the NFL Combine, it was the other Bearcats turn and they didn't disappoint. Arguably making the most noise was junior cornerback, Ahmad "Sauce" Gardner. 
Gardner, the 2021 first-team AP All-American, didn't allow a single touchdown throughout his 1,059 coverage snaps college-career snaps. "I don't have plans on giving one up in the NFL," Gardner said. 
Gardner, coming in at 6'2" and 190 lbs., clocked a 4.41 40-yard dash that caught the eyes of Lucas Oil Stadium. With 33 ½" arms and a wingspan of 79 3/8", Gardner went on to tell his mother to retire, hinting at the large pay day likely looming around the corner. 
"My competitive spirit, and my love for the game. I make sure I lead by example. I'm not a smoker, not a drinker. Never have, never will. I make sure I do the little things right," Gardner said on why he thinks he is the best cornerback (CB) in the draft. 
Although Gardner arrived in an attention-grabbing fashion, sporting his notorious diamond covered "sauce" chain and diamond flashed smile, he wasn't the only CB on a business trip. Across the field from him every game for his last three seasons was the Bearcat's captain, Coby Bryant.
Bryant, who recently received the Jim Thorpe Award for being declared college football's best defensive back, clocked a 4.54 40-yard dash. Coming in at 6'1" and 193 lbs. with 30 5/8" arms, Bryant cranked out 17 bench press reps. When questioned, Bryant pointed out his alpha mentality as a separator between himself and the rest of the pack. 
The third defensive back representing the Bearcats at the combine was safety, Bryan Cook, who didn't compete in any drills due to a post-season shoulder surgery. However, Bryant did measure in at 6'1", 206 lbs., with 31 7/8" arms. 
Representing the Bearcat's defensive front was 6'5" Myjai Sanders, who clocked a 4.67 40-yard dash. Weighing in at 228 lbs. with 32 5/8" arms, Sanders is coming off a 13.5 sack career leading the defensive rush of Cincinnati. 
Cincinnati's former linebacker, Darrian Beavers, checked in at 6' 4", 237 lbs. and landed a 36.5 vertical jump, paired with a broad jump of 125. Beavers, the Cincinnati-native, clocked a 6.91 3 cone drill. 
The third representative from the Bearcats offense other than Ridder and Pierce, was running back Jerome Ford, who clocked a 4.46 40-yard dash. Ford, who measured in at 5' 10" 210 lbs., is coming off a 20-touchdown season that was good for 1,319 rushing yards. 
Up next for the Bearcats bound for the NFL is Pro Day, taking place on March 24. Pro day will be the athletes last chance to publicly display their resume before the NFL Draft begins on April 28.