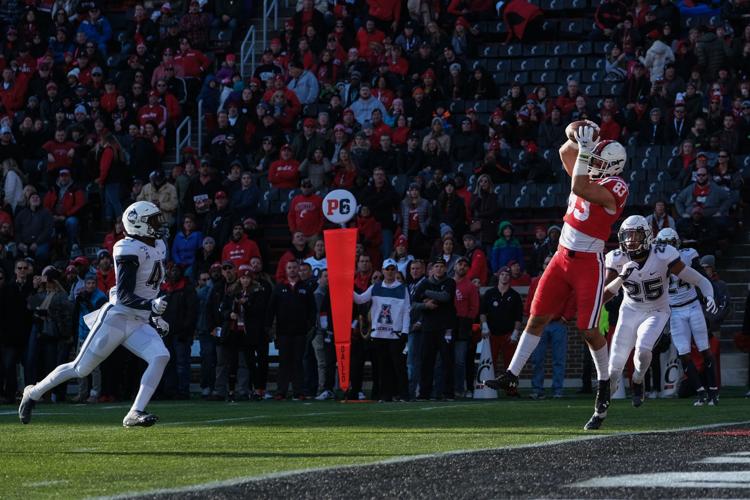 After having a great year for the University of Cincinnati's football program, in which the team was able to achieve a No. 21 ranking and claimed The Birmingham Bowl against Boston College, some of the players on the team have shifted their focus to the upcoming 2020 NFL draft.
The Bearcats have had at least one player drafted in each of the last four years, with the lone draftee in 2019 being defensive tackle Cortez Broughton. This time around UC has a few players with the potential to go on to the ultimate stage. On the offensive side of the ball, junior running back Michael Warren II and senior tight-end Jason Deguara will both be looking for a new place to call home.
Warren recently announced his decision to enter the 2020 NFL draft, after 38 career games with UC totaling nearly 3,000 yards (2,918) including back-to-back 1,200+ yard seasons in 2018 and 2019, along with 37 total touchdowns which is second all-time best for the university.
In declaring his commitment to the NFL Draft, Warren addressed his love for the time he spent as a Bearcat.
"Words can't describe how honored I am to fulfill a lifelong dream, and I'm ready for the challenge," he said on Twitter. "I will forever be a Bearcat and am honored to have been a part of this team. I love you Bearcat Nation and can't thank you enough for what you've done for me and my family. JUNCTA JUVANT!"
According to UC, Warren is the first Bearcat to be an official early entrant in the NFL Draft, meaning the first non-senior to do such a thing. Warren showed extreme versatility for UC out of the backfield, providing good vison running and being a solid receiving threat as well efficient pass-blocking both. These qualities should have Warren going from anywhere in the early fourth round to mid fifth round.
On the end of the offensive line for the Bearcats was senior tight-end Josiah Deguara, who broke out with the team in 2018 and improved into this past 2019 season as well. In both seasons he amassed over 35 receptions and five or more touchdowns, finishing with a team high of seven touchdowns this past year.
Since making a name for himself, NFL scouts are sure to have taken notice. Deguara's big body, strong legs, and sure hands combined with his quality pass and run protection make him a prospector's dream. He has all the tools he needs to succeed in the NFL, and given the right setting and training perhaps he could step up to the plate against fellow former Bearcat and NFL superstar Travis Kelce. These traits have Deguara finding a team somewhere in the sixth round.
Also amid the draft scouts talk is UC senior linebacker Perry Young. Young, who's fought through health adversity during his time as a Bearcat has continued to prove his serviceable skills even despite his "safety-linebacker" tweener size, which coincidentally is becoming more and more useful in todays NFL. This all-around ability can see Young drafted somewhere in the seventh round.
The 2020 Bearcat Football season will commence Sept. 5 against Austin Peay at Nippert Stadium.