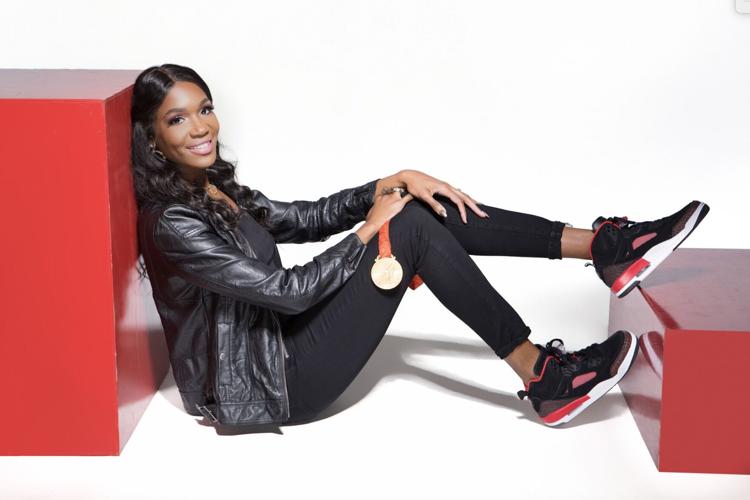 Mary Wineberg graduated from the University of Cincinnati (UC) in 2002 with a bachelor's in education, where she was also an athlete on the track and field team. An athlete that, as Wineberg puts it, was by no means regarded as an "out-of-this-world" standout – not yet, at least.
Born in Brooklyn, New York, Wineberg moved to Cincinnati at just four years old. She was adopted by a mother that taught her the values of a high-work ethic, that nothing is given and everything has to be earned.
Graduating from Walnut Hills High School, Wineberg decided to become a Bearcat due not only to an existing affection, but because her options were limited as an athlete.
"I wasn't the great star athlete that was getting recruited from schools," Wineberg said. "UC had been looking at me, and I've always a Bearcat fan. I was very excited when the coaches took notice and said 'You know what, we want to give you a chance.'"
Wineberg reflects on her time at UC as somewhat of a turning point in her life: learning the difficult balance of education and being a student-athlete, being initiated in the Alpha Kappa Alpha Sorority - which she is still an active member - and meeting her eventual husband.
For her major, she detoured from her initial hopes of athletic training over to education. According to Wineberg, it wasn't only a matter of finding the best fit for her student-athlete lifestyle but following her gut – harking back to memories as a child roleplaying as the teacher with friends.
After earning her degree, Wineberg couldn't help but feel that there was more for her to accomplish in the world of track and field. After expressing her desires to her coach and future husband, the group knew that there was still a lot of work to further her career.
Following a year of intense training, Wineberg was noticed by coaches and in 2003 was invited out to the Olympic training center in California to train for the 2004 Olympics in Athens, Greece – but she didn't end up making the cut.
"I was devastated," Wineberg said. "Everyone thought I could do this, I thought I could do this, and I thought it was just going to magically happen like that. But nope, it was a journey, a journey that I needed to take."
Returning home from California, Wineberg ran into all the questions she was fully expecting. Growing fed up with the "What happened?" questions, she realized that she took "The opportunity to fail," as she describes.
"I did fail," Wineberg explained. "But I learned that there was something else that I needed. So, it opened the doors for me to come back and talk to my coach once again, and I said, 'Coach, I didn't make the team, but we're going to do something different this time.'"
Wineberg's husband, Chris Wineberg, as well as her coach, Jim Schnur, continued to support her strives for improvement. After being prepared physically, mentally and emotionally through her training in 2003, Wineberg felt that the only way to go was up.
In four years' time, Wineberg was again invited to train for Team USA. This time, things were indeed different. She made the track and field team and represented the United States at the 2008 Olympics in Beijing.
She competed in the 400-meter race where she finished fifth in the semifinal, preventing her from a spot in the final to compete for a medal solo. She then competed in the 4 x 400-meter relay race, where each runner sprints 400 meters before passing a baton to the next runner of their country. Wineburg was entrusted with the first leg of the relay, dedicated to getting the USA off to a good start.
"I can remember getting to the line in Beijing, and thinking wow," Wineberg said. "This is my opportunity to represent Team USA, and not as an individual, as a team with the other young ladies. It took five of us to make it happen."
Wineberg and Team USA won first place, taking the gold medal in the infamous 4 x 4 relay. Her dream had come true, and the United States ended up finishing with the highest number of total medals of any country.
Wineberg then had a new challenge in front of her: The path of her life post-track and field. It was then that she realized that she had a story to share. Wineberg became what she had wanted all along: an educator and much more beyond that.
Wineburg is now a speaker and an author. She has been invited to share her story with hundreds of people a year while promoting self-confidence and persistence through the lens of her accomplishments.
"I usually speak on realizing your potential, going after your gold, seeing your life [and] telling your story," she said. "For me, that was my story. My story was coming into the sport basically being a no name, and yes, I'm a person you would not have suspected to make the Olympic team. I wasn't a star athlete; I wasn't running the times everyone else was, I worked eight long years to get where I got."
Wineberg also became an author in 2017, releasing her autobiography "Unwavering Perseverance." She released a children's book, "I Didn't Win," earlier this year to commercial success despite the on-going COVID-19 pandemic.
The book follows Jackson, who learns the importance of setting goals and then coming up short – modeled after Wineberg's life. She claims she's interested in writing more children's books in the future.
Wineberg's husband, Chris, is currently the associate head coach at UC's track and field program, which has been on the up in its own right – collecting several crowns in last year's American Athletic Conference Indoor Championship. The couple has two children together, Brooklyn and Olivia. The family resides in Northside, where Wineberg is currently an elementary school teacher in the Cincinnati Public School District.
"I want [my children] to know that they can do anything they can put their mind to," Wineberg said. "The same advice that my mom gave me, you have to work hard, and nothing is given to you. Yes, you are blessed, you're very fortunate, but I want [them] to understand that it takes hard work to be the best, hard work to achieve any dreams you want to accomplish."