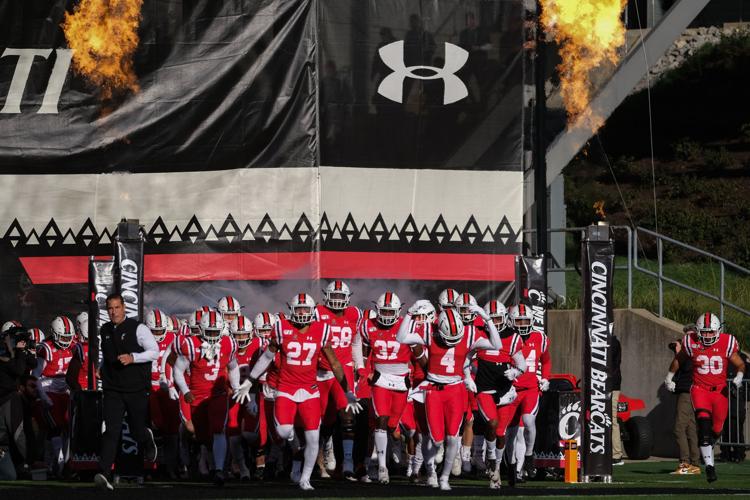 The University of Cincinnati's (UC) 2020 football recruit class is the program's highest-rated over the last decade, ranking as the 41st best across the nation.
All things are seemingly going well this pre-season for the Bearcats, landing in the top 20 in the current AP Poll rankings, a six-year contract extension for head coach Luke Fickell, returning starters in critical positions and a recruiting class like no other. 
With game one less than a month away, the question is will Fickell's Bearcats be able to turn in another successful season.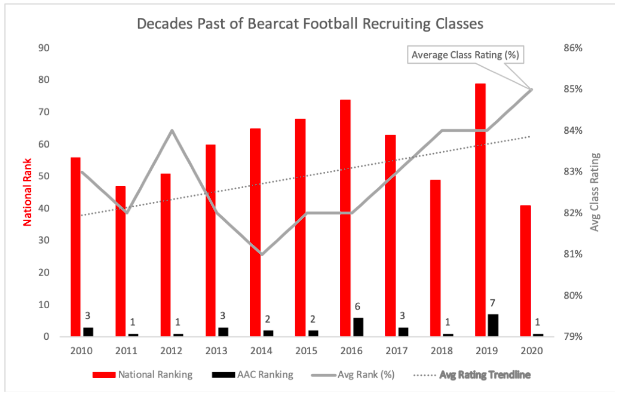 Leading the charge of freshman commits is quarterback Evan Prater, out of Wyoming, Ohio. An Ohio's Mr. Football award recipient, Prater is joining the same roster as his brother, wide receiver Garyn Prater. The latter played two years at Ohio State but transferred over to the Bearcats in 2019. 
In his career at Wyoming High School, Prater threw for 5,699 yards and 72 touchdowns, while running for 4,124 yards and 73 touchdowns. All of which are genuinely dominant numbers.  
Due to returning quarterback Desmond Ridder, it's unclear whether fans will be seeing any "Prater to Prater connections" this season. If Ridder does indeed start, that'll place Prater — the class of 2020's fourth-ranked quarterback — as a backup. 
"I plan to be starting," Ridder told The Enquirer on Wednesday. He is seemingly relying on his confidence and experience, as he's a third-year with 4,609 passing yards in just two seasons.  
Despite some fans having high hopes with the freshman quarterback, Ridder said, "There's nothing else to it," seemingly referring to either Evan Prater or last year's backup, Ben Bryant, taking his starting spot.  
UC landed a few four-star recruits in the class of 2020, another being Jadon Thompson, a wide receiver from Marist High School in Chicago, IL. 
As the No. 5 player in Illinois, Thompson secured 146 catches for 2,270 yards and 25 touchdowns. 
An effective returner on special teams, UC could potentially be leaning on an allusive receiver like Thompson, since the team lost five of their seven top receivers going into the season. Thompson also received a mention from Ridder when asked who stood out from the 2020 class.  
Fickell also received a unique transfer for the upcoming season from Notre Dame, wide receiver Michael Young. Despite being very experienced, Young has two more years of eligibility for the Bearcats to take advantage of. 
Also joining Young in the receiving core is Marquez Bell, a top-100 player out of Florida. Bell is coming into the Queen City off two consecutive 1,000+ receiving yard seasons at Columbia High School in Lake City.
Ridder also mentioned three other incoming freshmen: Tyler Scott, a wide receiver and defensive back, and two offensive linemen, Jake Renfro and John Williams.    
Scott, a sort of football swiss army knife, put up most of his impressive numbers on the ground in high school. Recording 21 touchdowns and 1,337 rushing yards as a senior. Scott had an even more outstanding junior season with 27 overall touchdowns, including kickoff returns and receiving.  
Renfro and Williams will look to be important additions to the offensive line. Williams was considered one of the nation's top 115 tackles, while Renfro was a CCL/ESCC Green All-Conference honoree in high school.  
Another addition to the offensive line will be Jonathan Allen, who was redshirted in 2019. Allen reportedly chose UC over other well-renowned programs such as Ohio State, Indiana, and Kentucky. Jonathan was ranked as one of Ohio's top-35 players from Dunbar High School in Dayton, Ohio. 
A curious case on the offensive side of the ball this season will be tight-end Cam Jones, the No. 7 player in Kentucky as he threw for 10,293 yards as a quarterback at Frederick Douglass High School between 2015-2018.
Jones was a 3-4 star ranked prospect as a quarterback and made the switch to tight end with UC in 2019 as a redshirted freshman.
Senior running back Gerrid Doaks is set to be a starter this year as UC only recruited two backs in the 2020 class: Jerome Ford and Ethan Wright.  
Despite spending two years at Alabama, Ford is a redshirt Freshman, where he had 114 yards on four games in 2019 and 37 yards on four games in 2018. Coming out of high school, Ford was nationally ranked a No. 6 all-purpose back.  
Ethan Wright recorded very impressive numbers in high school, receiving reps at running back, wide receiver, lineback and defensive back. On offense, Wright ended his high school career with 7,804 rushing yards (No.4 all-time in Ohio), 130 touchdowns (2nd) and passed for 316 yards and two scores.
Wright recorded 146 tackles, three sacks and four interceptions. Wright was a finalist in Ohio's Mr. Football award, losing out to now teammate Evan Prater.  
Leading the defensive recruits is outside linebacker Jaheim Thomas out of Princeton High School and a local Cincinnati recruit. Like Prater, Thomas has an older brother at the wide receiver position, Jiair Thomas.  
As the No. 5 recruit in Ohio and 22nd outside linebacker nationally, Thomas has a nose for the ball as he recorded 73 tackles with 46 being solo in his senior season. 
Thomas is being joined at the outside linebacker position by redshirt freshman Dorian Holloway, a top-75 player in Ohio. 
Joining the 2020 class's defensive side are five cornerbacks: DeArre McDonald, Sammy Anderson, Todd Bumphis, Phil Thomas and Alex Green. 
Anderson, a consensus four-start prospect, was a dual-threat as he recorded 10 offensive touchdowns at Trotwood-Madison High School in Ohio. While Bumphis earned two Ohio state championship placements in sprinting events.
Playing deeper in the secondary will be James Camden of Anderson High School, who proved himself on both sides of the ball, with 801 all-purpose yards on offense and 72 tackles as a safety. 
Despite putting up 338 rushing yards and 279 passing yards as quarterback in two games, Camden will be playing safety under Fickell, hoping to mimic his seven tackles for a loss and two sacks in 2019 as a high school senior. 
The real test is yet to come for the class of compelling athletes. Getting ranked No.1 in the AAC was just the start for the class of Freshman. In just a couple weeks, they'll be thrown into their first taste of collegiate ball when they take on Austin Peay on September 19 at Nippert Stadium.