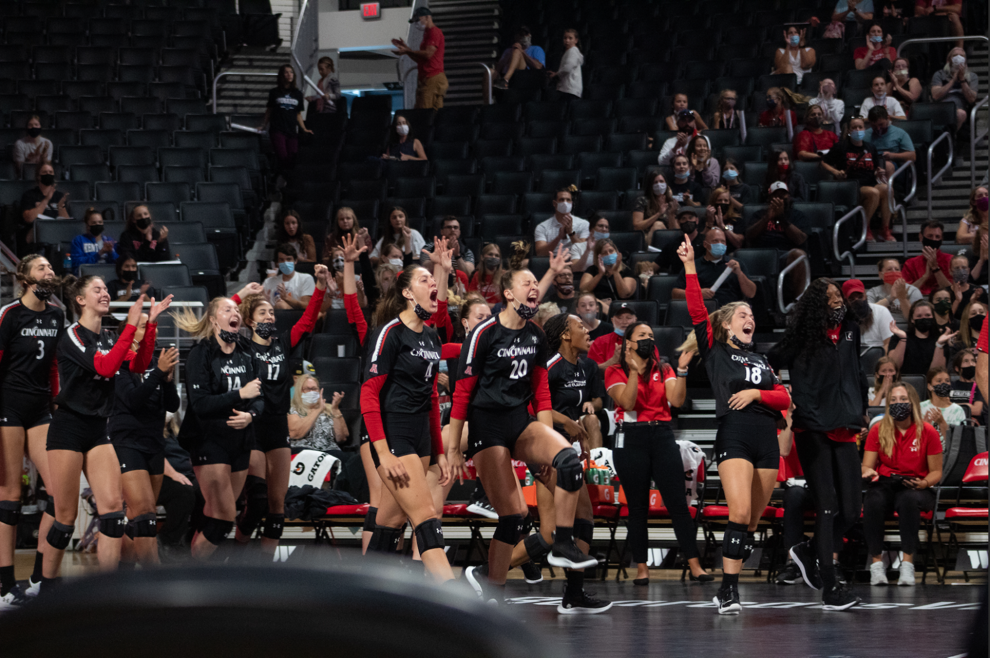 The University of Cincinnati (UC) volleyball team hosted the University of Pittsburgh at a crowded Fifth Third Arena for an exhibition match, which featured a commemoration for alumna Jordan Thompson. Thompson and the gold medal she earned in indoor volleyball at the 2020 Tokyo Olympics lit up her home court, and head coach Molly Alvery stood by her side.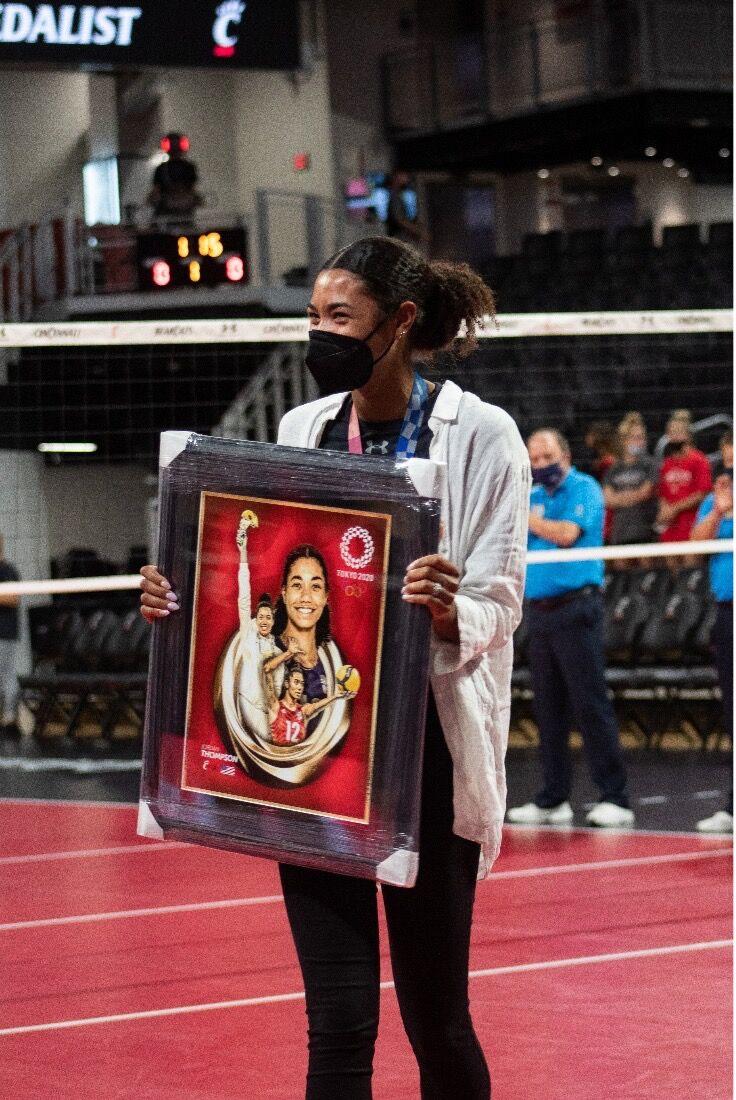 Thompson returned to her alma mater, where she played from 2015 to 2019, earning AAC player of the year three times and first-team All-American honors her senior year. In the 2019 NCAA tournament, Thompson led the Bearcats in eliminating the visiting Pittsburgh Panthers in the second round on the Bearcat's path to the final 16.
UC volleyball presented Thompson with a framed picture collage of notable moments throughout her career and played a tribute video of her career highlights on the jumbotron. 
The Bearcats played four sets against the Panthers, seeking to pick up where they left off last season, ranked ninth in the country for Division I volleyball. Pitt also returns 2020 second-team All-American recipient Chinaza Ndee.
Pitt won't be the only nationally ranked team the Bearcats compete against this season. Cincinnati squares off against both the University of Kentucky, ranked third in the country, and the University of Notre Dame, ranked 25th in the country, in early-season matchups. Kentucky was national champion in the 2020 season, and Notre Dame made a run that ended in the quarter-finals.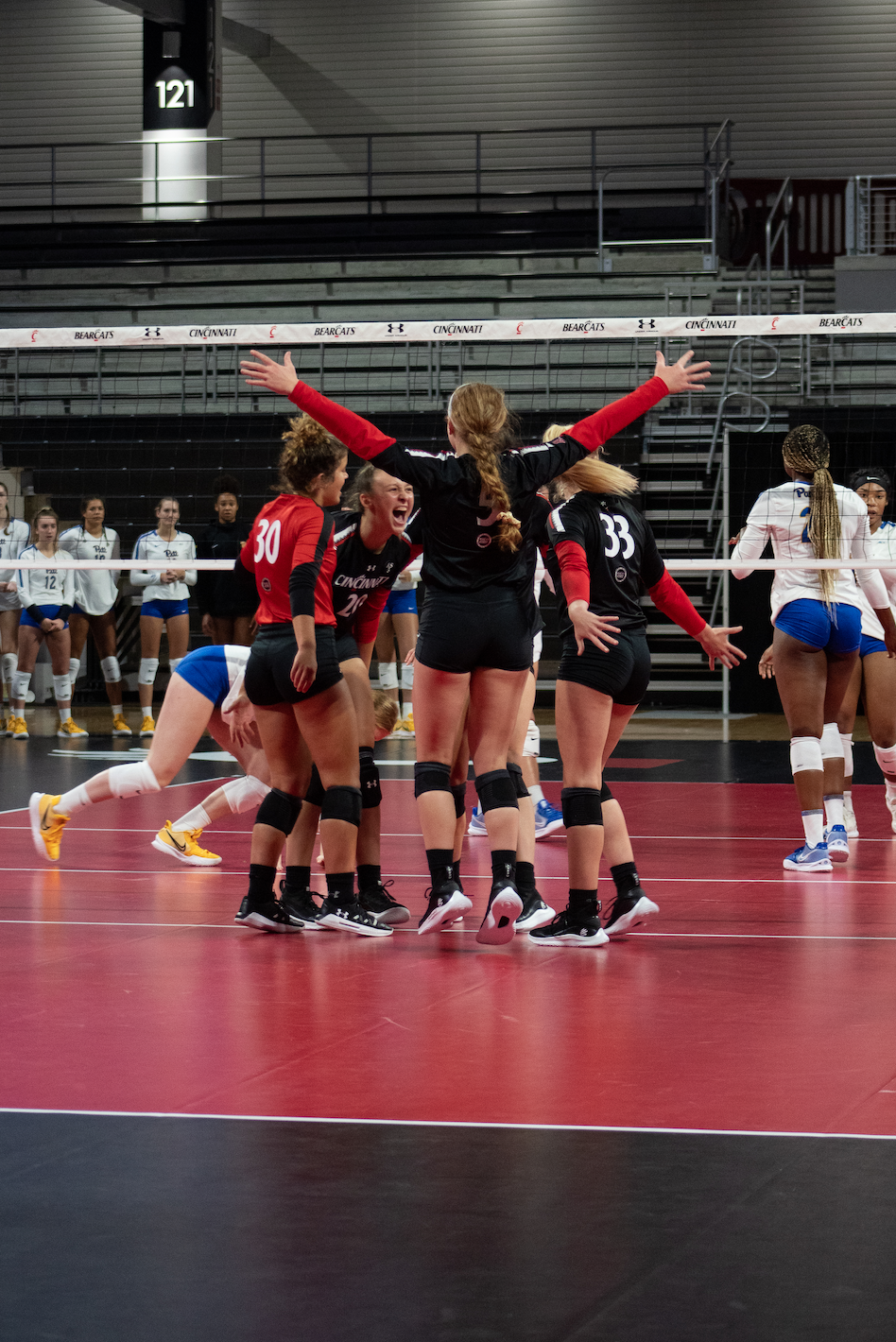 With a rigorous out-of-conference schedule leading up to AAC play, the Bearcats have a lot to look forward to this season.
A pair of freshmen saw themselves start for the first time for UC, Ohio natives Emme Madden and Abby Walker. They are two of six freshmen on the roster.
"We really feel like once we get them to campus, we're in a really great spot; I mean our campus is beautiful," said Alvey. 
On the veteran side of the roster, senior Maria Mallon and junior Adria Oliver return to bring firepower to the court. At the end of last season, Mallon had two first-team appearances and one second-team appearance on the All-AAC honors. Oliver has two All-Conference honors in her career thus far.
Senior Armania Heckenmueller also returns after leading the nation in assists per set (12.12) in the 2019 season. Heckenmueller was second-team All-AAC that season.