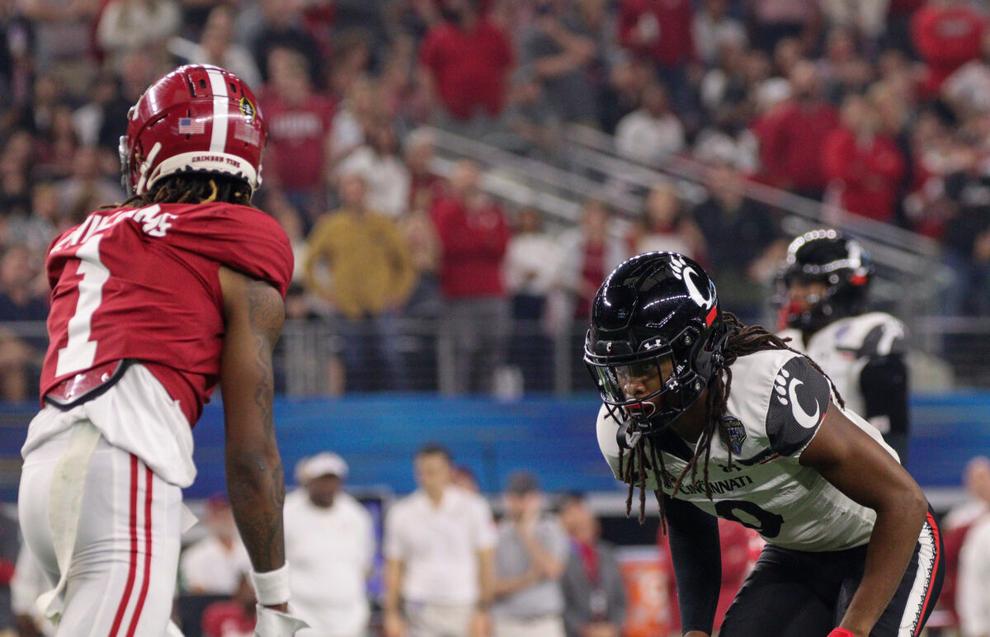 University of Cincinnati (UC) football found themselves left with a hole in the team with the loss of star cornerbacks (CB) Ahmad Gardner and Coby Bryant to the NFL. Arquon Bush, now entering his senior year, is looking to fill that hole this year for the 2022 season.
"It's pretty crazy, because we all came in at the same time, so it's new. It's a new room now," Bush said about Gardner and Bryant's departure from the team.
Losing Gardner and Bryant is a massive blow to the Bearcats. The two talented CBs were major players in a dominant 2021 UC defense, which allowed the tenth least number of yards per game (318.4) and only allowed 28 touchdowns all year, which was eighth best in the nation. 
Gardner was arguably the best CB in the college season and the top CB prospect in the 2022 NFL Draft, racking up 40 tackles, three sacks and three interceptions, all while allowing no touchdowns in his entire collegiate career.  
Bryant was also a top CB in college last year, taking home the Jim Thorpe award, which is awarded to the nation's top defensive back. 
Bush, a Cleveland native, now feels like he needs to step into more of a leadership role with Bryant gone. 
"Yes, Coby was a great leader, no doubt, he's a great man, great person just to be around. So yes, I feel like I must do what Coby did, plus more," he said.
With Bryant and Gardner manning the outside CB roles for the Bearcats the last three years, Bush was stuck playing nickel, where he's performed well for the Bearcats. During UC's historic run to the college football playoffs last year, Bush played in all but one game at the nickel position, where he produced 40 tackles, one sack and three interceptions. 
"When I first got here, I really didn't mind [playing nickel], I played nickel in high school. So, it wasn't a big turnover for me," Bush said. "You do the same job as the corner, so I'm perfectly fine. Wherever the team needs me is where I'll go play at."
The Euclid High School graduate may be moved to outside CB in 2022 with the losses of Bryant and Gardner, but he may stay at nickel due to his great year at the position last season. Either way, Bush is prepared to do whatever's best for his team.
Even with the losses of players like Alec Pierce, Myjai Sanders, Desmond Ridder, Bryant, Gardner and others to the NFL Draft, Cincinnati has no plan of losing momentum heading into next season. 
"We just got to keep the standards up, no if, ands, or buts about it. Those two guys gone [Gardner and Bryant], next two up." Bush said.