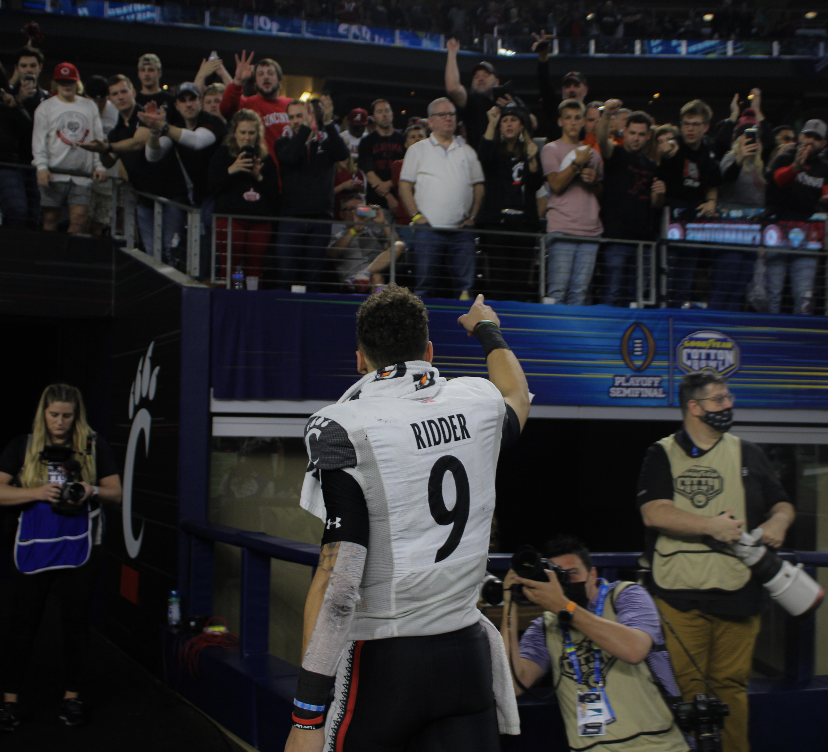 After breaking history all season long, Cincinnati fell short of being the first ever non-Power 5 school to reach the CFP National Championship in a 27-6 loss to the No. 1 University of Alabama. 
While the Bearcat's admitted following the game that they didn't play complimentary football, let's look at what went wrong and what was almost enough. 
What Went Wrong
After an energetically dominant pregame appearance, the lack of big plays by Cincinnati resulted in a quite start for the entire first quarter.  
"They didn't do much different," Ridder said following the game regarding what he saw on film versus in AT&T Stadium. 
Bearcat fans were silenced by Alabama's domination of the clock, who offensively controlled the first quarter's clock by more than double Cincinnati's time with the ball. Largely in part due to Brian Robinson Jr., who rushed for 204 total yards. 
Not only was Robinson putting on a show for all to watch, but often also it seemed like Cincinnati was slowly watching the game playout.
Alabama ran for 106 yards in their opening 15 minutes, and it was evident in the Bearcat's defense who couldn't seem to get off the field. 
Desmond Ridder struggled to stay upright, taking six sacks in total, resulting in a visibly frustrated leader of the Bearcat's offense that inched out just 76 total yards in the first half. 
As Cincinnati's offense struggled to produce efficient gains, it seemed they were at the cusp of one of their infamous deep balls to Alec Pierce or break-away runs by Ford, but neither came. 
Cincinnati maintained a behind the eight-ball style of play throughout the game's entirety, struggling to really excel in any one specific area. 
Ridder, Cincinnati's veteran quarterback who has now played in his final collegiate game, truly was never able to get going, throwing for his second least number of yards per game this season. 
What Almost Was Enough 
While Alabama's offense was seemingly able to move the ball however, they wanted, Bryce Young was consistently being pressured by the "BlackCats" defensive front. 
Although Cincinnati trailed the games entirety, they seemed to stick to their script and "Clifton-style" of play, never letting the moment get too big, as they preached attention to all season. 
Cincinnati was successful making special teams special, knocking down two field goals, forcing Alabama to two and a muffed punt. 
One of the gray areas for Cincinnati heading into the CFP was their kicking game, which was one of the only aspects of the Bearcat's play that was one hundred percent.
As Ridder and Fickell both acknowledged post game, the Cincinnati fan base showed out to Dallas and were present to support a season with one more game to it, they just didn't have enough to cheer for. 
What's Next
A slew of Cincinnati's playmakers played their last game as a Bearcat in Dallas, meaning the next stop, the National Football League, is near. Cincinnati players themselves have said throughout this season that come NFL Draft, fans will be surprised how many Bearcats hear their name called. 
As for the future of Fickell's programs, the goal is a top five program not a top five team, as he finished this year.