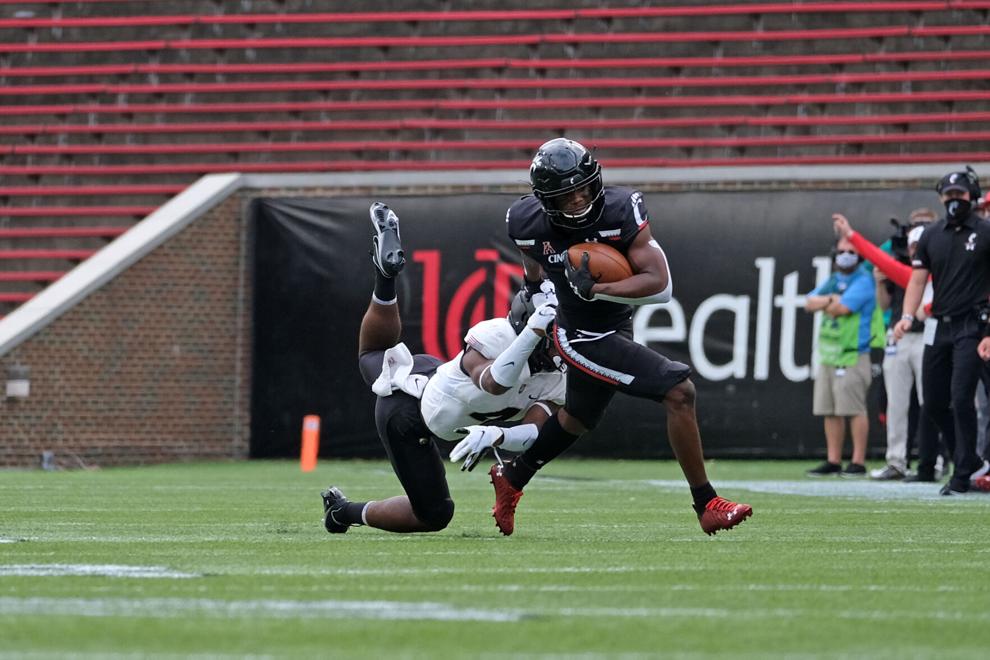 The Cincinnati Bearcats have a chance to make program history in the 2021 National Football League Draft. The Bearcats are sending nine seniors and one junior to this year's draft. Last year Cincinnati had only one player drafted, tight end Josiah Deguara. 
Cincinnati's dominant offensive tackle (OT), James Hudson, is going into the draft, likely to be the first Bearcat drafted. Despite boasting his stock heavily at the Reese's Senior Bowl, Hudson has some disadvantages. He's only a junior, he's transferred both schools and positions and he's undergoing one of the most talented and heavily sought offensive tackle classes the draft has seen recently. 
Austin Gayle, the host of Pro Football Focus's "2 for 1 Drafts," a rookies and drafts prospects podcast, is all in on Hudson being the first Bearcat off the board.
"He was fantastic in the one-on-ones at the Senior Bowl," said Gayle. "[Hudson] should be considered one of the better developmental offensive tackle prospects that will be available in Rounds 3-5."
Hudson is projected to go 40th overall as the No. 6 overall OT in the class, per ESPN. If he were to do so, Hudson would be the first Bearcat to go in the second round since 2012. 
Both of the Bearcats safeties, James Wiggins and Darrick Forrest, are looking to hear their name from NFL commissioner Roger Goodell. In 2020, Goodell announced Xavier McKinney of Alabama as the first safety off the board at No. 36 overall. 
McKinney's five career interceptions and 177 total tackles (TOT) nearly mirror those of Cincinnati's departing safeties. Forrest finished his senior season with six interceptions and 191 total tackles, while Wiggins matched McKinney's interceptions at five. ESPN'S football analyst, Mel Kiper Jr., projects Wiggins to be the tenth safety drafted. 
Cincinnati's defense will lose two of their terrorizing defensive tackles, Elijah Ponder and Ethan Tucky. Tucky finished his time at UC with seven and a half sacks and 70 TOT, while Ponder had four and a half sacks and 62 TOT, both over the span of three seasons. 
Also representing the Bearcats in the draft is their dominant defensive leader and linebacker, Jarell White. After finishing his collegiate career with 241 total tacks, three and a half sacks, three forced fumbles and four interceptions, White joined Ponder and Tucky in the Hula Bowl. 
Regarding his versatility, White said, "You can pick whatever position you want me at; I can do it all." 
Cincinnati's Australian native punter, James Smith, finished his collegiate career punting an average of 43.6 yards with a long of 72. Kiper predicts that Smith will be the first of his position drafted. 
The Bearcats have an underdog heading to the draft at his position in Gerrid Doaks, Cincinnati's dominant running back who had 1,712 career rushing yards. Despite receiving no true high draft projections, Sports Illustrated regards Doaks as potentially the most underrated back in the draft. 
Doaks has two offensive counterparts departing Nippert Stadium with similar NFL aspirations, tight end Bruno Labelle and OT Darius Harper. Labelle finished his time at "Tight End U," the nickname given to Cincinnati football for their recent development of NFL tight ends, with 150 yards and two touchdowns. 
Despite being a 6'7" force to follow on the Bearcat line, Harper is known for his "game-changer" mentality on criminal justice reform. 
The 2021 NFL Draft will run from April 29 to May 1 and can be watched on ESPN.