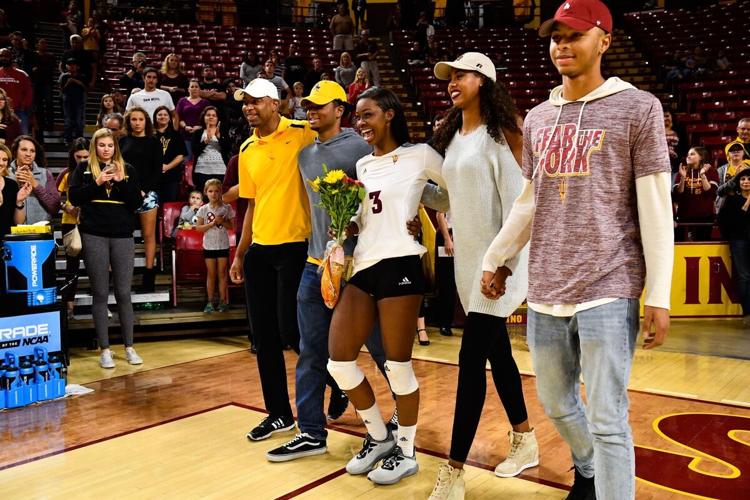 It has been 32 years since Roger McClendon played his last game for the University of Cincinnati men's basketball team. The former 6-foot-4 guard's name remains etched in the program's record book; His 1,789 career points were second only to Oscar Robertson when he graduated and is still sixth all-time. 
Born in Charleston, West Virginia, McClendon moved to New York where he was raised by his parents, John and Deborah McClendon. McClendon's first love was baseball, where he pitched and played shortstop. 
While he excelled on the baseball diamond from an early age, McClendon only started playing basketball when he started middle school. Soon before he was about to begin high school, McClendon's father accepted a job as a professor at the University of Illinois. 
When the family moved to Champaign, Illinois, McClendon knew he would have to step his basketball skills up to go toe-to-toe in one of the country's most basketball-heavy states. The move was a turning point in his basketball career. 
"That [move] took us from New York to Illinois and so I knew I was going to play against some of the toughest competition," said McClendon. "I just totally started focusing in on how I was how was I going to compete at that level."
McClendon enrolled at Centennial High School, coached on the basketball team by head coach Coleman Carrodine. Carrodine became McClendon's mentor and helped turn him into one of the nation's premier high school players. 
His senior year, McClendon was named a McDonald's High School All-American, an honor given to the nation's top 25 seniors. 
McClendon gained interest from many high-level Division I universities. To narrow down the list, his family composed 25 questions for each school to answer to gauge which school was the best for their son. 
For McClendon, the college decision went beyond the hardwood. From an early age, his parents made sure that their son knew the importance of balancing sports with education. Interested in pursuing an engineering degree, McClendon narrowed his decision down to five schools that would allow him to attain a degree in engineering while simultaneously allowing him to grow as a basketball player. 
After weighing his options, he decided to come to Cincinnati, choosing the Bearcats over Vanderbilt University, Georgia Tech University, the University of Louisville and the University of Illinois. 
Once on campus, McClendon wasted no time making an impact on the court. A lanky freshman, McClendon had to rely on his skill and instincts to adjust to college basketball's physical nature. 
"I was wiry, but not physically big, you know, so I wasn't going to just muscle my way," said McClendon. "It was a combination of finesse and stamina, quickness and strength, and my ability to shoot and penetrate." 
McClendon started 27 games in his freshman campaign while averaging 12.4 points per game (ppg). He built on a strong start to his collegiate career by increasing his scoring average to 16.5 ppg in his sophomore year. In a road matchup against 13th-ranked Louisville Cardinals, the sophomore scorched the Cards for 35 points in an upset win over the university, who would win the national championship that year.  
In his third year on campus, the NCAA instituted the three-point line into college play, a decision that took McClendon's game to a new level. He poured in a career-high 19.9 ppg while shooting 47.9% from behind the arc, a mark that no Bearcat has surpassed since. 
"I think I was blessed to be able to shoot from long range," said McClendon, who praises his teammates for setting him up in a position to succeed. 
"I have to give credit to a point guard by the name of Romeo Shorter, who actually got me the basketball in comfortable positions around the three-point line," he said. "It really is a combination of you know, your point guard and people assisting and setting screens and getting you in your comfort zone to be able to make those kind of shots at that at that level."
While excelling on the court, McClendon did not let his basketball success distract him from getting his education. While balancing basketball and school, he participated in UC's well-known Co-op program. 
"One the reasons I decided to kind of go to Cincinnati was because of the cooperative program," said McClendon. "It was kind of a major determining factor to what school I was going to go to."
McClendon made sure he stayed busy off the court, traveling abroad and co-oping during the off-season, taking summer classes, serving as a campaign manager for a student body president candidate and meeting his future wife. 
"On one side, you have basketball on the other side, you have your school, and in that little small base that you have is your social life and everything else. And it's a true sacrifice," said McClendon. 
After a disappointing senior season, McClendon did not gain much interest from NBA teams. He traveled down to Miami, Florida to play in a professional summer league, where he suffered a groin injury, the first major injury in his career. The injury sidelined him from participating in the NBA camps he was invited to. 
McClendon returned to Cincinnati to complete his fifth year of school and complete his engineering degree, possibly attempting to return to professional basketball once he graduated. Once he finished his fifth year and secured his degree, McClendon made the difficult decision to pursue a career in engineering. 
"[It was] the hardest decision I had to make, because it was so painful, I probably couldn't watch basketball for a couple years after that," he said. 
McClendon got his start in the production and manufacturing part engineering sector. For five years, he worked for Champion Paper before moving to Louisville, Kentucky to work for Kentucky Fried Chicken (KFC) in the research and development department. He worked his way up in the Yum! brand, the owner of restaurants that include Taco Bell, KFC and Pizza Hut. 
He became the company's global engineering vice president and later the company's first-ever chief sustainability officer. He now sits as the Green Sports Alliance executive director, a company that uses the global influence of sports to promote healthy and sustainable communities. 
After disengaging with basketball in the years following the decision to pursue his engineering career, McClendon found his way back to the sport, acting as an assistant AAU basketball coach for the F.O.C.U.S Training Academy in Louisville. 
A father of two sons and two daughters, sports play a big part in the McClendon family. His two daughters, Deja and Maya, both played Division I volleyball. His sons Jordan and Marquis played varsity high school basketball.