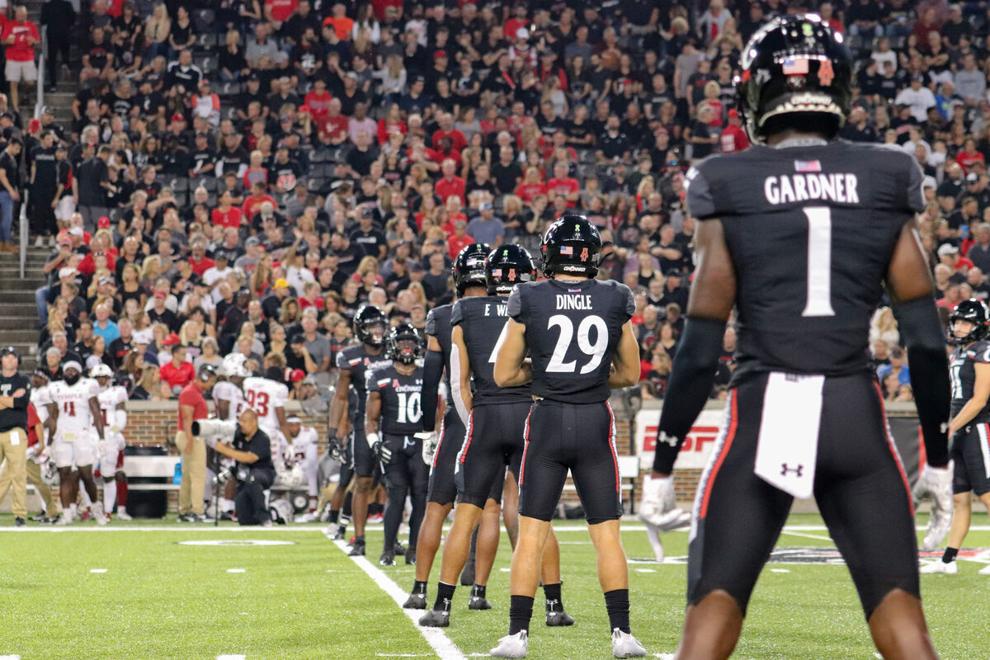 Every University of Cincinnati (UC) Bearcat fan has one question on their minds: Can Cincinnati pull it off and make it to the College Football Playoffs?
Currently No. 5 in the Associated Press rankings going into Week 6, the Bearcats stand at the clutch of opportunity.
A few games this week can help decide if UC makes it in the Playoffs: No. 4 Penn State University (PSU) at No. 3 the University of Iowa, No. 2 the University of Georgia at No. 18 Auburn University, and No. 6 the University of Oklahoma at No. 21 University of Texas. Let's discuss each matchup.
Starting Week 6 off with an electric Friday night win at Nippert Stadium, the Bearcats conclude another week undefeated. Blowing out Temple University 52-3 doesn't hurt their playoffs considerations, especially after a 28-0 run in the third quarter.
The crowds' cheers were electrifying during the Bearcats matchup against the Owls. That support will be especially important in later games of the season or times where Cincinnati needs that extra push.
"It's been huge, especially coming off of COVID season," said senior quarterback Desmond Ridder about the fans' energy.
The game against Temple was Ridder's 35th win, putting him over the edge with the most wins of any active quarterback in college football. Ridder also surpassed 8,000 passing yards and 10,000 total yards so far in his career.
"It makes it a lot easier for the team, even when you might be in a down spot, and you just hear the fans behind you it helps," Ridder said.
The two teams directly above UC in the AP poll, No. 3 Iowa and No. 4 Penn State face off Saturday at 4 p.m. This game marks the Big Ten's first top-five matchup that is not Michigan and Ohio State since 1962.
Out of the past four meetings between the two teams, three have been decided by only one score. Scoring should prove to be difficult for both teams since two of the top three scoring defenses are on the field. Iowa's defense is ranked second in the nation, only allowing an average of 11.6 points per game.
PSU is ranked directly behind in third place, with an average of 12.0 points per game allowed. Somebody must win and somebody has to drop in rankings, which will potentially leave an empty spot for the Bearcats to fill, but there's more than one team looking to fill that spot.
No. 6 Oklahoma is looking to jump Cincinnati in the polls by defeating No. 21 Texas in the Red River Rivalry. ESPN's College GameDay picked this matchup this week, and for good reason. The last time these schools met was in 2020, where four overtimes were necessary to determine a winner. Oklahoma turned out to be the victor, beating Texas 53-45.
Texas will be looking for revenge at home, so an upset will benefit the Bearcats immensely in their playoff chances, considering Texas has one loss already on the year.
The final game to look for this week is No. 2 Georgia at No. 18 Auburn. Auburn is coming off a win in Death Valley last week against Louisiana State University. With morals high and Georgia's starting quarterback, JT Daniels injured, Auburn is looking to pull an upset. While Georgia is probably not too worried, you never know what might happen during the deep South's oldest rivalry.
The Bearcats' play should speak for itself to the playoff selection committee; however, other schools' results will play a big factor in deciding if the Bearcats make it in or not. Cincinnati should hope for Indiana and Notre Dame to perform well for the rest of the season, putting their victory over the two teams in higher regard.
They should also hope for some upsets in other conferences, which would narrow the number of undefeated teams going into the end of the season. Either way, the Bearcats need to remain undefeated, win the American Athletic Conference and hope the selection committee is willing to let a non-power five conference team in the playoffs, finally.