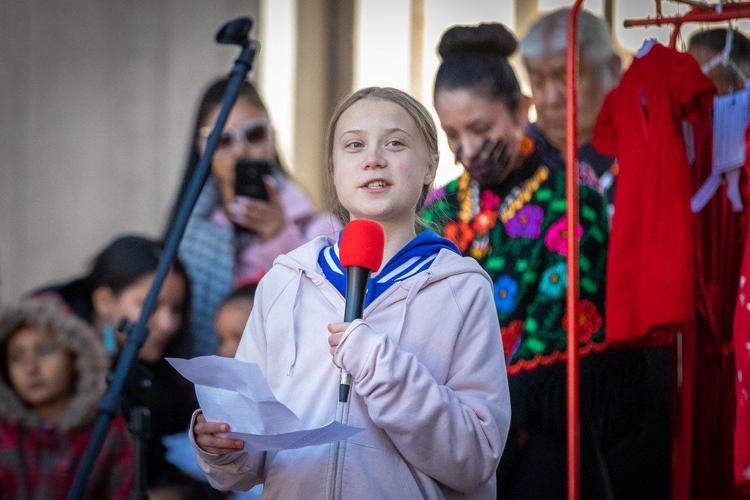 You'd be hard pressed to find a college student who is not aware of the climate crisis. The cultural impact of Greta Thunberg's international climate protests cannot be understated. Many students strive for a green economy within 11 years — the timeframe that experts at the United Nations believe is necessary to forestall catastrophic climate change.
While fires are ravaging Australia and the denizens of Bangladesh are losing their homes to natural disasters, the University of Cincinnati Board of Trustees chooses to perpetuate the climate crisis by investing millions in fossil fuel companies. Given the grim circumstances, it can be hard to focus on academic work, especially when the university is contributing to a dangerously unstable future. Although UC Sustainability has taken great strides towards creating green lifestyles on campus, there has not been enough action to create long-lasting, systemic change.
The solution is to urge the UC Board of Trustees to divest from fossil fuel companies. I am aware that this is a simple message and a great amount of nuance needs to be considered in order to address this impending crisis, so let's start by looking at the validity of divestment as a tactic for enacting social change.
Calls for divestment from fossil fuel companies originated with 350.org, a climate change grassroots organization headed by Bill McKibben. Since the organization began in 2012, 350 institutions and local governments alongside thousands of individuals comprising over $1.5 trillion in assets have pledged to divest from fossil fuels.
This is not the first time in history that divestment has been a necessary first step for producing social change. From 1948 to the 1990's, South Africa lived under apartheid, a system of institutionalized racial segregation. During the 1960s, anti-apartheid protests swept across college campuses and students enacted social justice by pressuring their universities to divest stocks from companies doing business with South Africa. By 1988, a total of 155 colleges had at least partially divested. As a result, U.S. Congress was moved to pass a series of economic sanctions against the South African government. Apartheid codes were eventually eliminated, and Nelson Mandela was elected president in 1994. Divestment was a significant factor for bringing about social change.
Although divestment will only have a small impact on the strength of fossil fuel companies, the symbolic significance of the gesture sets a standard. Divestment is not a sacrifice, but a chance to market UC as a sustainable, innovative, green and public research university. Fossil fuel companies are a dying industry. The University of California chose to divest because the investment of fossil fuels was damaging the school's finances. The University of Dayton chose to divest to show a commitment to environmental stability. Dayton president Daniel Curran stated, "We cannot ignore the negative consequences of climate change, which disproportionately impact the world's most vulnerable people." The prevalence of natural disasters worldwide convey that time is of the essence and that we need to initiate change now.
I realize that divestment is an unappealing option since students who rely on scholarships might be harmed by UC's budget being reworked. This is why it is important to also advocate for the UC Board of Trustees to stop spending excessive amounts of money on marketing and to use this money to ensure that financially insecure students are not punished.
Furthermore, I realize that finding a co-op is crucial for many engineers and Marathon provides this opportunity to many. In addition to advocating for divestment, there should be calls for reformed financial incentives and compensation for engineering students in order to alleviate engineers from the burden of choosing between financial stability and environmental values. More co-ops need to focus on renewable sources of energy so that engineers aren't trapped in a moral pickle. The system should serve the students, not the other way around.
Together we can change history.