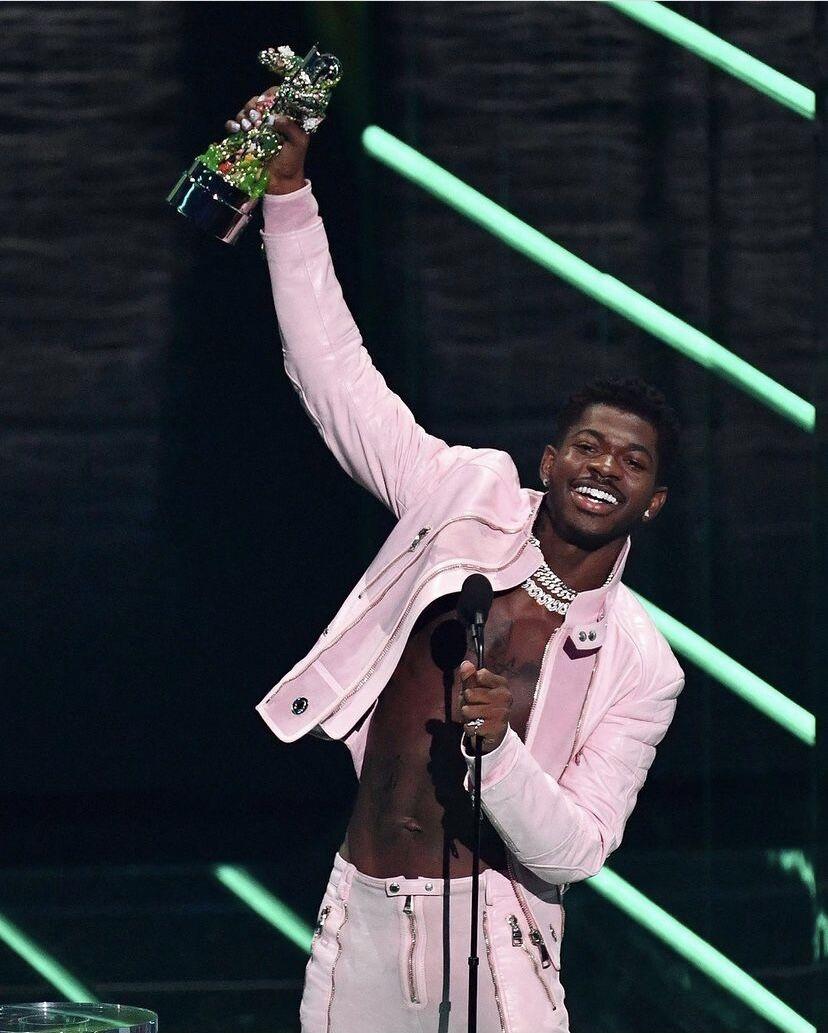 The MTV Video Music Awards (VMA) is known for its iconic, unforgettable moments. Miley Cyrus' twerk-heavy performance of "We Can't Stop" with Robin Thicke; Madonna's "kiss heard round the world" with Christina Aguilera and Britney Spears; the beginning of the Taylor Swift and Kanye West drama, of which I have made no secret that I'm team Taylor. So, it's no surprise that the 2021 VMA's didn't disappoint - in fact, it very well may have been the queerest VMA's of all time. 
Let's start with Lil Nas X. First, the queer Black rapper stunned the audience with his beautifully over-the-top performance of "Industry Baby" and "Montero (Call Me By Your Name)." In true Lil Nas X fashion, he didn't just stop at an overtly queer performance, he also spotlighted the HIV epidemic in the south by inviting Mardrequs Harris, director of community investments for the Southern AIDS Coalition, on stage. Harris donned a black top with the number "433,816" written on it in red, symbolizing the number of people living with HIV in the region. To top off Lil Nas X's night, he won video of the year for "Montero."
"First, I want to say, 'Thank you to the gay agenda.' Let's go gay agenda," he said in his acceptance speech. 
That wasn't all. Normani brought out Teyana Taylor to deliver an incredibly seductive end to her performance of "Wild Side." Also, history was made when Kim Petras performed her new single "Future Starts Now," becoming the first trans VMA's performer.
To put the cherry on top, bi/pansexual Doja Cat hosted the whole thing. 
All of this queerness was a sight to behold, as LGBTQ+ rights around the United States are currently under attack. According to the Human Rights Campaign (HRC), more than 250 anti-LGBTQ+ bills have been introduced in state legislatures in 2021 alone in what the organization says is "on the cusp of surpassing 2015 as the worst year for anti-LGBTQ legislation in recent history."
These bills have gone after the trans community, in particular. According to PBS Newshour, 2021 has already been a record year for anti-trans bills, with over 100 introduced. 
This year is also on track to become the deadliest year yet for trans and gender non-conforming Americans. According to the HRC, 2021 has seen at least 36 trans deaths, rapidly approaching 2020's record 44 deaths since the group began tracking these crimes in 2013.
With all the devastation happening within my community, it was great to see queer people celebrating being queer for so many to see. People worldwide consumed a total of 1.4 billion minutes of the incredibly queer VMA's, a 9% increase from last year's. The show also garnered 38 million social media interactions, the most of any program on TV so far this year - even the Super Bowl. 
The VMA's certainly don't make up for hundreds of anti-LGBTQ+ bills and won't bring back the lives lost due to anti-trans violence, but queer representation in mainstream media matters. I just hope that progress continues.