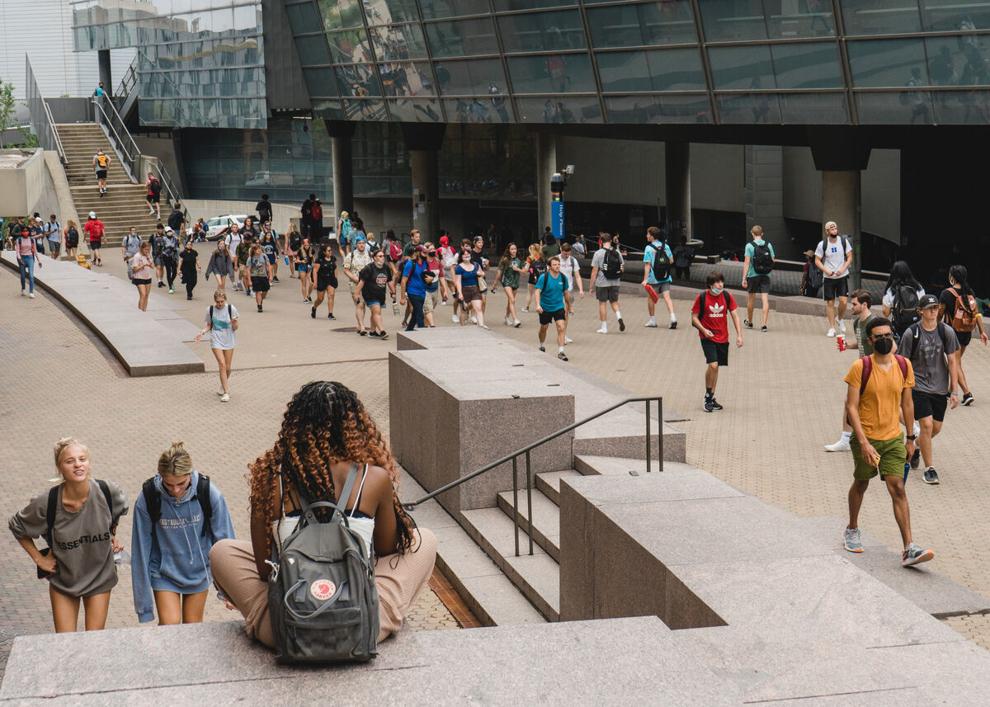 The COVID-19 pandemic has been defined by many things: overwhelmed hospitals, over four million deaths worldwide and sky-high unemployment rates, to name a few. Finally, after all the devastation over the last year and a half, we are returning to campus and getting the taste of normalcy that so many of us have craved for far too long. 
So, is it weird that suddenly, my 20 mg dose of Lexapro isn't enough to quell my constant state of anxiety? To be more nervous than excited? To fear a return to campus? Well, no. 
There are many reasons to be experiencing more mental health issues now. Maybe you are an introvert who thrives in a work-from-home environment. Maybe you are nervous about the extremely contagious Delta variant. Maybe you're just plain old burnt out from the last year and a half. Whatever the reason, it is perfectly normal to feel symptoms of anxiety and depression. 
Sadly, the especially dangerous part of this mental health crisis isn't that people are experiencing these feelings; it is how they are coping with them. According to an Ohio State University's (OSU) Wellness Officer survey, college students rely on increasingly unhealthy ways to deal with it. For example, during the pandemic, alcohol use has risen from 15.5% to 18%, tobacco and vaping is up 2% and "increased physical activity" is down 7%. 
"Students are not coping well," Alison Escalante wrote for Forbes. 
Tara McAlea, executive director of Bearcat Support Network (BSN), suggests that, above all, students should find someone to talk to.
"When we talk about how we're feeling, it lessens the weight of the feeling, and you don't have to carry this weight alone," she said. "Taking walks around campus, journaling and listening to music are some small ways you can improve your mental wellness."
She also reminds students that "it can be difficult to meet new people, and if you're entering this semester without a strong support network of people you can talk to, reach out to people in your classes, roommates, and find a student organization on campus."
Her group, BSN, offers peer-support groups facilitated by fellow students. She says it is an "amazing space for students wanting to explore and learn about supporting their mental wellness."
Counseling and Psychological Services (CAPS) is a great and affordable resource that students can use to seek professional help. Not only do they offer counseling, but they also have a 24-hour crisis helpline (513-556-0648).
We also can't act like reopening isn't negatively affecting people's mental health around the country. The mental health issues caused by the pandemic was covered well by the media in the early days of coronavirus. Journalists rushed to cover how a world that screeched to a halt and a virus people knew so little about would affect the brains of people around the country. It was imperative to do so, as approximately four in ten adults reported symptoms of anxiety or depression during the pandemic, up from one in ten from January to June 2019, according to KFF Health.
Now that we are returning to "normal," as debatable as that is, I see less and less about people's mental health. Just because your Twitter feed isn't bombarding you with stories on back-to-campus anxiety doesn't mean the problem doesn't exist. 
If you are like me and experiencing anxiety because of the upcoming semester, know you are not alone and there are tons of resources to help at your disposal. 
To connect with BSN, follow on Instagram and Twitter @ucincybsn. CAPS can be found here.