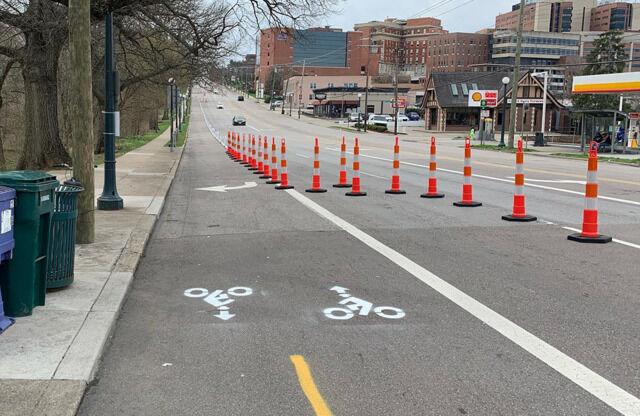 In March, Clifton Avenue's "temporary" two-way bike lane took two days to set up and cost only $50,000 in materials. It was simple, but it was a landmark project for Cincinnati's biking initiatives in that the two-lane, protected bike infrastructure was the first of its kind in all of Cincinnati. And it took a weekend to install.
Of course, the project would require a little bit more time and money to permanently establish, but the point is, this was a big deal. Largely promoted by Tri-State Trails, an initiative connecting bike trails in Cincinnati to form safe, usable routes, the two-way protection of the Straight Street to Ludlow bike lane provided a pilot program for future bike infrastructure in the city.
In short, the success of this bike lane will determine whether it gets replicated throughout the city. This could mean a transportation overhaul in our city.
And yet, the city is currently discussing whether or not to be rid of it. Clifton Ave's reduction into a one lane road bothers drivers, especially as the school year begins and more traffic arrives in the area. And now, the fight for the landmark bike lane ensues.
I know what you're probably thinking - no one in Clifton rides a bike. There's so much motor traffic. Who is this initiative even for? The simplest way to put it is this: it's for all of us.
Generally, it's just more convenient to bike around Clifton than it is to drive, or even walk. Parking is always scarce, traffic is heavy (no matter how many lanes we've got) and walking just takes too long sometimes. If there's a place specifically carved out for bicyclists, biking looks a whole lot more appealing for those frustrated with their regular commute.
And for those who toughed out biking commutes before the protected lane, "car crashes on local streets killed 94 individuals and injured at least 5,064 others in Greater Cincinnati and Northern Kentucky" last year according to Tri-State Trails. Protected bike lanes reduce accidents by 41 percent. Implementing safe bike lanes makes biking a much more safe and viable option for anyone and everyone.
Not to mention, building strong bicycle infrastructure in cities like Cincinnati, where less than one percent of Cincinnatians commute by bike, is absolutely paramount to creating a pedestrian and cyclist-friendly culture.
A need exacerbated by the ever-present climate crisis, we simply have to detach ourselves from car culture as soon as possible. In order to make any difference in the severity of climate disasters, we must personally, locally, and internationally overhaul our transportation norms. This is clear as day, especially with new data from the IPCC.
That means making space for alternative modes of transportation, particularly carbon-neutral options like biking. Without investing more in bicycling and less in cars, we'd never see any change.
Bike lanes in car-centric Cincinnati is one of the first steps. Our Clifton Avenue lane must stay put, for all of us.