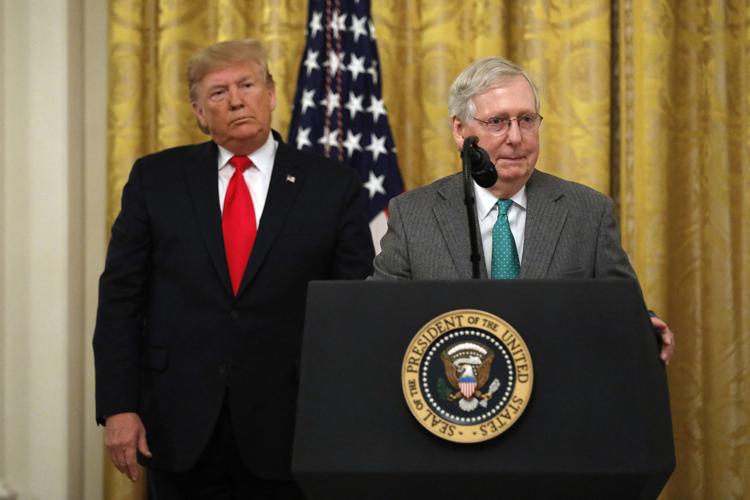 With the news of incumbent Kentucky Republican Governor Matt Bevin's narrow loss to Kentucky Democrat Attorney General Andy Beshear, people are excited that a Democrat could win in a state President Donald Trump won by over 30%.
Especially when the most unpopular Senator and the "grim reaper" of the Senate, Mitch McConnell is facing re-election in 2020.
Chairman of the Democratic Coalition Jon Cooper tweeted "The only person in Kentucky who's going to sleep worse than Matt Bevin tonight is Mitch McConnell. #MoscowMitch"
Author Amy Siskind tweeted "Wake up call for Trump and #MoscowMitch: Andy Beshear (D) has won the governor seat in Kentucky. You're next @senatemajldr!"
The contention that the Senate Majority Leader will lose his seat is understandable, but it's a pipe dream.
For one, Bevin was extremely unpopular, as previously noted. However, the difference between Bevin and McConnell's unpopularity is that gubernatorial and senate races are vastly different. Gubernatorial races are usually dependent on the candidates themselves. Senate races are dependent on the state's political leanings.
If gubernatorial races and senate races were aligned, then the states of Massachusetts, Maryland and Vermont would turn red, since Republican governors in those states are heavily popular in the country. Obliviously that isn't true, as the Senators in those states who were facing re-election won handily.
An example of popularity ratings not turning to election results is the 2018 New Jersey Senate race. Democrat Senator Bob Menendez was the second most unpopular senator in the country in fall 2018. His challenger, former businessman and veteran Bob Hugin was seen as the perfect candidate Republicans should run to appeal to moderates. Yet despite Menendez's unpopularity and Hugin's appeal, Menendez handily won re-election. This is because Menendez's unpopularity wasn't enough to curtail the state's highly Democratic leanings.
Since barely winning a senate seat in the 1984 race, where McConnell beat incumbent Democrat Senator Walter Huddleston by only 0.4%, McConnell has won every senate race (five in total) by at least 4.6%. Even when the Democrats had vast success on the heals of then-Senator Barack Obama's 2008 Presidential victory, McConnell still won by 6%. If Obama's record-breaking victory couldn't bring McConnell down, how will Trump's unpopularity?
Also, while Democrat challenger Amy McGrath is an appealing candidate based on her military career, McGrath has had a shakey campaign. McGrath has compared Trump's victory to 9/11, which if you are trying to run a campaign as a moderate, is not the way to do it. McGrath also flip flopped on if she would confirm Brett Kavanaugh for Supreme Court, originally suggesting she would vote for Kavanaugh before saying she would vote no, largely due to Democratic backlash.
I'm not suggesting that McConnell is a clean soul, because he's not. It's just that McConnell is in a state that aligns with his political party. In a gubernatorial race, that doesn't matter. In a senate race, it definitely does.