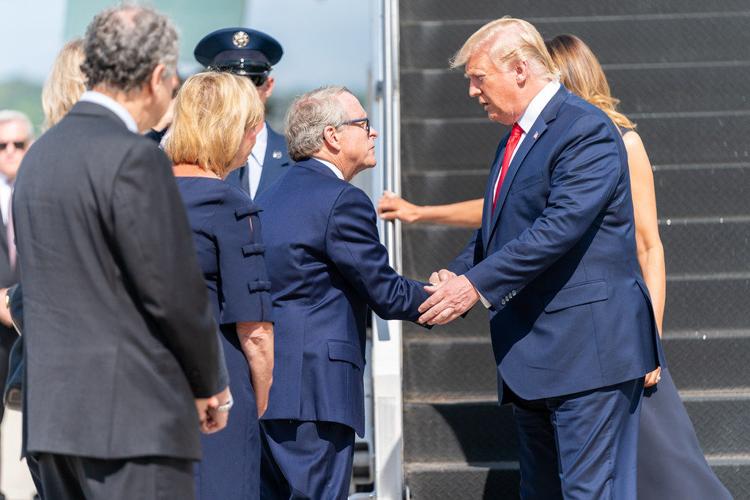 In early March, students were attending classes, civilians were out at work and the economy reached all-time highs. Sure, we had an impeachment scandal in the nation's capital earlier in the year, but it wasn't like it impacted any of us. Then, there was this pandemic called coronavirus that was wrecking China, but it wasn't like it would impact us, right?
After all, on Feb. 24, Speaker of the House Nancy Pelosi (D-Calif.) visited Chinatown in San Francisco and said, "Come because precautions have been taken. The city is on top of the situation."
That same day, President Trump tweeted, "The Coronavirus is very much under control in the USA. We are in contact with everyone and all relevant countries. CDC & World Health have been working hard and very smart. Stock Market starting to look very good to me!"
Oh, how wrong we were.
Now classrooms are empty, most civilians are stuck at home and now the economy has crashed down back to Earth. It turns out that pandemic in China was much more destructive than they let out on. Thanks to China's censoring of the impact of the pandemic, 53,167 people have died as of April 2.
Ohio Gov. Mike DeWine (R) was ahead of the league when he took steps to contain coronavirus. In early March, DeWine canceled or put strict limits on The Arnold Sports Festival, presidential campaign rallies, K-12 schools, all universities and even shut down the March 17 state election despite a judge ruling forbidding him to do so.  
DeWine implemented these drastic measures days before a single case had been reported in Ohio.
"During this time when we face an unprecedented public health crisis, to conduct an election tomorrow would force poll workers and voters to place themselves at an unacceptable health risk of contracting coronavirus," DeWine tweeted Mar. 16.
DeWine has been wise to rely on doctors, especially Dr. Amy Acton, Ohio's Director of Public Health.
As a result of DeWine and Acton's actions, there have possible signs of impact. Despite Ohio being the 7th most populated state in the country, it is outside the top 14 among deaths from coronavirus (81 deaths) and outside the top 25 among confirmed cases among 1 million in population (217.9), as of April 2 according to Real Clear Politics.
"Every night when I go to bed, I think 'Have we done enough?'" DeWine said via CNN. "Every morning when I get up, I think, 'Have we done enough?' All day long I think, 'Have we done enough?' That's a question I ask my team, every single day and I've asked myself 24 hours a day."
Governors from other states such Andrew Cuomo (D-NY), Gretchen Whitmer (D-MI) and Gavin Newsom (D-Calif.) have drawn more attention, and because of this DeWine has been under the radar.
He shouldn't be.
Last Saturday, the FDA allowed the emergency use of a system that decontaminates specialized N95 face masks, which could sterilize 10,000 masks per day. This allows nurses and doctors to safely reuse the masks. However, the company that produces the masks has the capacity to produce 80,000. DeWine wasn't happy with the decision.
"The FDA's decision to severely limit the use of this life-saving technology is nothing short of reckless," DeWine wrote in a news release. "This is a matter of life and death. I am not only disappointed by this development, but I'm also stunned that the FDA would decline to do all it can to protect this country's frontline workers in this serious time of need," said DeWine.
The FDA's decision even drew the ire of Ohio Attorney General Dave Yost, a proud Republican, to threaten the Trump administration with a lawsuit.
Since then, the FDA has changed its decision. No longer is there a daily cap limit as of Sunday night according to Politico.
"I want to thank President Trump for his leadership and Dr. Hahn of the FDA for approving the use of this life-saving technology that Battelle has developed," said DeWine Sunday night.  "This will not only help Ohio's healthcare workers on the front lines of the COVID-19 crisis, but Battelle will also be helping health care workers in hot spots throughout the country including New York and Washington state."
While coronavirus has resulted in unprecedented times, the state of Ohio has taken charge, and that is something we can all be proud of.