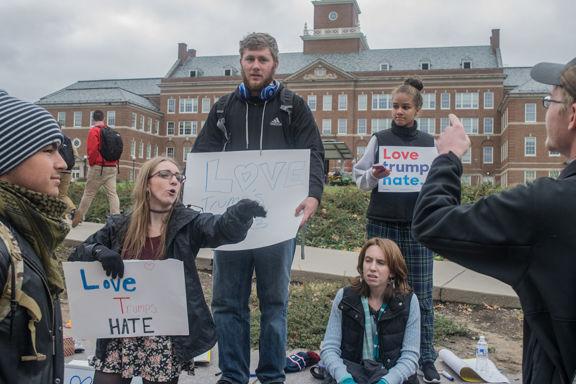 With today being the last day to vote in the 2020 election, students' opportunities to cast their ballots are scarce. Limited transportation leads many students to choose to go to their local polling station on Nov. 3 instead of early voting at the board of elections. However, UC's decision to hold classes on Election Day will undoubtedly make it more difficult for students to fit voting in their schedule. 
I'm confident saying "undoubtedly," by the way. Because I asked. Using an Instagram poll, I asked UC students, "Would you be more likely to vote if we didn't have classes on Election Day." 80% of the responses answered yes; they would be more likely to vote if we didn't have class. That's because the lack of opportunity is one of the main reasons why less than 50% of college students vote. 
Not all students have the time to make it to the polls if classes are in session. A 2018 study showed 81% of students work part-time jobs, and I'm included in that statistic. My job is not one I can be dismissed from to complete my civic duty, or one where I can wait in hour-long lines to vote during my lunch break. If you haven't noticed, restaurants, bars, and even UC's own entities which are run by student employees, like the bookstore and library, aren't closed for Election Day.  
Election Day isn't just about casting your ballot, either. It's about advocating for and assisting others during their voting process too. Having classes on election day limits the number of students who can volunteer as poll workers. According to PEW Research, In the 2018 general election, around six-in-ten U.S. poll workers (58%) were ages 61 and older, including roughly a quarter (27%) who were over 70. Because these individuals are at higher risk for COVID-19 cases, according to the CDC, they are more likely to stay home this election, creating a shortage of poll workers. Freeing up young people's schedules gives us the option to experience volunteering and tighten this gap. 
Time isn't the only player in limiting college votes. Having class on Election Day doesn't give it the ceremonial justice it deserves. Alexandria Symonds from the New York Times writes, "Voting is a habit formed over time, and one possible reason young people do it less frequently is they have had fewer opportunities to form and reinforce the habit." Canceling classes on Election Day teaches young people that voting is something worth participating in and celebrating. UC needs to treat Election Day with the same amount of gravity and gusto as the results of this presidential race.