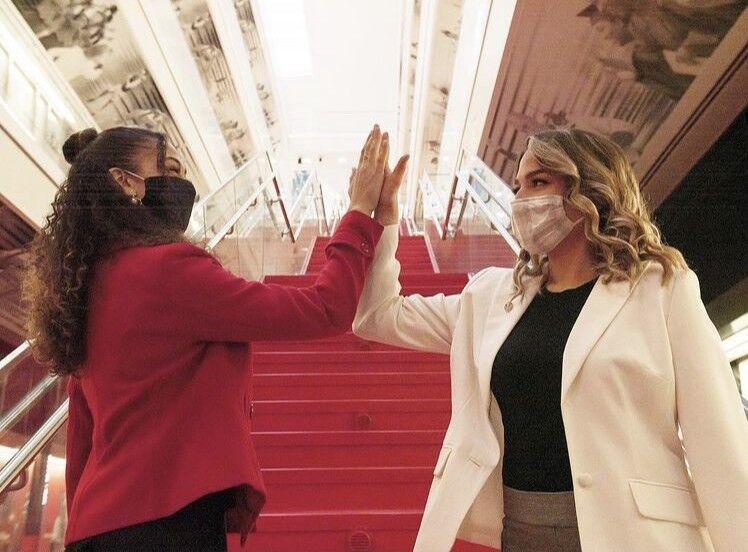 Five days into Women's History Month, April Gable and Taylor Allgood became the first all-female campaign in recent memory to be elected as the University of Cincinnati's (UC) next undergraduate student body president and vice president for 2021-22. "Together, we did it. And together we will create a campus that celebrates and accepts all," their campaign's celebration post read—which was reassuring considering a violation that led to their social media campaign being suspended for 12 hours. 
Though campaign violations sound serious, UC students should not fret about the incoming administration. In my opinion, Gable and Allgood are more than capable of leading UC's undergraduates.
For one, Gable and Allgood were not the only campaign to be found in violation of EFC rules—Akua Wilson and Gerald Crosby also violated campaign laws. The Gable and Allgood campaign were given "the most extensive" penalty, but it was still "relatively minor," according to previous reporting by The News Record. 
Gable and Allgood have also been very open about their minor infringements. Gable very plainly said that UC's main Instagram posted a picture of her giving a campus tour, which was seen as an endorsement by the EFC—their rules state that no UC affiliated accounts can endorse a specific candidate. "I didn't even realize that [a social media manager] took a picture of me," Gable, who is a ROAR guide, said.
According to Gable, she was not tagged in the post, nor was their campaign or student government. 
"Outside of student government, we all are students here," Gable said. "We are all involved in other things… you can separate [students from student government]."
This proved Gable and Allgood's commitment to a "transparent" student government. Although the two disagreed with the ruling, they took the penalty given to them with grace, taking the time they were forced off social media to "reset" and improve other aspects of their campaign. 
Setting the violations aside, the two are moving quickly to make good on their campaign promises of diversity and inclusion, sustainability, campus spirit, mental health and accessibility.
The day after getting elected, Gable was messaging her various connections around campus to institute the change that they pledged. "Let's get to work," she recalls saying while setting up meetings to discuss their "Women of One Team" initiative—which will increase the exposure of UC women's sports by providing more advertisement, exposure and game coverage by expanding the current Inspire Equip Connect Program (IEC) program, according to the duo. They have also been discussing how to implement "Career Studio Interview Booths," which will give students a quiet, well-lit place to do online interviews.
Allgood said they worked hard during their campaign to form relationships with groups and leaders at UC to ensure a "smooth" transition. "Now, we are able to go into our initiatives much easier since we don't have that barrier of trying to get to know those respective offices," she said. 
Whether you voted for Gable and Allgood or not, you must recognize that these two have everything it takes to have a successful term. Though they may not be perfect, they will be great representatives for undergraduate students and better the campus we call home.