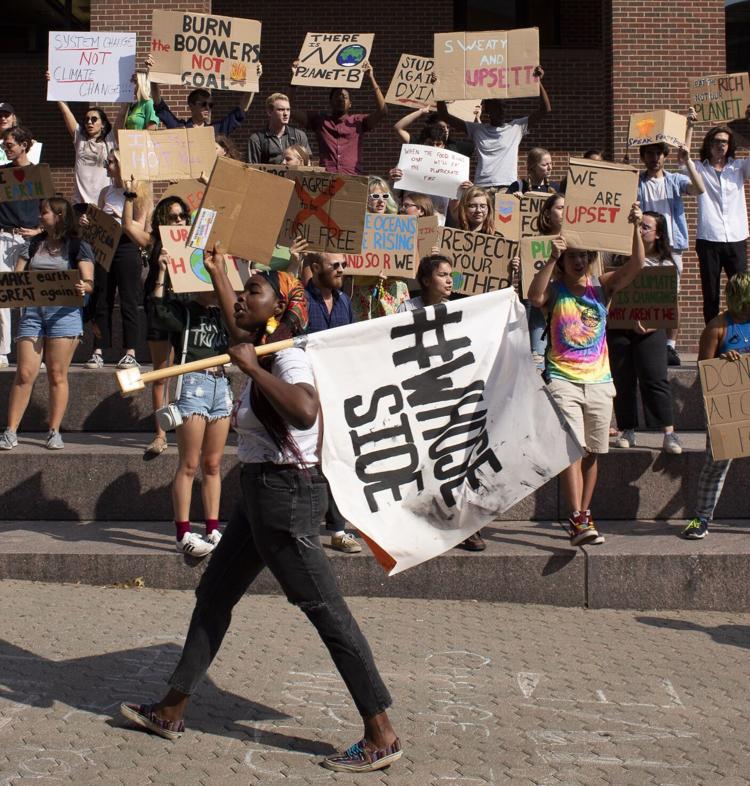 It's no secret that Black and Indigenous people of color often share the worst impacts of the climate crisis, while white people remain largely insulated from its terrors. We see this today most famously in Flint, Michigan and among Native American reservations. However, less talked about are the communities of people locally who have also been displaced, shortchanged or ignored.
Meanwhile, Fossil fuel companies like Marathon and Shell often use their generationally accumulated and white privilege-enriched power to pretend that their work now for minority groups makes up for decades of continued destruction directly affecting people of color.
Here at the University of Cincinnati (UC), Marathon's sponsorship of the Marathon Scholars program, which grants full tuition and Co-op opportunities for minority groups on an engineering track, makes UC's relationship to fossil fuel companies almost untouchable.
In direct opposition, Fossil Free UC began a fossil fuel divestment campaign asking UC to take their endowment money out of fossil fuels in 2015. They gained enough traction to threaten the status of fossil fuel companies' relationship with UC. Soon after, UC received notice from a Marathon representative that threatened to cut their financial support to UC students if UC withheld their investments from the company.
Strangely enough, Marathon Scholars and those in support of them came forward against Fossil Free, as losing their scholarships would mean that cutting ties with the climate crisis would be 'racist.'
Environmental activism is not racist. Far from it, actually.
People of color are so often told that supporting the systems that perpetuate environmental degradation might be the only option to push their way up and out of its immediate persecution, leaving them in a conundrum that is life or death.
Of course, Fossil Free UC was dismissed by the Board of Trustees' investment committee in 2017, and despite its continued existence, has had no sign of hope since then.
In 2017, previous UC Board of Trustees member John Baker said in response to the environmental activists: "I understand the argument. I have not seen the persuasive proof of the basic premise. I haven't seen it. And I've got to tell you, there are a number of times in the history of science where most people were wrong."
Are there really climate crisis deniers at the highest level of power at our university? How are we still so deeply attached to fossil fuels, the key problem, while we continually dismiss our stake in and impact on the effects of climate degradation? UC is our school and it's still funding the climate crisis.
Environmental racism is not some far off problem– it's settled right here in Cincinnati. It doesn't seem to be going anywhere, either, despite years of efforts from both local student groups and international cries for climate action.
We all have to let that sink in, and we all have to be angry about it to make any change happen. This semester, Fossil Free UC is not an operating campaign.
UC is a black box with no accountability to its students' calls for action, particularly in regard to its divestment from fossil fuels. If UC really cared about its student changemakers and its students of color, many of whom are one in the same, it would find alternative supports for students of color beyond petroleum.
No longer is this controversial– I think we all know what is right in this scenario. Yet, the Board of Trustees' investment committee relentlessly pours our money into the crisis, even here at a place we call home.