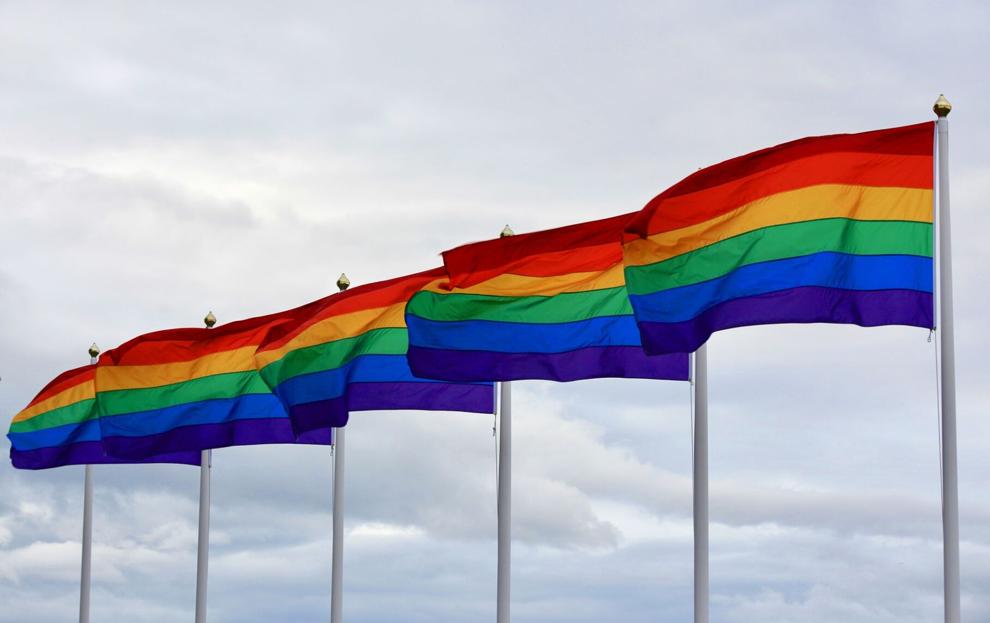 The weather is warming up, vaccination rates are rising and many people are hoping to break from their homes and have redemption after the lackluster summer of 2020. For the LGBTQIA+ community, the transition between spring and summer is often synonymous with a form of important cultural recognition: Pride.
Last year, the global pandemic forced Pride, like many other events, to go on hiatus. Due to this, many of my fellow members of the community are anticipating this year's Pride more than ever. After the year we all had, I understand the yearning to celebrate. However, it is important to be conscious of what Pride is truly about.
Although COVID-19 canceled 2020's Pride, the pandemic could not stop the ongoing protests over policing and Black Lives Matter. Even with the increased scrutiny over policing, tragedies continue to strike. The recent killing of Daunte Wright has further added to the trauma that Black Americans currently face. As protests continue to amplify the voices of the victims of police brutality, it becomes obvious that the fight for Black lives is not over.
Although over a month away, this upcoming Pride month must serve as a reminder about our own painful history and why we must continue to fight. Being gay means existing politically without having the choice to do so. Our community has had to fight tooth and nail to get the respect that we deserve to exist as ourselves without fear, and we are still fighting for that respect. Pride is not just some rainbow-themed parade; it is an act of liberation. That liberation was not led by white people; Black lives gave us Pride, and this year we must show up for Black lives.
Protestors have long been marred with criticism for how they revolt against systemic racism and police brutality, but these critiques are nothing new. These critiques also forget the fact that throughout this nation's history, rebellion has birthed progress. By sugarcoating history, we are wrongly casting doubt on the intentions and necessity of current movements for change. 
When I first started exploring my sexuality, I found the freedom to finally "talk" with other gay men for the first time. As a political science and journalism major, I tend not to shy away from political dialogue, so these matters were often a topic of discussion during those infamous "talking stages." Some may feel that because gay people are, well, gay, they are more tolerant and socially liberal, but I quickly found out that was not always the case. Over and over, I heard asinine takes regarding Black Lives Matter and what these white, gay men thought were the "correct" way to protest. It became very clear that these individuals, and many others like them, fail to recognize their privilege, a privilege that was afforded to them by an uprising they do not even deem "correct."
The first ever Pride was a riot.
On June 28, 1969, the Stonewall rebellion changed the lives of gay people forever. When the police continuously harassed patrons of Stonewall, a gay bar in Greenwich Village, the community was forced to fight back. The Stonewall uprising was primarily led by Black and Brown trans, femme and lesbian members of the community. Yet, today, many within the LGBTQIA+ community overlook their contributions to the fight for our rights.
Marsha P. Johnson, the most prominent figure from Stonewall, was a Black trans woman fighting on the front lines for liberation, yet today, Black trans women are still being left behind. This month, Jaida Peterson, a 29-year-old Black trans woman, was murdered. Peterson is the 14th trans or gender non-conforming person to be violently killed this year alone. Black femmes and trans women have consistently been revolutionaries and leaders within our community, yet they are among the most vulnerable groups of people in the US today. 
One of the most forgotten figures in the fight for gay rights was not only a Black drag queen but the first person to ever identify as a drag queen. Long before Stonewall, William Dorsey Swann, the self-proclaimed "Queen of Drag," had fought for gay liberation.
Born in 1858, Swann was a formerly enslaved individual who created balls for other formerly enslaved men. This was highly illegal at the time but created the foundation for the drag shows that so many have come to love today. Swann was consistently a victim and a survivor of police brutality, but he never quit in the fight for gay liberation. He was the first queer resistance leader in the US, but odds are most people screaming "Yas, queen!" at drag shows nowadays have no knowledge of the Queen of Drag and what they did for the community.
In truth, the gay community would be nothing without the Black community. From our culture to our liberation, Black leaders have always been trailblazers. When you hear people take to the streets and chant "Black Lives Matter," understand that this is the spirit of Pride.
For those within the LGBTQIA+ community who have stayed silent on Black Lives Matter, it is well past time to speak up. Silence is not neutrality, it is an indication that you have sided with the same oppressor that once tormented our community.
Pride is not just some time where we don our gay apparel and parade around; it is a celebration of our liberation. That liberation did not come easily, and it certainly did not come solely from white, gay cisgender men.
The fight for gay rights never ended; it just became easier for those of us who are white. LGBTQIA+ people of color are still fighting just as hard as they always had to. We as a community owe our rights to the Black LGBTQIA+ members and particularly Black trans women. They are the cornerstone of our community, and they deserve not only our respect, but our protection as well.
The first ever Pride was an uprising, and it is vital that we all, especially those of us in the LGBTQIA+ community, stand in solidarity with the long-overdue uprisings of today. The Black community is still plagued by the state-sponsored violence that is police brutality.
Fight for them.
Fight for them the way Marsha P. Johnson and countless other Black and Brown members of the queer community fought for you and still do. Pride would not exist if not for Black revolutionaries. If you plan to celebrate this June, remember who fought for you.