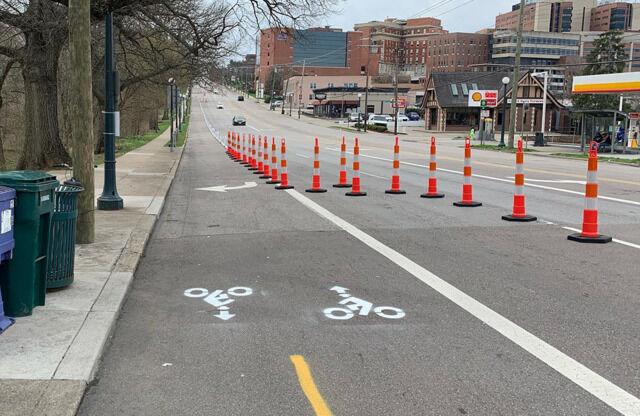 Earlier this year, Cincinnati opened the Clifton Avenue protected bike lane to the public, which was planned over less than eight months and installed in two days. In a state with a distinct and severe lack of funding for public transportation - offering only 63 cents per capita as opposed to the $50 or above per capita spent by the other nine most populous states - it comes as no surprise that a transportation project like the Clifton Avenue bike lane was the first of its kind for Cincinnati.
This relatively simple project and others like it play two crucial roles: opening new modes of transportation to the general public of Clifton and acting as a kick-starter to the conversation around transit.
Clifton residents, and Cincinnatians in general, suffer from a rather small choice of transit options when they must travel. Cars lack feasibility, as parking spaces are heavily limited and can cost significant amounts if you intend to stay for a long while. Walking is certainly an option, but it's not exactly practical with an average one-way work commute of almost 26 minutes by car in Cincinnati.
This bike lane and the broad spectrum of transit and public transportation projects that Cincinnati could begin operations on can help alleviate these problems. While other more elaborate and expensive systems such as buses or railways would likely have to be put in place for those with longer work commutes, making bikes an option for small commutes can play a role in alleviating minor traffic congestion both on the road and in parking lots. Also, protected bike lanes happen to have the added benefit of making the road safer for everyone. 
Beyond its upfront material impacts, this bike lane brings to the forefront a much-needed conversation: what can we do to solve or alleviate the compounding issues that face the world in terms of transportation and its destructive environmental impacts?
As the IPCC suggests in its 2021 report, action on the scale of individuals or even small communities, while welcome, is not enough to stop the onset of severe climate change. Wide, sweeping, systemic changes in the way we live our lives in the very near future are required for any chance at not meeting devastating and potentially irreversible thresholds of global warming. 
Transportation is only one of the many areas where these systemic changes are required, but it is undeniably one of the most important. In 2019, 29% of greenhouse gas emissions in the United States came from the transportation sector.
All that said, there is hope present in the concept of a transportation revolution. Many options for change have environmental results that leave room for optimism. Bikes, while not practical for many commuters, are carbon neutral. For long commutes, public transport options such as rail systems or vanpooling have been shown to produce less than half of the estimated carbon dioxide emissions of private automobiles.
The bike lane on Clifton Avenue is a fantastic start in a transportation-desolate city, but for the sake of us all, it must not end there. Rather, it must play a role in the onset of a much more impactful conversation: how do we as a community fix the copious amount of issues that transportation needs to create?