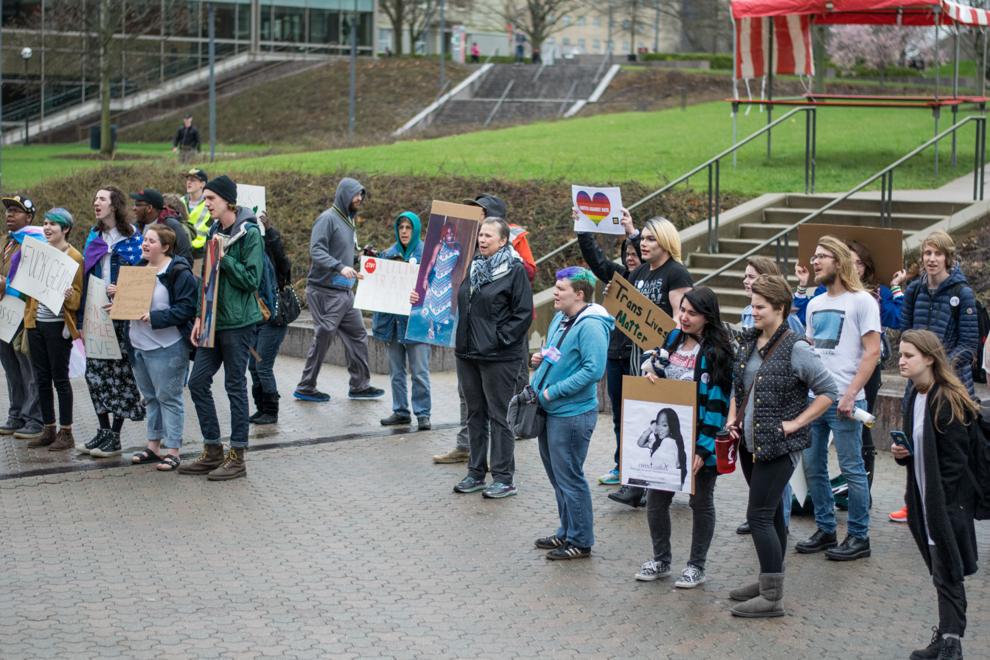 Marquiisha Lawrence. Odds are you haven't heard her name, and before last week, I hadn't either. But on Nov. 4, Lawrence's life was ripped from her in what her trans mother, Eboni Sinclaire, called a "senseless murder." Lawrence, a Black trans woman who went by the nickname "Quii," was shot and killed in her South Carolina home after an apparent altercation with one or two people, according to the Greenville County Coroner's Office. She was only 28 years old. 
"Quii was a young trans woman, at the beginning of this game called life, as we know it in the trans community," Sinclaire said. "She was a very humbled, free thinker who was loved by many. She will forever be remembered by her infectious smile and her heart of gold. Her favorite thing to do was to cook because she felt it filled the belly and fed the heart. One of our last conversations she said to me, 'I've not always been the best I could be but thank you for caring enough to still be here for me.'"
Sinclaire added that she was concerned Lawrence was killed for "accepting who she was and living her truth." Investigations by the Greenville County coroner's office and Greenville County sheriff's office are ongoing.
According to the Human Rights Campaign (HRC), Lawrence's death officially made 2021 the deadliest year on record for trans and gender non-conforming people – many of whom are Black trans women. At least 45 people have now died in 2021 due to anti-trans violence, surpassing last year's 44 trans and gender non-conforming deaths. 
"With 45 recorded deaths, we've reached yet another tragic milestone this year," said Tori Cooper, director of community engagement for the HRC's Transgender Justice Initiative. "Marquiisha was clearly loved by so many. She deserved to live, but her life was stolen from us far too soon. We must commit to honoring trans lives and ending the horrific epidemic of violence that plagues our community. Marquiisha deserved nothing less than our full commitment to building a better future for trans people."
To add to the devastating violence, state and local lawmakers continue to push anti-LGBTQ+, particularly anti-trans legislation, from limiting access to gender-affirming care to barring trans kids from playing sports. The HRC called2021 the "worst year for anti-LGBTQ legislation in recent history." The organization made that determination all the way back in May.
Enough is enough. How can we sit idly by while trans people continue to die of senseless violence? How can we say nothing as lawmakers push dangerous myths about trans people to get votes? How is this epidemic not front-page news everywhere?
It's easy to be desensitized to these numbers, but these are human beings – all with their own uniquely heartbreaking story. The only common thread is that they died much too soon because they are trans or gender non-conforming.
Don't think there is nothing you can do – call your representatives, donate to LGBTQ+ organizations and protest. If those things make you uncomfortable or are outside your means, your part could be as simple as sharing Marquiisha Lawrence's story. But the time to stay silent is long gone.