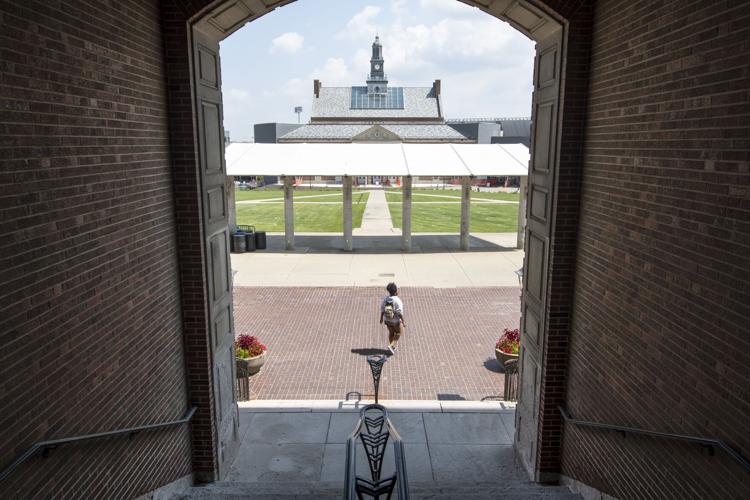 The University of Cincinnati's (UC) Lindner College of Business decided to extend the pass/fail grade option to their students on Nov. 22. The pass/fail option was adopted last semester to ease the stress of students amid the pandemic. Students from other colleges believe that the pass/fail should be an option for all students.
Carmen Seybert is a digital media collaborative and marketing double major. She is thankful that her marketing classes will be pass/fail, but is hoping UC's College of Arts and Sciences follows suit.
"My GPA is at 3.96. This online semester I'm in 18 credit hours, three of those classes I know I can't get an A in, so that is going to drop my GPA so low," said Seybert. "It's not the same experiences with classes and it's not the same level of learning. I'm definitely just memorizing things at this point."
Seybert says that UC shouldn't expect students to thrive during a pandemic, especially when so many families have been personally affected by the virus.
"I feel like the school should do pass/fail. They can't expect the level of learning and the level of engagement to be the same," said Seybert. "I know if this semester was in-person I would do fine with classes because it's so hard having everything online. Deadlines are easy to miss and there are always hidden assignments in my classes." 
Seybert recalls how much of a mess the first few weeks of school were. She says it was hard to get in the swing of things for not only the students but the professors.
"In one of my classes, the first three weeks my Kaltura - the online presentation system UC uses - wasn't working," said Seybert. "So I was just missing presentation after presentation. I just kept getting zero out of one hundred and I talked to my professor and he gave me the option to retake it, but that would not have been happening if we weren't all online."
"I don't think it's fair to not offer pass/fail options because it's such a different experience than how we normally operate," Seybert continued. "I'm still adjusting to using all the platforms."
Allen Frank, a student in the College of Education, Criminal Justice, Human Services and Information Technology says that learning online has been a struggle for him.
"With the pandemic, it makes it hard to really learn in an online class. I have a difficult time learning online, so this [having pass/fail options] gives people like me to have some leeway," said Frank.
Nick Sempstrott is a Lindner College of Business student and is very thankful for the option to pass or fail his classes, but he thinks it should be available to everyone.
"It just doesn't make sense for us to have the option and not other colleges. Everyone should have the option because it has been a stressful semester. I think it's only fair to offer every student a chance to save their GPA during a pandemic," said Sempstrott.