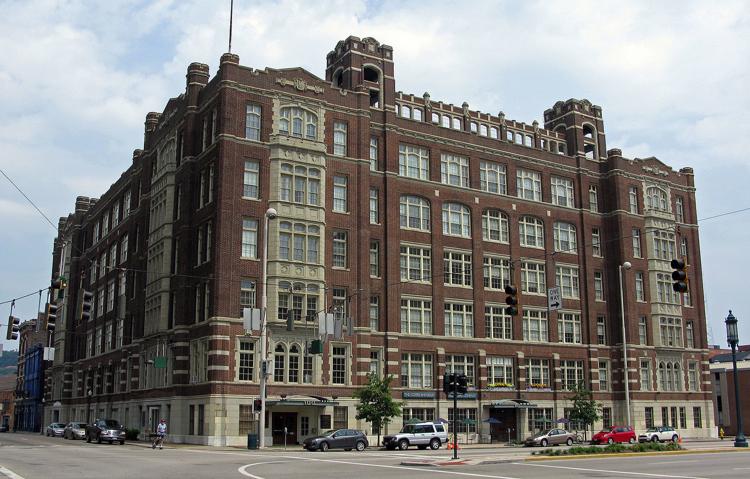 The University of Cincinnati is selling a historic theater in Over-the-Rhine, which it has owned since 1969.
The university put the Emery Center at 1112 Walnut St. on the market earlier this year after board of trustees voted in its April meeting to authorize the sale of the building, which includes Emery Theater, apartments, retail and office space. The ground floor is home to Coffee Emporium, a well-known local coffee shop, and sits between Jack Casino and Kroger's headquarters.
The building remains for sale, according to university spokesperson M.B. Reilly.
The theater was originally built in 1912 as part of the Ohio Mechanics Institute trade school. The structure was designed by Harvery Hannaford, who also designed Music Hall, Memorial Hall, Cincinnati City Hall and other buildings in Cincinnati. UC gained ownership of the building in 1969 when the Ohio Mechanics Institute and the College of Applied Science merged with the university.
The Cincinnati Symphony Orchestra performed in Emery Theater from 1912 to 1936. In its early years, the auditorium held appearances of various famous dancers, such as Russian ballet dancer Vaslav Nijinsky and composer George Gershwin. The auditorium held the Wurlitzer Organ beginning in 1969 until its removal in 1999. 
In the late 1980s, the Institute and the College of Applied Science moved to UC's Victory Parkway Campus and the theater was not used very much except for showings of various films on the weekends.
Beginning in 2001, in order to keep the overall building preserved for life and use, UC began leasing the building and its management to Emery Center Apartments Limited Partnerships (ECALP) to conduct renovations of the space. Apartments became the only realistic option to preserve the overall structure.
"UC's commitment to preservation and use of the overall building was such that the university's lease to ECALP was for $1 a year," Reilly said. "ECALP subsequently subleased the theater to the nonprofit Emery Center Corporation (ECC), which was tasked with managing it and renovating it. That lease was also $1 per year, and ECC assumed all maintenance and repair obligations."
In December, the university received permission from the State of Ohio to sell the building, as its function as an apartment building did not fit with UC's core mission of teaching, research and service. This is one of many instances where UC has sold property because it no longer aligned with the university's mission, Reilly said.
"The bequest that led to the founding of the institution we today call UC was actually a bequest of numerous properties downtown, not a monetary bequest," she said. "The university eventually sold these properties because continued ownership did not align with the university's role in the areas of teaching, research and service."