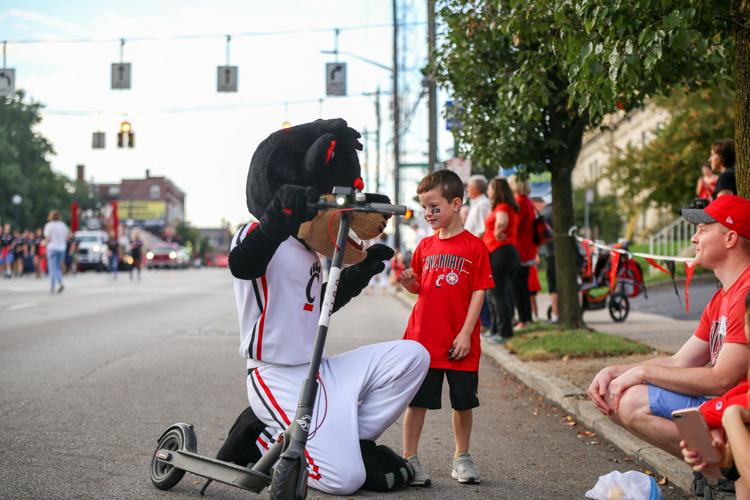 It's commencement day in May and recent graduates are walking toward Nippert Stadium in their caps and gowns. Friends and family bustle around campus as they try to get the best picture of their new graduate.
An undergraduate student walks by the crowds sporting a gray UC T-shirt. He looks just like any other student, but at any UC event every eye is on him. This seemingly ordinary student hypes up the crowd and represents UC through its iconic mascot, the Bearcat.
Front and center at many school functions and sporting events, the Bearcat is a position sworn to anonymity. The identity of the Bearcat is not revealed until the student graduates, which is a deliberate choice by the UC marketing department.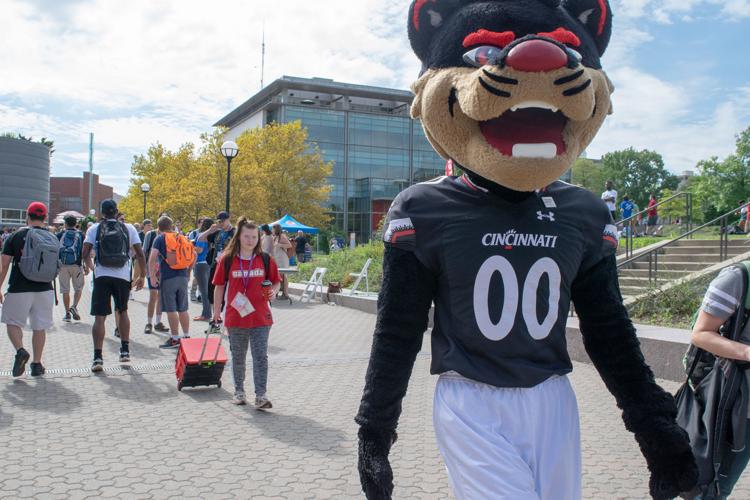 "I have really close friends who don't know I'm the Bearcat," the student said. "I love the secrecy, because being the Bearcat isn't about glory, bragging rights or people chanting your name, and I can be the truest, most energetic version of myself, without anyone knowing." 
Becoming the Bearcat starts with three days of tryouts, which include tests of physical strength, endurance and improvisation with random props. Any student can try out, even those who have not been on the UC cheerleading team. 
On game day, the Bearcat wakes up as early as the players. Hours before kickoff, he can be seen walking around campus greeting fans during pregame celebrations. At game time, he goes into the stadium to cheer along with the crowd and interact with the fans. Like with the players, games days take a toll on the Bearcat's physical and mental stamina. The turf is 10 degrees warmer than the regular temperature, and being inside the fur costume can create even more heat.
"You can never sit still," he said. "You always have to keep moving and doing something like riding in the golf cart, taking selfies, anything but sit on the sidelines."
A constant presence and icon of the university, the Bearcat has formed close relationships with regular fans, even if who is in the costume is a mystery. 
"The Bearcat recognizes [the fans] but they don't recognize me when I'm not in the suit," he said. "Kids and fans will hug you all game and I could walk past them after the game and they have no idea."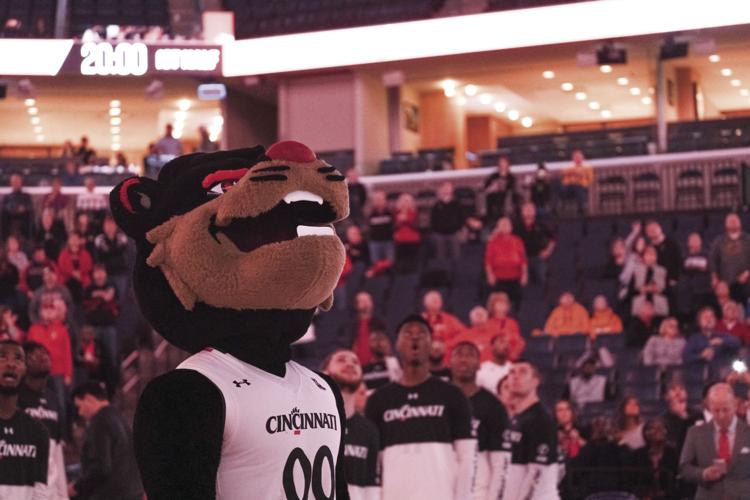 Being the Bearcat takes an exaggerated persona, and the UC student who wears the costume has to adopt another personality when they assume the role. 
"I'm just a regular student," he said. "But once the costume comes on, I'm the Bearcat. There's a sassiness to the Bearcat that comes out every time."            
Still, the Bearcat says it takes a certain maturity to represent UC while wearing its most iconic symbol; there is a line between harmless fun and inappropriate behavior that should not be crossed. Despite the responsibility, every moment as the Bearcat is a rush of excitement. 
"When the adrenaline gets going, I feel like one of the football or basketball players," he said. "But being the Bearcat is really just about connecting with fans and making people laugh and smile."