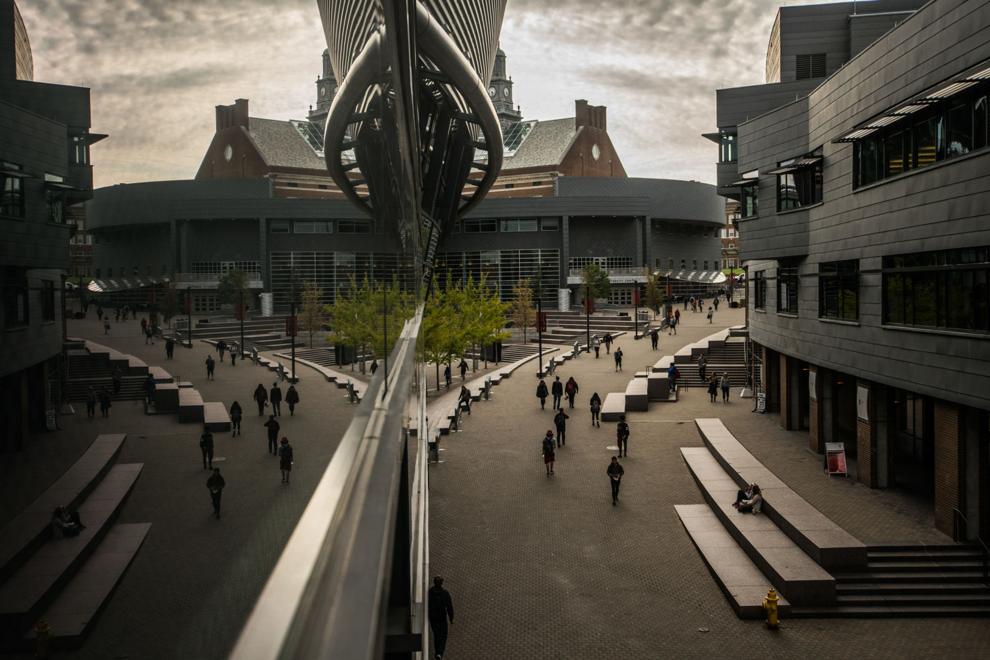 While the University of Cincinnati's (UC) student population grows increasingly diverse, faculty and staff expressed concerns over its less equal diversity based on gender and race at the spring all-faculty meeting last week in the newly-renovated Probasco Auditorium. 
The faculty meeting – led by Greg Loving, UC Clermont professor and the UC Faculty and Faculty Senate chair – directly followed the State of the University speech by President Neville Pinto, where he expressed enthusiasm for the current happenings at UC.
However, between the meetings was a shift in emotion from hope back to reality, where Loving disclosed the diversity of gender within UC's community.
According to Loving, 50.1% of the full-time faculty at UC is female, but only 41.6% of these women are tenured. A staff position gives professors security in their jobs and means they are less subject to an early dismissal. So, while the distribution of faculty is equal by gender, there is substantially less job security for female professors.
"Teaching requires protection and tenure is one of those protections," said Loving. "Though we are all dedicated to diversity, equality and inclusion, in how some of these decisions roll out structurally, we have a ways to go."
Loving proposed taking the ideas of the Bearcat promise – which provides resources to "proactively assist students in creating a personalized path to achieving success," according to UC's website – and making a similar vow to faculty and staff members. 
In terms of race and ethnicity, UC faculty and staff is even further from an equitable distribution. In 2020, of the 8,612 faculty and staff members at the university, 74.84% were white. Only 10.03% of faculty and staff members were of African American descent, and 6.97% of Asian descent, according to UC data.
Despite the efforts for more racial diversity within the staff, the most recent breakdown on diversity of UC's faculty and staff is, as a whole, actually less diverse than it was back in 2016. In 2016, faculty and staff were 70.73% white, 9.90% African American and 6.08% Asian.
For an outlook on racially diversifying UC's faculty and staff, Provost Valerio Ferme said that the university is investing more money and resources into these faculty hires.
"This has been an ongoing desire, this year, to do something about it," said Ferme. "I want to commend the deens, who I charged with doing more trainings with their own leadership teams about practices and diversifiers ensuring that we're following best practices."
While this meeting and conversation nears the end of Loving's current term as UC Faculty and Faculty Senate, he hopes to continue this discussion of increasing diversity at UC.
"It has been my profound privilege to have stood for you and to have stood with you continuously," said Loving at the conclusion of his speech. "And we'll continue this discussion. whatever way that we can."