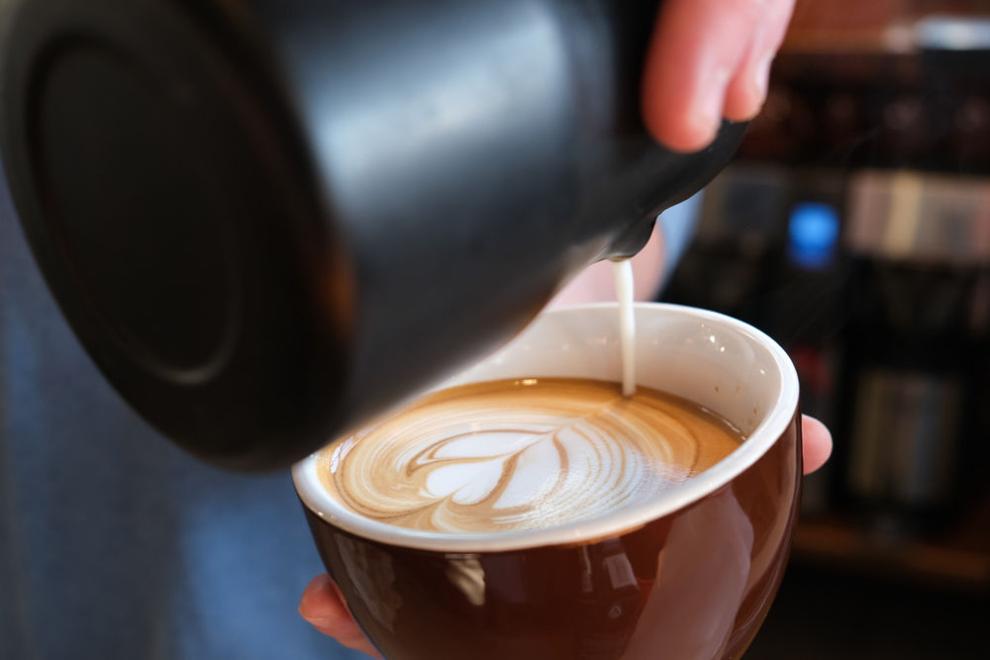 The 86 Coffee Bar is a bustling hub of student activity. With the soft clicks of students typing away and the never-ending indie music playing in the background, it is easy to feel immersed in this environment. While students chat away and sip honey-cinnamon oat milk lattes, behind the scenes is an army of student volunteers working to make this experience happen. 
The 86 is a popular volunteer spot for students given its proximity to campus and lively environment. The shop also bolsters a love for locally-sourced things. Many of the ingredients—food, art and more—come from places around the community. That's what is at the coffee shop's heart: their dedication to investing in their community.
Fourth-year communications and English major Sarah Dieterich can attest to this. They have been with the 86 for three semesters and intend to keep coming back for more. Their first time volunteering at the coffee shop was in spring of 2021.
"It's appealing because it's consistent service hours that are close to campus," said Dieterich. "I had a friend who volunteered with them in the past and really, really enjoyed it. So when I saw they were looking for volunteers I knew I wanted to apply."
For many students, volunteering here is a quick and easy way to get service hours for their scholarships, but a surprising aspect of the work is being able to adopt a new community of friends as well.
"It's so fun when we have staff meetings and get to hang out with all the volunteers," said Dieterich.
The 86 provides its volunteers several opportunities through the semester to hang out, such as meetups at Burnett or community events they help sponsor. Dietrich's role as a volunteer is to be a cafe assistant. They spend their shift helping the barista behind the bar to ensure the cafe can operate as smoothly as possible.
"I'm at the register taking orders, and I make most of the non-espresso beverages like smoothies, blended cremes, and also handle most of the food stuff, I also wipe down tables and high-touch points throughout my shift," said Dieterich. 
Other volunteer positions are for those who can help clean for closes, coffee roaster assistants, and more. The unique opportunities help to take the work-feel out of volunteering and instead create an enriching environment where volunteers can learn new skills.
As a small perk for volunteering, students are allowed to indulge in some of the treats the shop makes. With such a wide variety of food and beverages to try, it's hard for volunteers to narrow down their personal favorites. 
"My favorite drink is either the chai latte with oat milk or an iced vanilla latte with lavender. Both are so good," said Dieterich.
The coffee is not the only perk Dieterich loves about their position. When asked to provide a word describing their experience there, the only word that came to mind was "fun." The 86 is a place where Dieterich gets to meet people in and around the UC community who all share a common love for the coffee shop. 
"The 86 has very much 'light-academia' vibes," said Dieterich. "Most of our regulars are UC students and staff or [those who] live near campus, so most of the time the place is filled with college students, it really is just a super unique vibe that I love."
Dieterich encourages everyone to consider providing volunteer hours here. They promise that while you may come for the coffee and the convenience, you'll stay for the community the 86 cultivates with all the care it can.