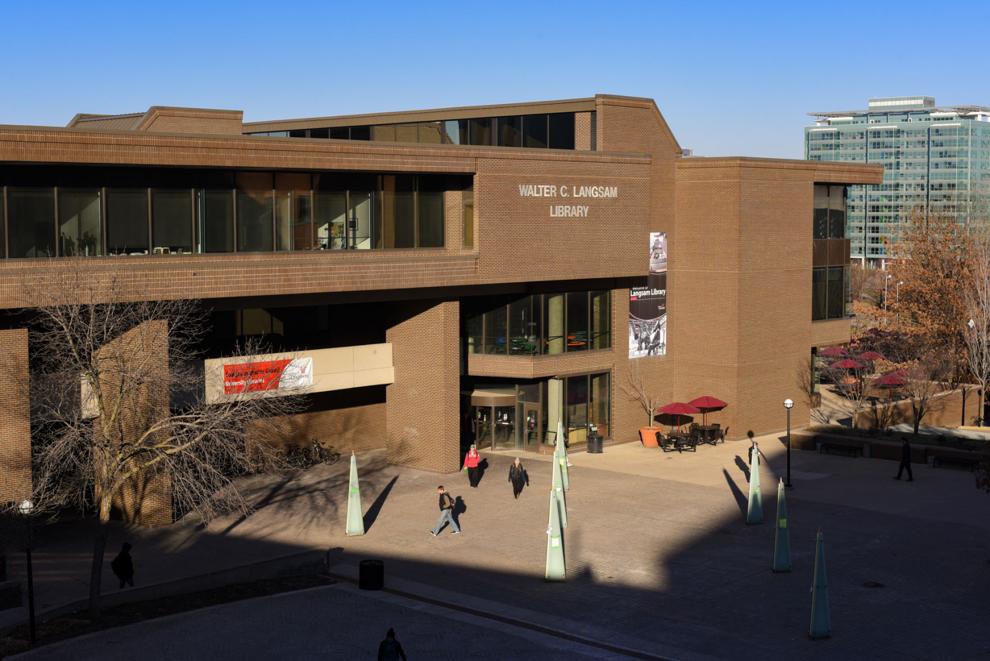 This past September, a journalism professor, Craig Flournoy, sent an email to his students praising university librarians for their help in gaining access to a film he wanted to show in his Journalism Seminar Research classes. The film in question was "No Job for a Woman: The Women Who Fought to Report WWII," which had been previously leased by the university but had expired when Flournoy requested it. UC librarians swooped in at the last hour to lease the movie for another three years. 
Susan Banoun, an associate senior librarian in the electronic resources department, and Carissa Thatcher, team lead in the acquisitions and metadata department, sent a rush order to Kanopy – an on-demand streaming video platform for public libraries and universities – once they heard of the problem obtaining the film through a liaison. 
Because of their determination to make resources available for students and faculty, the film was made available within a few hours. The professor ended his email saying, "Think how different UC might be if librarians were in charge."
Since the start of the COVID-19 outbreak, UC librarians have made resources like videos, films and eBooks available for remote students and faculty. Their hard work and dedication to supplying students the resources to succeed has impacted every student and faculty member's semester.
UC Libraries usually receives an influx of rush orders at the beginning of every semester. Although professors are encouraged to check and make sure access is available for the certain film or video before they assign it, that is not always the case. When that happens, rush orders are placed to get access as quickly as possible. 
With the majority of classes being remote, Banoun says they have had more rush orders than previous semesters, not only for videos—which she and Thatcher exclusively help obtain access for—but for eBooks as well. Thatcher and Banoun do not typically work directly with professors but step in and help if there a problem obtaining a resource. 
Deborah Tenofsky, a senior librarian in the research, teaching and services department, works directly with students and faculty to locate and obtain resources. If the resource is not available, she works with Banoun and Thatcher to see if the item can be purchased or ordered.
Earlier this semester, Tenofsky and Thatcher worked together to help a digital media collaborative professor gain access to videos he wanted to show in his online class. The professor had reached out to Tenofsky, asking for online access to movies he wanted for his class. Although the library had the movies on physical DVDs, they cannot ship the only copies of these videos to a professor who is currently in Los Angeles. This is where Thatcher comes in.
"Carissa worked her magic and figured out all the different ways that we could get these movies online," Tenofsky said. Then, Tenofsky went back to the professor, explaining how they would help him access the films.
If only all rush orders were as simple. However, rush orders increasing is a small undertaking they are dealing with compared to the absolute stress and mayhem they endured last March. 
Melissa Cox Norris, the director of library communications, pulled together a communication plan to let students and faculty know that the library facilities were closed in mid-March. Next came figuring out how users can access the library remotely. Norris knew they could utilize the library's website to allow access to the facilities virtually. She created a section on the website called "Online Library." She built pages like "For Faculty," "For Graduate Students," "For Undergraduates" and "For Staff," so that every person at UC could easily find the resources they need. When the pandemic hit back in March, Norris set up the new section of the website and promoted and communicated the changes to the library's users for weeks.
"The week that this all happened, Monday was a normal day, and then Tuesday you got inkling that something was going on, and then by Wednesday we were talking about closing, and then by Friday we closed…It was very intense," said Norris. 
Though the new section on the website was up and running, it needed content. This is where Thatcher and Banoun came in.
"The end of Spring semester when the university shut down, we had to switch all these face-to-face courses to online resources," Thatcher said. "There was a lot of work in the background there between acquisitions and electronic resources to locate these eBooks and streaming videos because they were physically on reserve and then all the sudden, here we are, boom ... everything has to go remote."
Banoun agrees with Thatcher, stating, "It's been a lot of work that we've had to undertake very quickly. And fielding a lot of questions, not only from professors but students and from other faculty and even our own library staff, trying to support the remote access and access to everything being electronic now."
When the university went remote this past March, librarians at UC worked to get remote access for the physical resources professors, students, and faculty needed. A week or two after the campus went remote, UCIT changed the way people could access resources remotely. This change confused librarians.
"It was chaos," Banoun said. "All we knew is we had been accessing resources prior to COVID one way, and then we had to change and do it a different way. It involved us scrambling, trying to get access restored."
"I hate to use the word 'unprecedent' because I feel like it's a little overused this year, but it's been the most unprecedented year that I have ever experienced professionally. There were days where I think we were probably all just tearing our hair out trying to make all this stuff work," said Thatcher.
In this case, the use of "unprecedented" seems fair considering the sheer amount of long days, meetings and many questions UC librarians have endured over the last seven months. 
"It was amazing to see how all the different departments of the library came together, and we figured out a plan and implanted it in a matter of days so that the students and the faculty and the staff could continue their work or their studies in a seamless fashion," Thatcher said. "We were working magic and pulling strings. It was kinda neat—stressful, but very very neat."
They take their jobs personally, becoming interested in students' research projects and wanting to do everything they can to make sure each person at UC has access to the resources they need. While working from home, Tenofsky misses learning about student's research work and helping them find the resources they need to complete their work. She says she enjoys hunting down the perfect resource for people and figuring out the best resources for a particular student. "Sometimes, it's a little challenging, [but] that actually makes it a little more fun," she said.
"If people can't get to the resources, I take it personally," said Banoun. "When the students are having trouble, I can't help but think 'what if this was one of my kids?'"