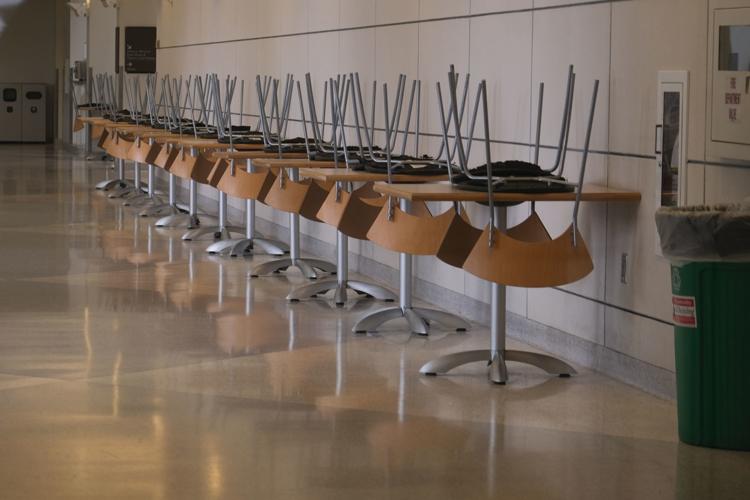 As the coronavirus pandemic forces universities across the country to tighten their belts, the University of Cincinnati's Board of Trustees recently approved budget cuts for the current fiscal year. 
On Aug. 25, the board's finance and administration committee approved plans for an 8% cut to the university's general funds budget for the 2021 fiscal year. This is a change from the 12% budget cut initially proposed by administrators in June. 
"The COVID-19 pandemic has exerted a very substantial financial cost on our university," UC President Neville Pinto told the board. "We are standing at a defining moment in history; a time shaped by the pandemic, economic hardship and a civil rights reckoning."
Over $30 million is being cut from the university's general funds budget, UC spokeswoman M.B. Reilly said in an email to The News Record. 
The general funds budget encompasses expenses such as instruction, academic support, public service and student services. 
A decline in the state share of instruction and the potential for reductions in enrollment were driving forces behind the decision to recommend budget cuts, Senior Vice President for administration and finance Bob Ambach told the board. 
In May, Ohio Governor Mike DeWine made $110 million in cuts to the state's higher education spending.
"We believe that instituting these cuts now will provide the most stability moving forward," DeWine said in a statement at the time. "However, I am greatly concerned about the cuts we must make in education. We have an obligation to our schools to give them as much predictability as we can, but if we don't make these cuts now, future cuts would be more dramatic."
Administrators at public universities throughout the state had braced for a 20% reduction in state funding for fiscal year 2021, but that reduction has since been dramatically softened to 4.38%. 
The state has allocated nearly $2 billion toward funding for higher education.
Though the state's reduction in higher education spending was much less than anticipated, the 8% budget cut allows for a cushion should something unexpected occur, said Faculty Senate Chair Greg Loving. 
"We know we're probably going to be in a tight budget situation, because of what the state's dealing with, for years to come," he added. 
UC has managed to set another enrollment record at a time when other public universities have struggled to find students. However, tuition, the university's primary revenue source, is still expected to decline, Ambach said. 
Making efficiencies in the budget is a regular occurrence, Reilly said, citing factors such as an increase in operational expenses as well as continued funding for the university's strategic direction. 
It's estimated that Ohio's public four-year institutions spent approximately $171 million in the spring during the transition to remote learning, as well as refunding campus housing and dining, according to the Center for American Progress, a nonpartisan think-tank based in Washington D.C. 
The state's universities are projected to have lost an additional $119-139 million in revenue during the summer semester, the center found. And while the CARES Act allocated millions in institutional aid to public universities, the losses have far outpaced relief. 
As a result, universities nationwide have been hit with massive budget shortfalls, with many being forced to cut millions of dollars from their annual budgets. 
There are concerns among faculty at UC that budget cuts might do more harm than good. 
"The short-and long-term impacts of these permanent cuts are of concern to many faculty and will have adverse effects for the core mission of the University," President of the UC chapter of the American Association for University Professors (AAUP) Connie Theado wrote in a statement on the union's website. "UC's response was to eliminate the use of any of its reserve funds to deal with the pandemic. This is not the response one would expect of an institution in a financial crisis," she wrote.  
Reilly did not reply to an emailed question asking for a response to the union's concern. 
As part of an agreement between the university and AAUP, faculty development funds are being cut by 20%, with that money going toward alleviating financial pressure placed on colleges by the pandemic, according to Theado. 
These development funds are used, in part, to fund additional training for faculty. 
Faculty are also being asked to take voluntary furloughs. The university temporarily furloughed 360 employees in June, including faculty and staff. 
A joint report from the budget and priorities committees of the AAUP and Faculty Senate analyzing the university's budget in light of the pandemic is expected to be released in the coming weeks.