After years of speculation, Crosley Tower has an expiration date.
University architects plan to demolish and replace Crosley Tower, a 16-story brutalist building on the University of Cincinnati's uptown campus, which is famous for being poured as a single piece of concrete.
The tower, completed in 1969 as a home for chemistry and biology laboratories, is nearing the end of its useful life span for the university according to Dale Beeler, UC's director of project management. Unlike most other buildings on campus, the tower does not qualify for renovation due to its structure, he said.
"It's just not in our long-term plans," Beeler said. "TUC, McMicken, any of those older buildings — Van Wormer and the like — and some of our newer buildings, like the rec center and the College of Business, are buildings that fit into our master plans for decades to come … Crosley just does not. Nothing personal about the building — it just doesn't warrant the physical expenditures that would bring it into the next 30 or 40 years."
This year, university architects commissioned a study from a local engineering firm to determine the most economical method of demolishing Crosley Tower.
"[The firm] gave us some options, [including] taking it down one bit at a time starting from the top and picking away at it with jackhammers and mechanical equipment," Beeler said. "They also gave us an option that it could possibly be taken down in one fell swoop with an implosion. We have not decided one way or another, but those are our two options."
Imploding Crosley Tower would be difficult due to its proximity to Rieveschl Hall. However, Beeler said the university is still considering both options. UC has prior experience with implosion — that's how the university demolished Sander Hall in 1991.
Demolishing Crosley Tower could take up to five years, according to Beeler. Additionally, any removal process will have to wait until a new building is completed for Crosley's current tenants.
"There's nothing on the horizon in the next two or three years until a replacement building is built on a different site that would allow us to empty those folks out of that building," Beeler said. "We need a swing building, so to speak."
Although Crosley was designed for biology and chemistry, the building also holds several departments within the College of Arts and Sciences, including Asian Studies, International Affairs, Political Science and Sociology. The new building, likely to be built on the former site of Wilson Auditorium located between DAAP and McMicken Hall, would be designed with those departments in mind.
"Having the entire college together would be [preferable]," said Alexa Justice, program coordinator for the sociology department. "We are currently scattered throughout several buildings that ring the campus."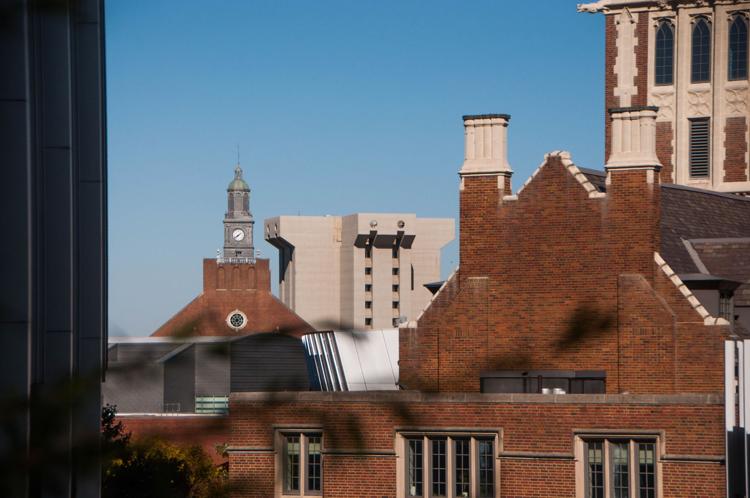 Hopelessly unadaptable
Beeler called Crosley Tower "almost diabolically inflexible" — perhaps the most inflexible building on campus.
"Crosley was built in conjunction with the Rieveschl Project," he said. "Rieveschl, to the credit there, is still a building without windows or anything, and tons of fume hoods running up to the exterior of the building which takes up the window space. But it has extremely large clear span spaces … You can gut them and repurpose them for all sorts of things. Crosley has never had that sort of flexibility."
Crosley's lack of flexibility can be credited to its cruciform design. Four pods with classrooms, labs and offices link to a central core containing the stair towers, elevators and bathrooms.
The four pods cannot be connected to each other due to the shape of the building, so it would be difficult to renovate these spaces into classrooms — especially with minimal amounts of elevators for students to use to travel during class-change periods.
Crosley's dangerous exterior
In 2009 or 2010, the exterior of Crosley Tower started to spall, meaning that fragments of concrete began breaking off the building.
"You could imagine the health hazard — with the plazas around the base of that building — to have chunks of concrete popping off the face," Beeler said. "We had to put up barricades to protect people entering and exiting the building, and we had to close off the plaza to keep people from standing there in case a two- or three-pound chunk of concrete fell off the building."
This situation made the building untenable, so the university performed an emergency repair that involved scaling off all the loose concrete, repairing the damaged concrete and reinforcing rusted steel, according to Beeler. Then, the repair team applied a heavy coating of a corrosion-inhibiting chemical that neutralized some of the ongoing corrosion.
Beeler called the corrosion-inhibiting process a "Band-Aid." He said the process guaranteed the building approximately 10 more years of life before the spalling process might begin again.
"The kicker was, though, that you can only do this chemical impregnation process once," he said. "It doesn't work the second time — it won't soak in, so to speak … So, the building had basically 10 good years left to it. That will come to a close here in 2020 to 2021, something like that."
Dr. Necati Kaval, a research associate in the chemistry department, works in the sensors facility on the lowest level of Crosley Tower.
"As far as I know, the building sinks a little every year," Kaval said. "It has developed cracks here and there in the basement level."
Kaval said he often sees water leaking from the ceiling when it rains.
"I have many expensive and delicate scientific instruments," Kaval said. "Salty water leaking from the ceiling in winter months puts my instruments under risk."
Justice said she also experiences leaking on the 16th floor and has concerns regarding the building's elevators.
"The elevators are a problem," she said. "One, two, or all three malfunction too often … and can leave people stranded for an indefinite amount of time on their floor."
Beeler and his colleagues are trying to be proactive. They have encouraged the board of trustees to begin planning for a replacement building, advising that the tower is not restorable due to its age, condition, inflexibility and lack of amenities.
"Our fear is if we don't continue to push forward on [getting a replacement approved], there will be a time in the not too distant future where Crosley Tower starts spalling again and dropping chunks and balls of loose concrete onto the ground," Beeler said. "It's never going to be a structural failure — it's just that you can't live with a building that's doing that."