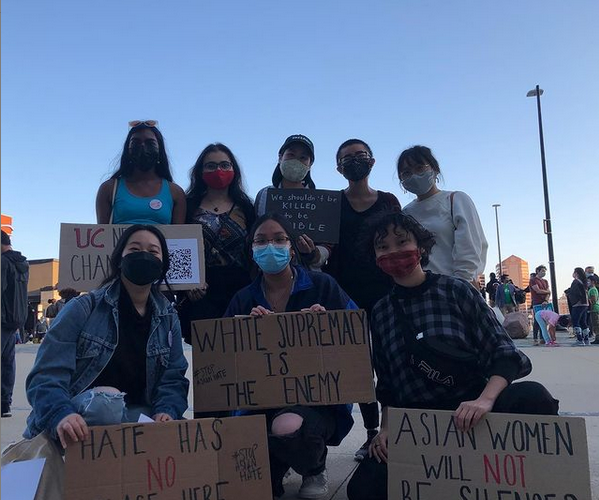 Members of the United Asian Advocates (UAA) met with University of Cincinnati (UC) President Neville Pinto last week to address racism directed at marginalized groups on campus. 
The student organization met with Pinto virtually on Thursday morning to outline their demands and receive feedback from university officials, said Aashka Raval, a third-year student and the organization's co-president.
"It was a very introductory meeting," Raval said, adding that officials were "accepting of all demands." 
She characterized the meeting as "productive" and said that another meeting has been scheduled for April 22 with officials in the university's Office of Student Affairs. 
"…That's where we will kind of focus more on creating the timeline and seeing the progress and seeing what needs to be done and how long it's going to take," Raval said. 
The organization is also trying to set up another meeting with the president's office sometime in the summer, she added. 
Raval said the president's office first reached out to the organization shortly after they began receiving more media attention. "I don't know if this was correlation or causation," she said. 
"I recently met with the leadership of our United Asian Advocates student group here on campus," Pinto, who was born in Mumbai, India, said in a statement Thursday evening. "I stand with them in denouncing the bigoted comments made by unwelcomed visitors to their virtual meeting earlier this semester." 
 Raval said the organization is "very appreciative" of the president's statement. 
"…I think that it shouldn't end there. We are still advocating for a university-wide email where the president not just shares support and denounces hate speech, but also shares resources," she said. "But I think this is a wonderful partnership and we clearly saw his commitment toward the students in that particular message."
Around 50 people were attending a Feb. 23 event organized by UAA, Raval said, when about 45 minutes into the meeting two people joined and began yelling racist language.
"It wasn't even just anti-Asian, it was anti-Semitic, anti-Black. Just awful words," Raval said. 
The two people were removed shortly afterward, but their interruption turned what was supposed to be an empowering event into a traumatizing experience for those involved. 
"I was very shocked during the moment," said Fatima Khan, a third-year medical sciences student and treasurer for UAA. "I think everyone just kind of was like, 'what is happening?'" 
While it's currently unknown whether it was UC students who were responsible, it seems likely given the event was largely marketed to the campus community. 
This wasn't the university's first confrontation with racist remarks directed toward the Asian community.  
In September, John Ucker, an adjunct instructor at the College of Engineering and Applied Science referred to the coronavirus pandemic as the "chinese virus" in an email to a student. Ucker's contract with the university was not renewed for the spring semester. 
As a result of these incidents, United Asian Advocates released six demands. Those demands include: 
Releasing a "no-tolerance" statement to the campus community via email from the president's office, addressing racist incidents against Asian-identifying students on campus. 
Creating a bias reporting tool moderated by the Office of Equity and Inclusion which is highlighted during freshman orientation and in course syllabi. 
Investing in staff at the university's Office of Ethnic Programs and Services. 
Employing at least one individual with experience working with racial trauma and Asian mental health at the university's Counseling and Psychological Services. 
Developing a mandatory anti-racist module training that will be required for all incoming students. 
Including a multicultural center in the Next Lives Here expansion plans to support the university's marginalized communities. 
"My team and I look forward to partnering with UAA, as well as with supporters across campus and beyond, to advance our shared agenda of making UC a better, more inclusive and welcoming community for all," Pinto said.