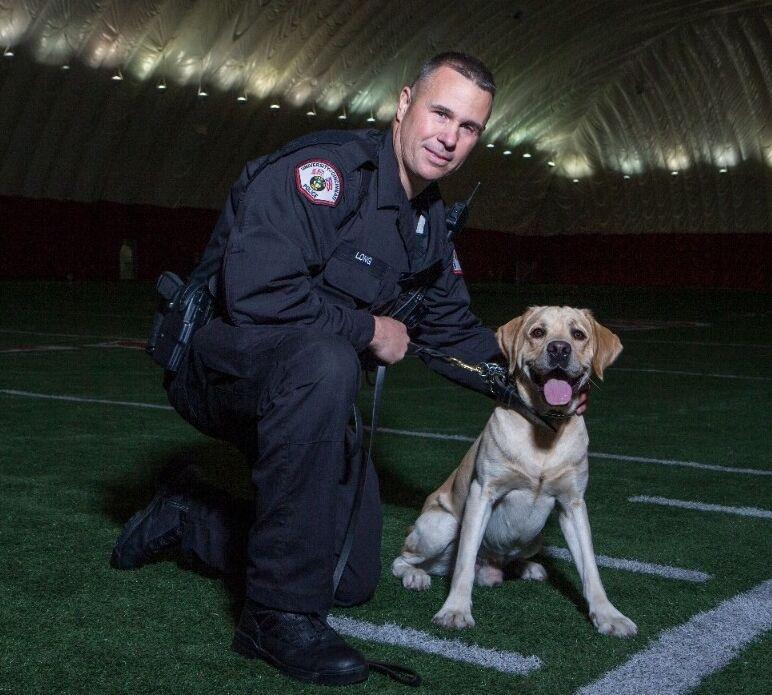 A K-9 with the University of Cincinnati Police Division (UCPD) is retiring. 
The university held a retirement celebration for Dozer, a yellow Labrador retriever trained in explosive detection, on Monday outside the Tangeman University Center. 
Dozer joined the university in 2015 and is the Department of Public Safety's first K-9 unit. 
In his six years of service, Dozer and his handler, UCPD Officer Lance Long, have responded to 170 calls for service including calls for suspicious packages, bomb threats, large events and dignitary visits both on and off campus, according to a press release. 
"In addition, Dozer and Officer Long have attended 130 demonstrations, both on campus and throughout the region, and have worked 250 details on campus, such as sporting events," the release states. 
His retirement will be spent with Long and his family on their farm. 
"Dozer is an incredible dog. He was the perfect fit for the UCPD, and has been well-loved by students, faculty and staff during his time at UC," Long said in a statement. 
UCPD added a second explosives detection K-9 unit, comprised of Officer Lori Cronin and Harley, in 2019. 
UCPD received funding for both Harley and Dozer through the Matt Haverkamp Foundation – a nonprofit dedicated to continuing its namesake's mission to fund K-9 units for Greater Cincinnati police departments.
Officer Haverkamp was a UC alumnus and Golf Manor police officer who passed away tragically in a car accident in 2005. It was through his advocacy and fundraising that the Golf Manor Police Department was able to obtain its own K-9 unit.
"Dozer has been a huge asset to our department," James Whalen, UC's chief of police, said in a statement. "We are grateful for his years of service, and especially grateful to the Matt Haverkamp Foundation for making this possible." 
UCPD's K-9 units patrol campus, sweep buildings prior to events and assist other local police agencies, according to the university's website.