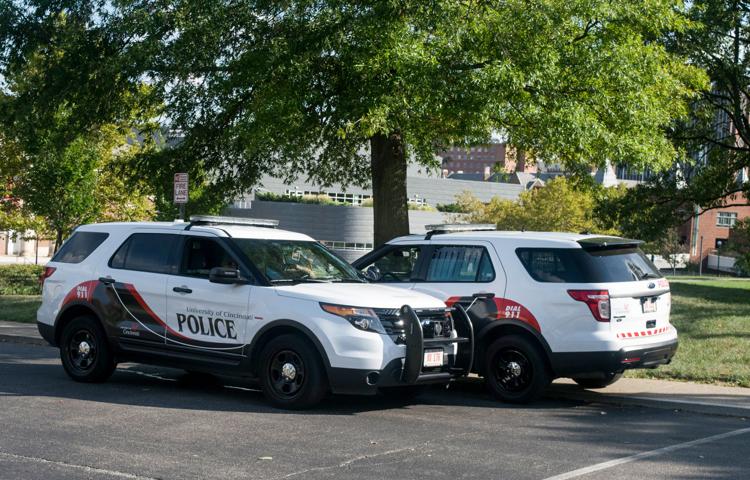 The University of Cincinnati Police Department (UCPD) has released statistics regarding crime on and around campus. 
The department released its public safety crime update on Sept. 18, showing a year-to-date comparison of on and off-campus crimes that occurred between Aug. 1 and Sept. 17.
Here are the findings:
UCPD recorded 16 incidents of burglary in 2020, a 67% drop from the 48 burglaries recorded in 2019.
UCPD recorded six robberies in 2020, no change from last year.
UCPD recorded 34 incidents of motor vehicle theft in 2020, doubling from the 17 motor vehicle thefts recorded in 2019.
UCPD recorded 31 incidents of theft from motor vehicle in 2020, a 49% drop from the 61 thefts from motor vehicle recorded in 2019.
UCPD recorded 10 shootings in 2020, unchanged from last year, but higher than previous years.
The university's Director of Public Safety James Whalen said these statistics help guide UCPD's response to crime.
"Depending on what crime trends we are seeing, we might change our patrol strategy, we might walk the neighborhoods and provide safety information to students, we might connect with property owners to make environmental improvements if necessary and we might post specific crime prevention messages on our social media accounts, among other tactics," he said in an email.
Whalen attributed the significant drop in burglaries to the department's burglary reduction project, which began in fall 2019.
That project "included working with property owners to make environmental improvements, educating residents on ways to reduce their risk of burglary, high visibility vehicle and foot patrols and working with the city of Cincinnati to improve lighting," he said.
Reported burglaries in Cincinnati have been on a steady decline over the last four years, according to city crime data.
"While burglary has declined generally in the city of Cincinnati, the rates in the area around campus have declined at a greater rate," Whalen said.
The coronavirus pandemic has also had its own role to play in the reduction of burglaries, he added.
"As more people are staying home and working or attending classes remotely, opportunities for burglaries have declined," Whalen said.
On shootings, Whalen said the neighborhoods surrounding campus are under the jurisdiction of the Cincinnati Police Department (CPD), which is battling gun violence during what is set to be one of the city's deadliest years on record.
Earlier in the semester, three people were injured in a shooting near campus at the intersection of West McMillan and South Market Streets – in front of Mr. Tuxedo.
"UCPD works in partnership with CPD in their efforts to be visible in the area to deter future acts of violence," he said.