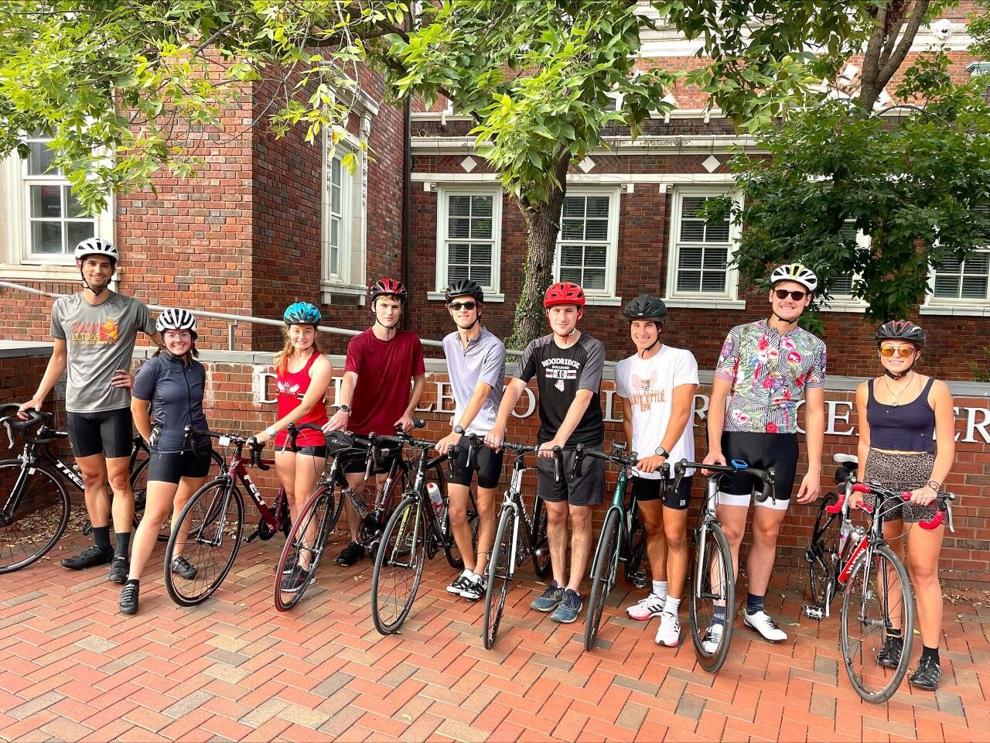 For fourth-year architecture major Coly Tabberson, the UC Triathlon Club was an extension of a passion he already loved. At age 15, he completed his first triathlon, and throughout high school he continued to train and nourish his drive for competing. The UC Triathlon Club shone with potential to Tabberson; he saw the foundations of a club that could allow him to share his passion with UC's student body and make triathlons an accessible goal for all.
A triathlon is an athletic event that consists of swimming, cycling, and running. They are a test of endurance that serve as a great source of pride for the athletes that compete. Members of the UC group are multisport athletes coming together to create a web of support, both physical and mental, to help them get their feet on the ground, on the pedals and in the water for triathlons. 
"Most students who come to our club looking to compete in their first triathlon have a background in one or two of the three disciplines but are looking for the motivation and support to grow in a sport they are relatively unfamiliar with," said Tabberson. "Triathlon is both welcoming to many different athletes and challenging due to the need to balance so many different skills." 
Tabberson urges those who feel drawn to the sport to just put themselves out there and commit to a race. According to Tabberson, that's only the first step of the process though. The next goal to is just to finish in any way possible.
"I encourage everyone to just 'tri' it!" said Tabberson. "Triathlons aren't easy but they are incredibly rewarding. The whole journey is a lot of fun and once you get to that finish line it all becomes worth it."
At the end of the race though, the club is about building a community of like-minded, driven people. At UC, the Triathlon Club's goal is to make this event available to all students. 
"No experience is required, we want anyone with an interest in any of the three disciplines to feel welcome to any of our events," said Tabberson. "First-time triathletes can expect a challenge, but also a supportive community to help them get across the finish line for the first time." 
The club works cohesively to help its members set their own unique athletic goals. That's part of the appeal, according to Tabberson. The goals serve as a promise to the triathletes of what they want to do, and the club stands by to help make it a reality.
"Goal-setting is an important part of triathlon, as often we set goals without first knowing that we are physically able to accomplish them,'' said Tabberson. "That is the same motivation that attracts people to the sport as what continues to push seasoned triathletes to attempt longer and longer distances."
The club meets every weekday to train for different parts of the event and on weekends they will occasionally do longer bike rides or open water swims. The club offers a variety of practice times in an effort to help accommodate as many members' schedules as possible. All these training sessions lead up to the finale that is the race itself. 
Triathlon Club isn't just about physical prowess. Perhaps even more prominent than the athletic feats are the community that comes alongside the group. With events like club dinners, pumpkin carving and more, the team becomes a family in its own way. Building friendships within the club is another important part to completing the goals each member sets for themselves. 
This fall, the club will compete in four races and against many different collegiate clubs in the Midwest. Tabberson has worked as president to make UC a force to be reckoned with in the triathlon community, and he feels he has been able to work hard to accomplish this. Tabberson has served as VP and now president of Triathlon Club. 
"I joined the club because I wanted to build a welcoming community for students interested in triathlon," said Tabberson. "Now in my final year at UC I look back on our accomplishments with a lot of pride, knowing that we built something that will outlast any of our individual tenures at UC."
For more information about practices and joining, check out the club's Instagram page (@uc_triathlon).