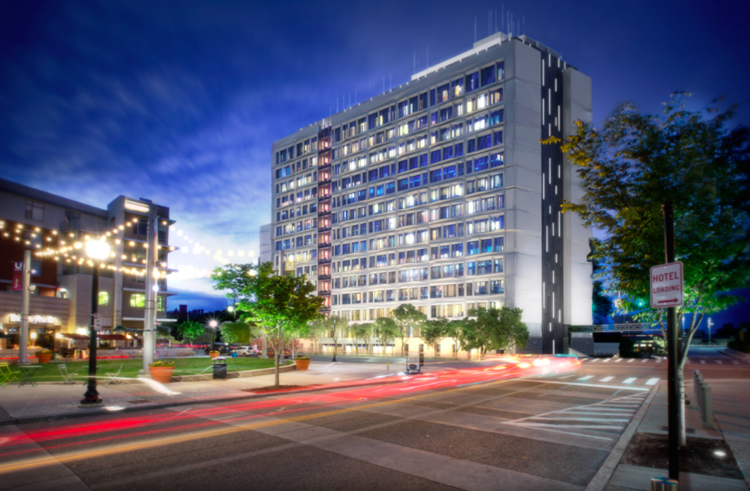 Over the next two years, the University of Cincinnati (UC) plans to invest $80.4 million into the renovation of Calhoun Hall.
The Finance and Administration Committee of the university's Board of Trustees unanimously approved the renovation Aug. 25. 
The 173,000-square-foot building has not undergone any significant renovations since it opened in 1967, UC's Senior Vice President for Administration and Finance Bob Ambach told the board. 
Renovations to Calhoun Hall will include a new exterior, elevator upgrades, the addition of suite-style rooms and private restrooms and complete replacement of its interior, mechanical, electrical, plumbing, telephone and data systems. 
Students will have access to social collaboration nodes on each floor, in addition to a number of private team huddle rooms and collaborative community space in the residence hall's lobby.
The renovation will provide students with state-of-the-art facilities for living and learning, Ambach said. 
When completed, Calhoun will house a total of 822 beds, six more than it does currently, on same-gender floors. Construction work on the 53-year-old building is expected to begin in May 2021, ending by December 2022. 
When asked about how the university plans to fund the renovation, Ambach said that the money will come from a mix of repair and replacement reserves and the issuance of long-term debt.
The residence hall's life safety systems, such as fire alarms and overhead sprinklers, conveyance and related systems are past their end of useful life, Ambach added. 
UC plans to move students from Siddall Hall into the newly renovated building by the end of December 2022, allowing the university to start the renovation of Siddall Hall one year earlier than originally planned. 
University officials previously speculated on the need for renovations to Calhoun, Siddall and Daniels Hall, but had yet to confirm any definitive plans, according to reporting from The News Record in 2019.