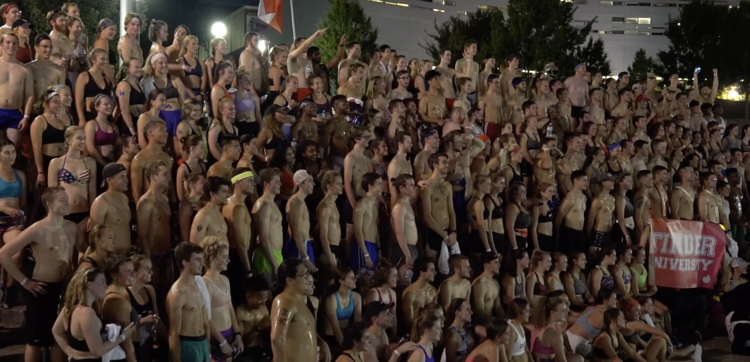 At a time of year when most people are trading tank tops for turtlenecks, students at the University of Cincinnati are preparing to dress down for the 13th-annual Nearly Naked Mile to raise money for local charity.  
On Nov. 6, students dressed in not much beyond their underwear and gym shoes will set out for a mile-long race around campus, beginning and ending at Nippert Stadium. Proceeds will benefit the Cincinnati chapter of the St. Vincent De Paul Foundation.
The event is organized every year by the Cincinnatus Honorary Service Society (CHSS), which was founded in 1917 to foster relationships between graduating students and UC alumni. The organization is the second oldest honorary society at UC behind Sigma Sigma and has since shifted its focus to promote student recruitment and retention.
Chandler Meador, a fifth-year marketing and economics student, serves as Nearly Naked Mile chair for CHSS. She was tapped to oversee the event earlier this year by the organization's executive board.
Before being recruited by CHSS, she previously served as president of ROAR Tour Guides, which hosts campus tours for prospective UC students. This year's event is being funded and sponsored by Student Government, the Interfraternity Council, the Programs and Activities Council, RallyCats, the Women's Center and the Panhellenic Council, according to Meador. The Deacon, an off-campus apartment complex that opened this semester, is also providing cookies for the event.
These contributions will cover the event's overhead, freeing up more money to go toward donations, Meador said.
"Every dollar that students spend on signing up for the event goes directly toward St. Vincent De Paul," she said, adding the event usually raises anywhere from $1,000 to $2,000. "It's one part giving back to the city and another part just creating a sense of spirit for students on campus during homecoming week." 
While in the past this event has seen up to 400 students in attendance, for this year's event Meador is expecting anywhere from 250 to 350 students.
"It's a really fun concentration of just craziness on campus toward the end of the semester," she said, citing one student last year who stole the show wearing nothing except for a hollowed-out pumpkin. "We get a lot of goofy getups."
This is a quick and easy event for students to participate in while celebrating UC's bicentennial homecoming, said Meador. 
While the event initially started out — ironically enough — as a coat drive, Meador said CHSS realized getting students to donate money directly is more effective.
"So, you're really helping St. Vincent De Paul prepare for the winter season and to serve people experiencing homelessness in Cincinnati," she said.
Individual tickets are priced at $5, groups of five at $20 and groups of 10 at $30. The first 100 people to register for the event will receive a Nearly Naked Mile winter hat and nearly everyone registered will receive a shirt. This year, CHSS is allowing for donations outside of the usual admission charge as a way to get more parents and alumni involved in the event, said Meador.
The race is scheduled to kick off at 7 p.m., with check-in beginning at 6:30 p.m.